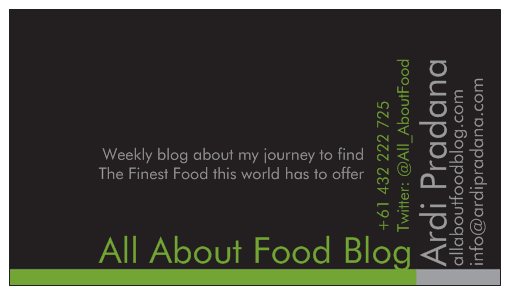 Contact Us – All About Food
All about food blog was started in January 2010. It was based on the simplest of foundation: We want to share our experience in restaurants we visited.
We come to the restaurant unannounced and enjoy our evening like the rest of the restaurant's patrons. I would then write a blog post for the restaurant. These restaurants would have loosely assigned numbers based on its quality of taste and service. I also consider price to be the determining factor in this instance.
Throughout the years, all about food has reviewed restaurants in Sydney, Australia and several cities in Indonesia, including Bali. I am also open to reviewing restaurants in other countries as I visit them.
Should you have any queries and/or suggestions on Restaurants I should review around Sydney, Bali, Surabaya, or Bandung, please fill in the form below or contact us at: [email protected]. You can also find us in Facebook and Twitter from the links at the footer.
Thank you for reading 🙂
[contact-form to='[email protected]' subject='All About Food Blog Query'][contact-field label='Name' type='name' required='1'/][contact-field label='Email' type='email' required='1'/][contact-field label='Website' type='url'/][contact-field label='Comment' type='textarea' required='1'/][/contact-form]