9.0 / 10

Taste: 9.5 / 10

Price: $79 for three courses

Place: 9.5 / 10
Review for lunch menu:
Neil Perry is probably one of the better known chefs in Australia, not only because he has quite a few up market restaurants in Sydney, Perth and Melbourne, but also Qantas' consulting chef. We went to Neil Perry's flagship restaurant, Rockpool, for a three-course lunch. Rockpool has just reintroduced lunch menu when they moved to Bridge Street at the end of last year. As expected, we won't be doing the degustation menu for lunch.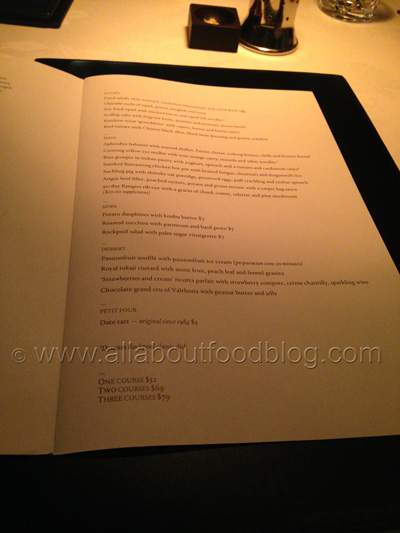 Before any of the dishes arrive, customary (and complimentary) bread and butter were always served. There was also a side of ricotta cheese with a hint of olive oil for an added flavour. I really loved the combination of the butter with a hint of honey and sourdough bread. It really boosted the feeling that it was going to be a nice lunch.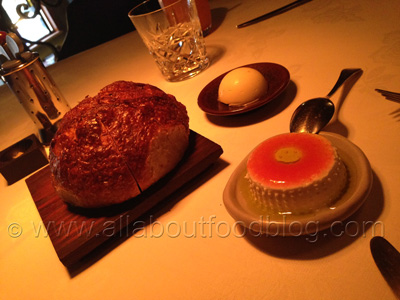 Entrée
For the first entrée, we had rainbow trout 'grenobloise' with capers, lemon and butter sauce. The rainbow trout was excellent! The trout's skin and the little grenobloise bits were really crunchy, but the meat itself was perfectly fried. However, the lemon butter sauce was too sour to my liking.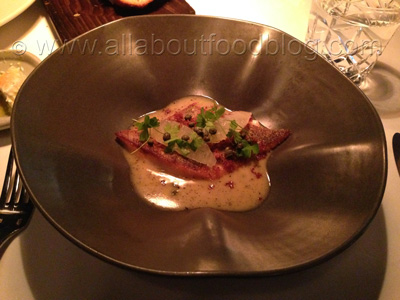 We also had chirashi zushi of squid, prawn, kingfish and tuna for our entree. The one thing stuck in my mind was this kimchi-looking thing that had very strong taste but without any lingering hot effects. The chirashi zushi had a beautifully balanced flavour.
Main
We originally ordered rib eye (that commanded an extra $20), but then the waiter apologetically said that the last rib eye was ordered just before he entered our order. Slightly not happy (but would have $20 cheaper bill), we then opted to go with Angus beef fillet, poached oysters, potato and prune terrine with a carpet bag sauce. After doing some 'googling' about carpetbag, oysters were actually a great combination for the steak.
The next dish was almost like eating a super fancy Chinese dish (that doesn't involve shark's fin or abalone), Suckling pig with shiitake oat porridge, preserved eggs, puff crackling and Ceylon spinach. The suckling pig was presented in a bread crumbs roll that resembled crackling skin of roast pork. It was quite a heavy dish with lots of meat and oat porridge. The heavenly bit was obviously when you reached its fat.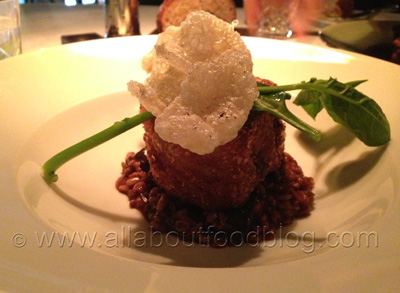 Sides
Since we switched the main dish, we also had a slight adjustment to the sides. Eventually, we ordered Rockpool salad with palm sugar vinaigrette. We were so happy that we made the switch! As a big fan of sweet stuff, I truly loved the palm sugar vinaigrette. It was so heavenly sweet and for salad haters like me, coming back for second was virtually impossible! … yet, I had my third and fourth bites!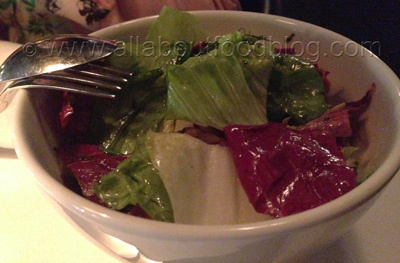 Dessert
The 'Strawberries and cream' ricotta parfait with strawberry compote, crème Chantilly, sparkling wine was quite literally sparkling. I loved the sound of the parfait cracked open. It was actually a bit too sweet and I think that was because of the Moscato they used for the sparkling wine.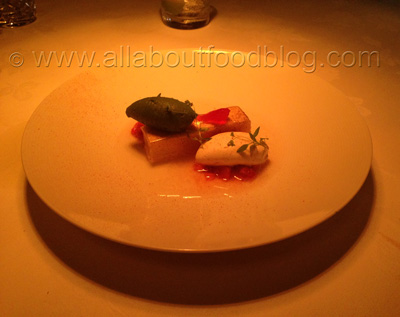 For the second dessert,  we had Passionfruit soufflé with passionfruit ice cream. Delivered straight from the kitchen, I was recommended to cut a hole in the middle of the souffle  and pop the ice cream into it. I loved how full of taste the souffle was. The combination of hot and cold also worked wonders!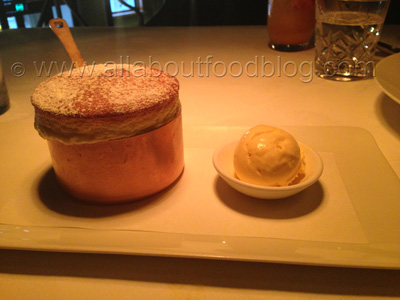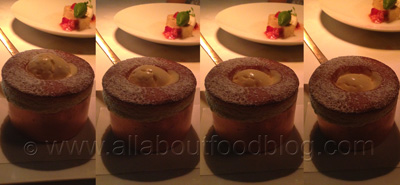 The final verdict for Rockpool
Having lunch at Rockpool was probably one of the best lunches we had in life. Granted that having a three-course for lunch might be an overkill, but every dish was executed perfectly.
Did you know?
Rockpool Sydney has an interesting concept for its degustation menu. It starts at $125 for eight tasting item and one additional choice. They also have options for two and three choices as well as their wine matching.
Details:
11 Bridge Street, Sydney 2000
02  9252 1888
http://www.rockpool.com/sydney/