Review:

There was a discussion in the Sydney Food Bloggers facebook page about restaurants in Marrickville. The details were a bit sketchy but it ended up with Gaby from Lateral Eating suggesting that this week's restaurant in review, Mancora Peruvian Restaurant, was one of the better Peruvian restaurants in Sydney.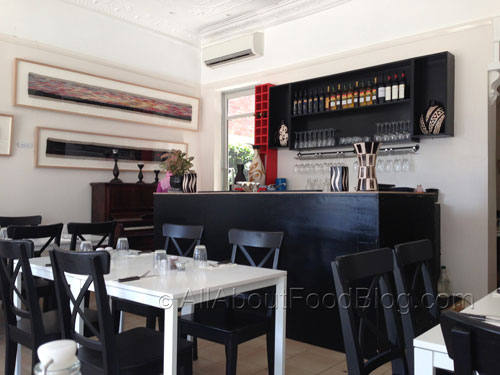 We went there for lunch the weekend after the New Year. The streets were so very quiet and lots of restaurants were closed. I have been to a Peruvian restaurant before, so I know what I wanted to order. Having said that, the first two dishes were recommended by the chef as both of them were the 'must have's in Peruvian cuisines.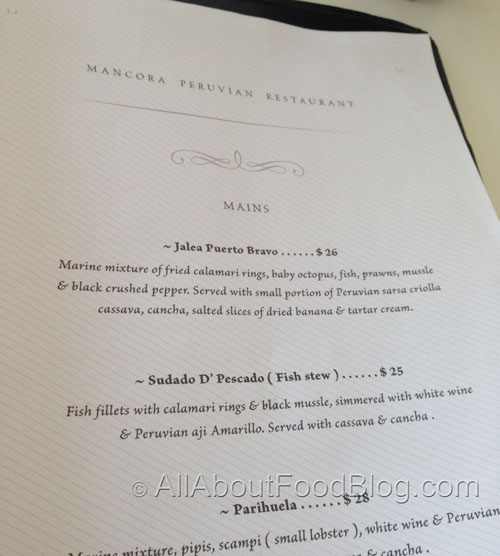 Peruvian sarsa criolla cassava
Our first dish is deep fried cassava with salsa criolla (that purple thingy), grated cheese and that yummy yellow sauce that I guess it was some kind of cheese sauce. I usually am not the biggest fan of cassava, especially when it's hard to chew. However this cassava was so crunchy and delectable! This is technically a side dish, but I guess it looked more presentable as an entree.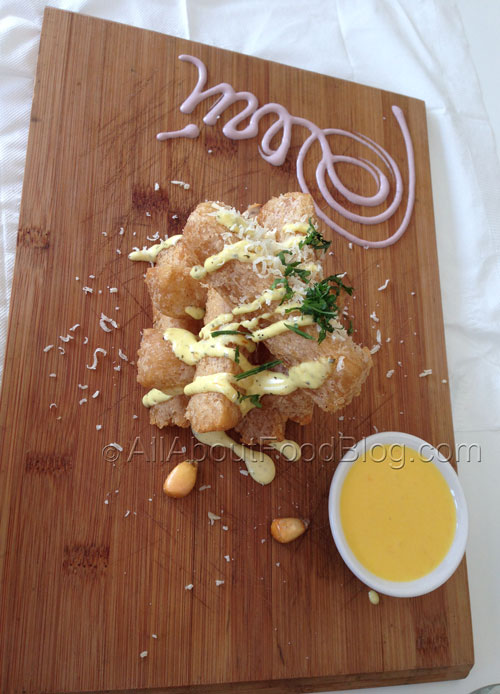 Ceviche Clasico – $23
Diced blue eye fish marinated in key lemon juice with a blend of garlic, chilli, cilantro, Spanish onion & crushed white pepper. Served with caramelized sweet potato, corn & cancha
The chef told us that Ceviche was THE Peruvian dish. Apparently, it even has its own National Day of Ceviche in Peru on the 28th of June!
We were amazed by the ceviche and it metaphorically begged to be eaten! What's more enjoyable was that the taste met the delicate presentation.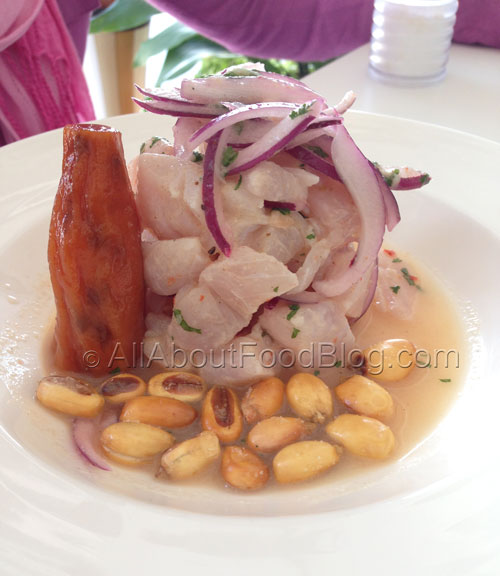 Arroz D'Mariscos – $28
Marine cocktail mixture with crushed white pepper, Spanish onion & scampi (small lobster). Topped with parsley, lemon & parmesan cheese.
For our first main, the scampi obviously stood out! In addition to the scampi, they also put some seafood into the mix.
Arroz D' mariscos is probably equivalent of Spanish's paella. The distinction is that they don't use Arborio rice.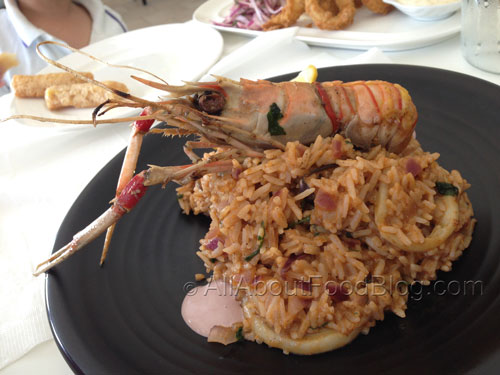 Jalea Puerto Bravo – $26
Marine mixture of fried calamari rings, baby octopus, fish, prawns, mussel & black crushed pepper. Served with small portion of Peruvian sarsa criolla cassava, cancha, salted slices of dried banana & tartar cream.
Jalea Puerto Bravo is the Peruvian version of the seafood mix you found in fish shops. They have quite a distinct batter. It was soft, but not soggy and had quite a bit of crunch about it.
Oh, and what about that salted banana & tartar cream as your dipping sauce?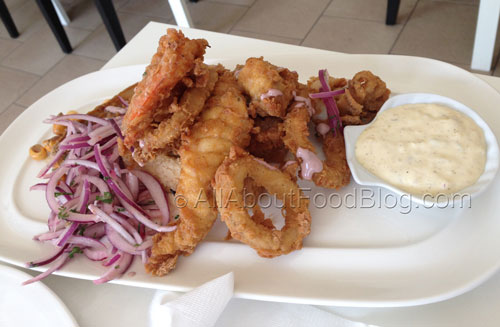 The final verdict for Mancora Peruvian Restaurant
It was a very enjoyable afternoon at Mancora Peruvian Restaurant. We love everything served on that day.
Did you know?
I am in love with a Peruvian / South American drink called Chicha Morada (or Purple Corn). If you see it on the menu, ORDER IT!
It is quite interesting how Mancora differentiate weekend and weekday menu. I am actually quite interested in their weekday menu as it has more exotic items in the menu! Usually restaurants divide made the distinction between lunch and dinner menu.
Rating for:
8.0 / 10
Taste: 8.0 / 10
Price: $20 – $30 per main dish
Place: 8.0 / 10
Details:
107 Addison Road, Marrickville 2204
+61 2 8065 6337