9 / 10

Taste: 9/10

10-course Degustation: $160 + $5 non-optional water

Place: 9/10
Review:
Marque Restaurant is currently sitting at number 61 in the Top 50 restaurants in the world. They were the 2011 Restaurant of the year (by Good Food Guide). There were very minimum decorations outside the restaurant, a black slab with their logo on it. You could easily miss it when you walked down Crown Street.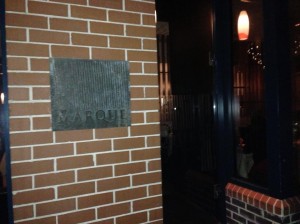 As with most degustation restaurants, they don't serve a la carte menu. You do have a choice to add Cheese dish in your 10 degustation courses with/without matching wines.
Potato Maxims with Oyster and Wakame
The first dish was potato chips! Quite frankly wasn't the start I would expect from a three-hat / top restaurant. It did come with sprinkled wakame seaweed and a gastronomically-transformed oyster. Obviously crispy, golden brown chips as one would expect from this restaurant.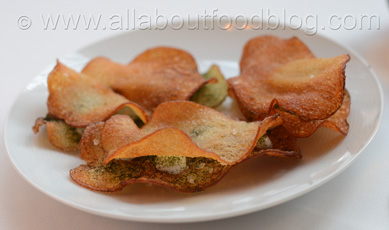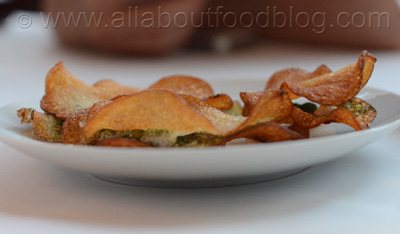 Blue Swimmer Crab with Almond Gazpacho, Almond Jelly, Sweet Corn and Avruga
The second dish looked more sophisticated (it was harder to see since the plate was also white). The top layer was some kind of mousse sweet corn, followed by almond gazpacho and blue swimmer crab at the bottom with a side of Avruga caviar. There was a strong seafood taste for this dish and enhanced by the almond gazpacho.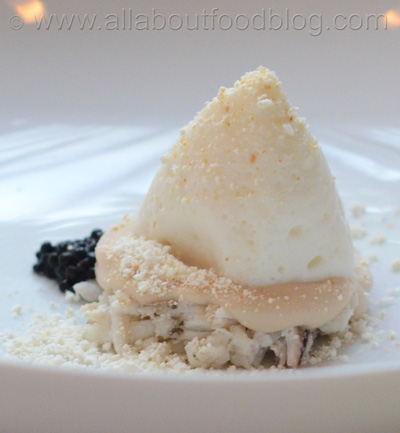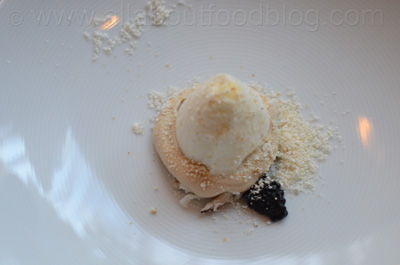 Tiger Prawn with Avocado, Buttermilk, Hazelnut and Sea Urchin
A simple-looking dish was our third course with a pretty complicated taste. You could notice straight away the grilled avocado from the burnt side and the seared tiger prawn. The avocado was drizzled with sea salt. Mix them up with the gooey mixture in the middle and you got yourself a sour, salty, charred and slightly sweet taste in your mouth.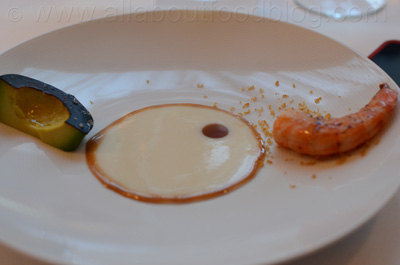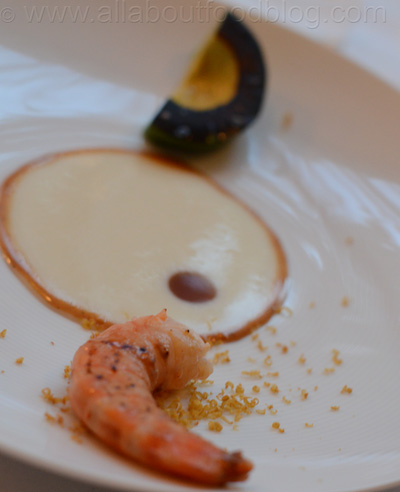 S.A. Calamari with Celery, Apple and Mushroom Broth
For the fourth course, I wasn't sure why it had to be mentioned as 'S.A. Calamari' as opposed to regular calamari. It was brought to our table nice and clean with a pitch black squid ink cube. The waiter/waitress would then pour the mushroom broth into the plate and the cube quickly dissolved. It was an interesting combo of crunchy apple and celery with soft calamari and refreshing mushroom broth.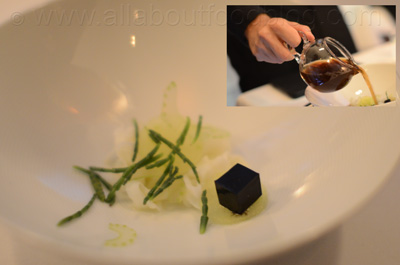 John Dory with Cabbage, Green Strawberries, Fish Milk and Roe
Our fifth dish began with a question 'pickled green strawberries???' According to wiki, it actually exists! The second ingredient foreign to us in the menu was fish milk. I still couldn't figure out what it was.
Back to the dish, this one was truly worthy three hat status. The fish was incredible, and the additional sour taste of green strawberries and cabbage was perfect.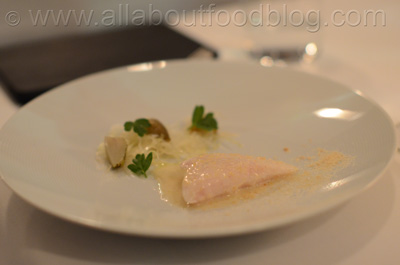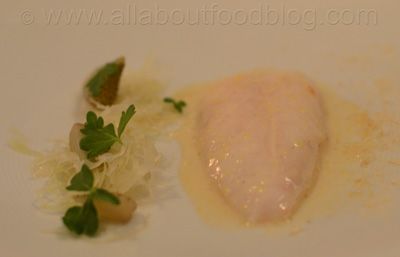 Sourdough and Rye Bread
Nice and filling bread half way through the meal was just exactly what I needed! A bit burnt on the side, but I managed to get two for my oversized tummy…
Organic Free Range Chicken with Pate, Leek and Shallot
Back to business for sixth course and the dish kept getting better. It is interesting how they grilled a stalk of leek and just present it cleanly on the plate. The highlight for the dish was the perfectly poached chicken with long, deep fried shallots. It was accompanied by a very soft (and yummy) pate.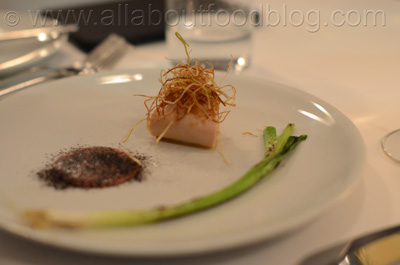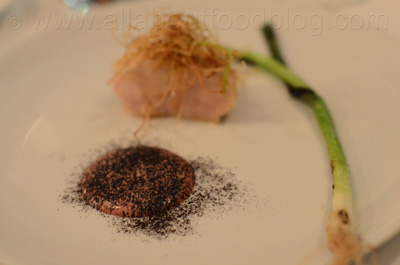 Mandagery Creek Venison with Smoked Beetroot, Egg Yolk, Cured and Jam
Best dish of the day (according to me) was the seventh course. It was a raw venison meat with some herbs with egg yolk and smoked beetroot. Don't think about the yucky raw meat you see every day in your butcher. It was nicely prepared and it was kind of similar to the Japanese/Korean Yukke. The smoked beetroot gave an extra sweet and refreshing feeling to the meat and it also cleansed your palate.
Mandagery Creek is an Australian Venison Farm. More details can be seen here.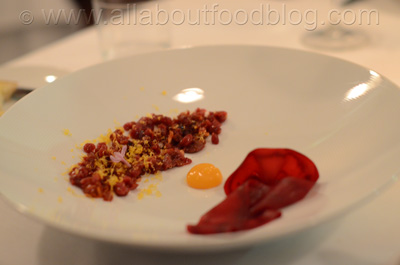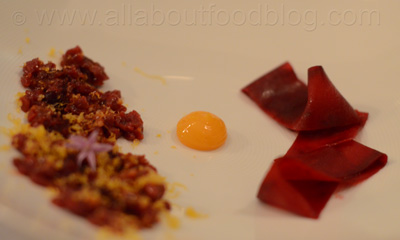 Apricot, Coffee and Lemongrass
The eighth course looked like a blob of cream. However, one would expect a whole lot more than a blob of cream in a three hat restaurant. As a starter, when we smelled the dish, it was heavenly! Then you tried to dig in and that's when the fun started. The outer layer was soft lemongrass cream with an apricot jam base. Inside the cream was this exciting ice cold coffee cream.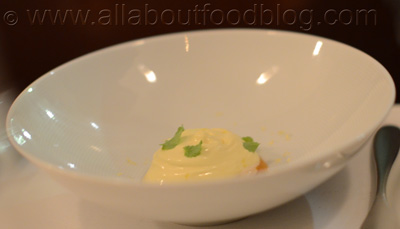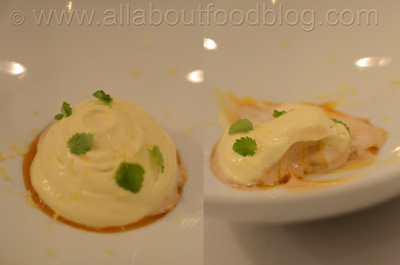 Cherries, Blood, and Chocolate
It was really hard to describe this ninth course. I only could identify the cherry sorbet on top and the bitter dark chocolate in the middle. However it was a whole lot more in the dish. There was the crackling burnt-caramel sheet, processed fruits (cherry?) around the sheet and salty taste coming from inside the bitter dark chocolate.
It was exciting, even when I am not a big fan of dark chocolate!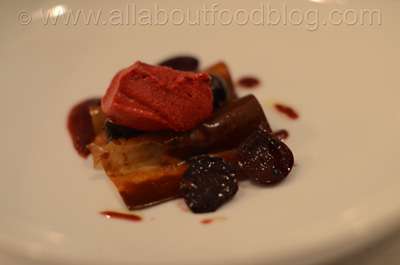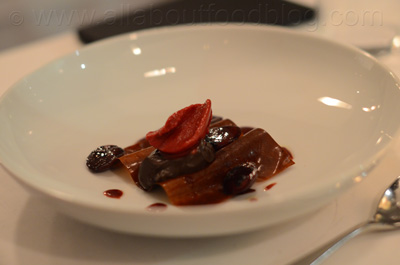 Sauternes Custard
For our last dish, we were given what looked like a soft boiled egg. When you scooped it up, you would notice that it was definitely not egg! It was very nice and soft custard with strong flavour of Sauternes wine.
By the way, the outer casing was really an egg shell.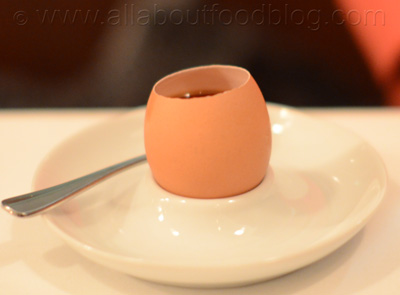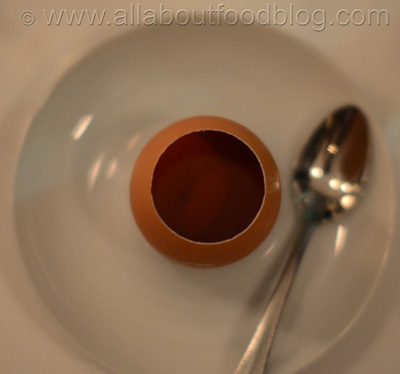 Coffee and Tea
The Custard was served alongside your choice of coffee or tea.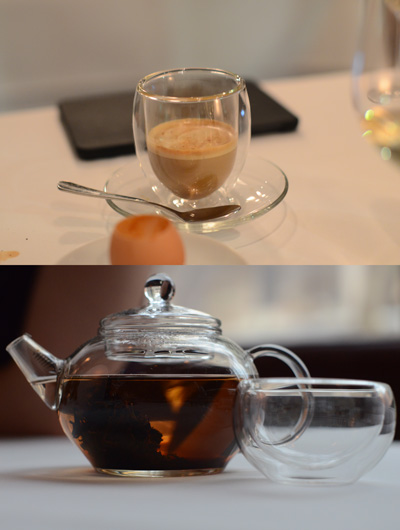 The final verdict: I can understand why Marque is a three hat restaurant. However, if I compare it against Quay and Tetsuya, I would definitely choose those two. Granted that all of the courses were nice and flawless, but it lacked a dish that could make us say 'Wow, I couldn't stop talking about or thinking about it'.
Did you know?
Although one of our guests was pretty late in coming to the restaurant, my wife didn't appreciate the way head maître d' (which was apparently Mark Best's wife) treating her and our son. I think she didn't really fancy kids in the restaurant and she might have thought kids were troublemakers.
It was a little dent in our otherwise enjoyable culinary experience.
Details:
5/355 Crown Street, Surry Hills, NSW 2010
+61 2 9332 2225