When I was working in Singapore last week, I managed to have dinner at one of the Asia's 50 Best Restaurants. Sitting at #39, Restaurant Nouri has only been opened for a couple of years. However, they have already had a Michelin star under their belt.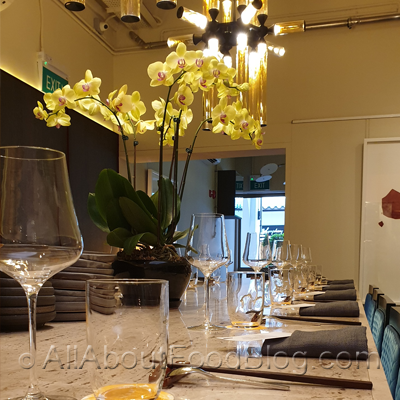 Chef Ivan Brehm and his team gave us this very interesting dining concept called 'crossroads cooking'. The dining room is also where the chef prepared all of our meals.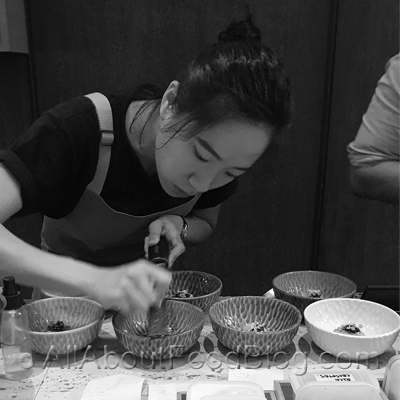 They served four pre-dining dishes. They also advised that we could re-order sourdough bread as many times as we want. This is a very good idea as you would want to soak up all of those nice sauce!
The first two that came with the bread was their rendition of silken tofu and vegetable broth. The tofu was more like a dipping sauce for the bread!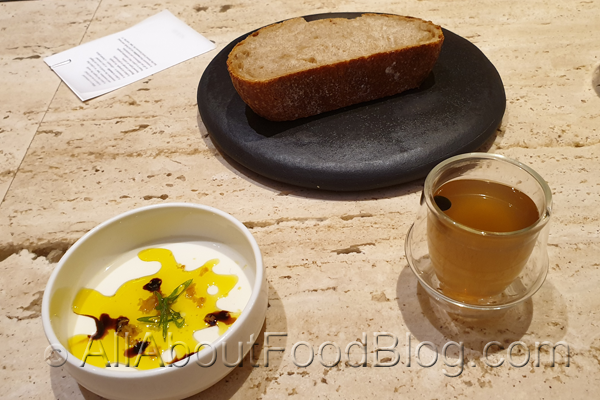 The next two was cold kimchi made from abalone with daikon and nashi pear and Chinese bitter gourd salad. I can understand why the two had to be consumed side-by-side as the bitter gourd was really bitter. It accentuated the kimchi cold and sour taste.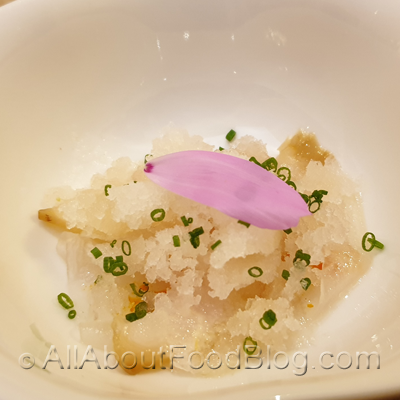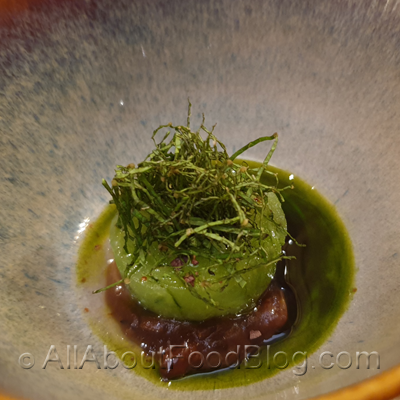 They had an option of 5- or 7- course menu as well as set or omakase. I could see some of the omakase menu was pretty similar to the set menu.
The first course was Hamachi sashimi with caviar and chilled onion consomme. It was a nice and fresh sashimi with very nice vinaigrette... the reason why you should keep asking for bread!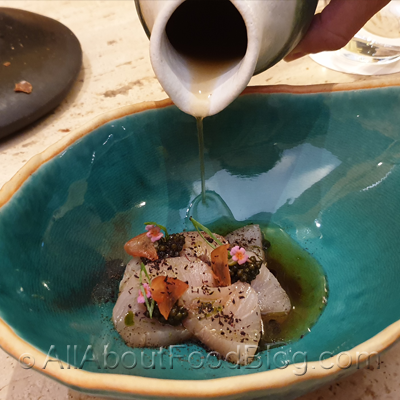 The second course was their rendition of prawn bouillabaisse with saffron jelly. They used the reduction from the prawn head to make the thick soup.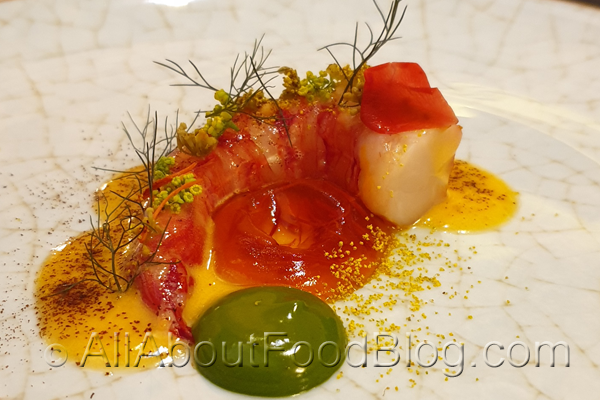 Their rendition of cheong fun (or rice noodles) was one of my favourites on the night. Not only they used black truffle, underneath that green cheong fun there was Alaskan snow crab! Even the foamy bit was very nice!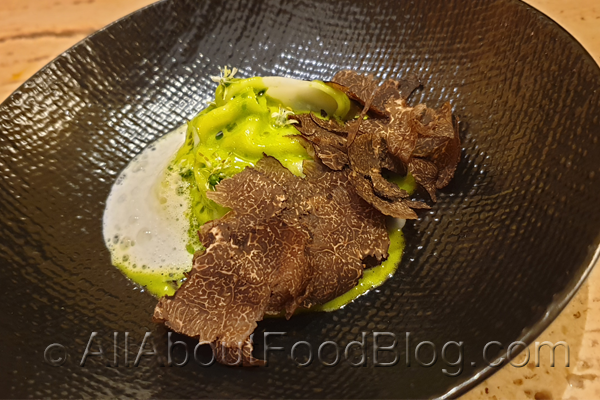 The second last main dish was kimedai fish with scales and black pepper sauce. Yes, they prepared the fish with its scaled. The scales were very crunchy and almost like crackers The fish was perfectly cooked and went really well with slightly hot black pepper sauce.
I wouldn't blame you if you think this next dish as a chocolate cake with truffle. They did incorporate chocolate but only as the powder around the plate.
This dish was actually wagyu rib eye with Mexican's mole sauce. However, they used the traditional ingredients called 'keluwak' to darken the colour.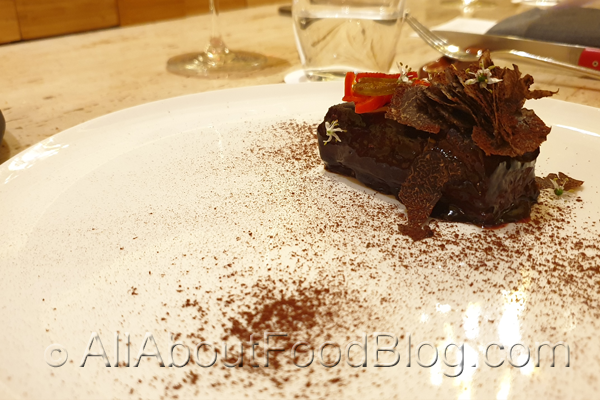 Desserts at Restaurant Nouri
Before we started with the desserts, there was a bowl of Gooseberry granita with peach and champagne. It was very nice and refreshing!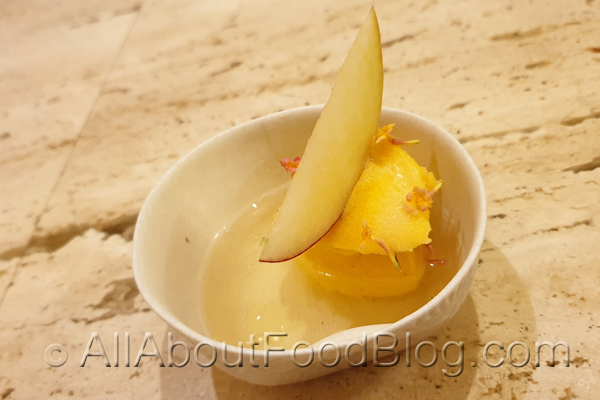 The first dessert looked quite simple but it was actually pretty sophisticated. The dish was Japanese ichigo with azuki beans, sansho pepper and kinome leaf with strawberry sorbet.
The dish was sweet, sour, cold, crunchy... and hot! Every now and then there was this kick from the sansho pepper that made the dish very lively.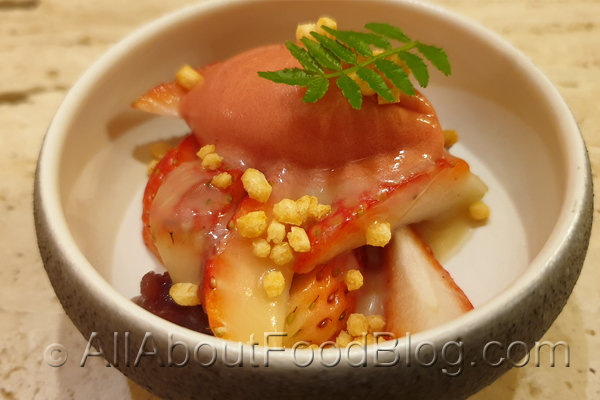 The last dish was 48-hour baked orange with assam tea ice cream, cream and some jelly that tasted quite bitter.
I have never tasted something quite like this before.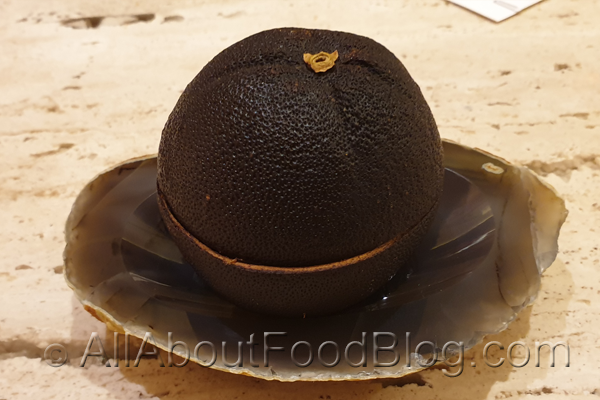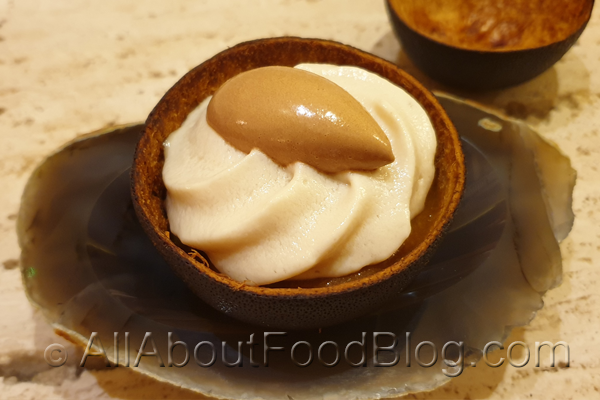 The final verdict for Restaurant Nouri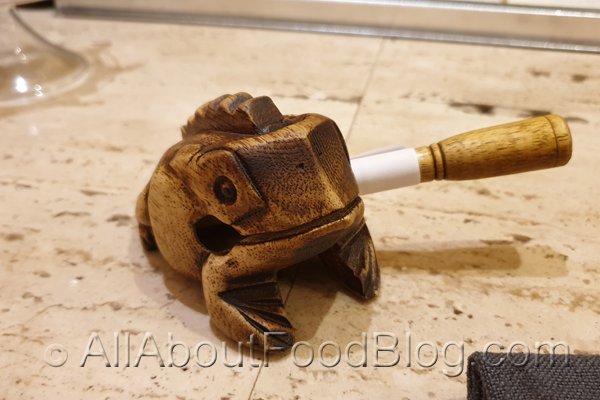 Restaurant Nouri clearly deserved its Michelin star and the #39 spot in the Asia's Best 50 restaurants. They have a unique table arrangement and impeccable service.
Do you think I should go?
Definitely! Chef Ivan will surely treat you well!
Rating:
Nouri
9.5 / 10
Taste: 9.5 / 10
Price: $225 pp for 7-course Omakase
Place: 10.0 / 10
Details:
72 Amoy Street, Singapore 069891
+65 6221 4148