9.5 / 10

Taste: 9.5/10

10-course Degustation: $210

Place: 9.5/10
Review:
Tetsuya's used to be in the Top 50 restaurants in the world. Over the last couple of years they've slid down the ladder, but still in the Top 100. Critics mentioned lack of 'innovation' as one of the reasons. Tetsuya's serve 10 courses of French-style Japanese Cuisine. They also had the best view of replica Japanese Garden and situated on a heritage-listed building.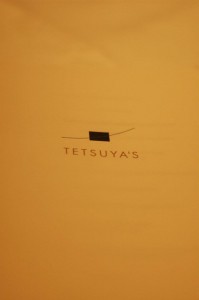 Sourdough and White Bread with Truffle Butter
Throughout the night, these breads were offered for those of you needing extra carbs. The truffle butter was to die for. The smoothness of spiced butter infused with truffle was so amazing that I couldn't stop asking for it. My little baby loved it so much too!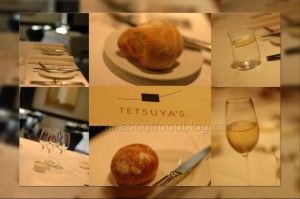 Chilled Pea Soup with Mint Ice Cream
Our first course of the night was chilled sweet peas blended to perfect smoothness. It was a very nice and interesting way to start the special night. A refreshing taste combination between pureed pea soup and mint ice cream cleansed our palate before the first savoury dish.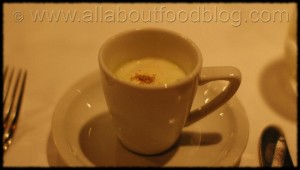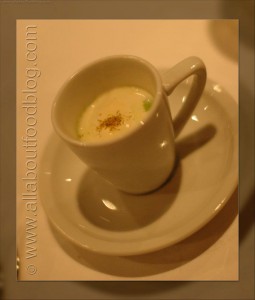 Steamed Savoury Custard with Dashi (Seaweed stock) and Avruga Caviar
Our second course was Tetsuya's own interpretation of chawan mushi. The delicate taste and the smooth texture of the custard was a perfect harmony, as it melted directly in my mouth. The seafood taste from dashi and avruga caviar completed its beauty.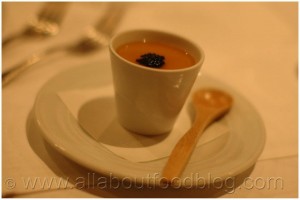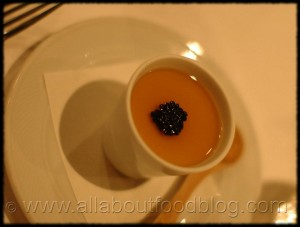 Marinated Yellow-Fin Tuna with Shishito Pepper and Garlic Chips
The third course was another simple dish of Tuna sashimi with a nice and sweet marinade and shishito pepper. As an Indonesian, I found it really weird to actually mention garlic chips on my dish since we normally put heaps on them in an Indonesian dish. Some leaves of garlic chips gave different texture and accentuation to this dish.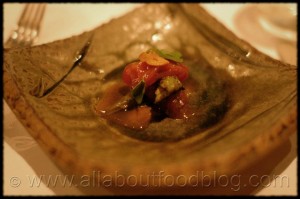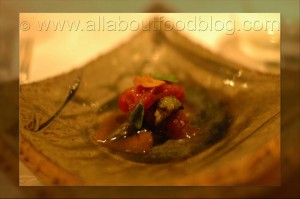 Grilled NZ Scampi Tail with Chicken Liver Parfait & Walnut Vinaigrette
Scampi and chicken liver, all time favourite ingredients! Another delicately simple dish Tetsuya's presented. It's interesting to have the walnut vinaigrette to accentuate Scampi's already-sweet taste. Yumm, such a spoiling moment for my tastebud!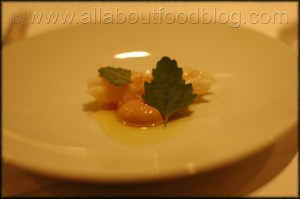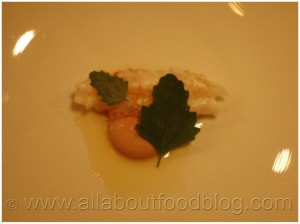 Confit of Petuna Ocean Trout with Shaved Fennel, Unpasteurised Ocean Trout Caviar and Konbu – Tetsuya's Signature Dish
The fifth course was the legendary signature dish, Ocean Trout.  It always lives up to anyone's expectations. The confit tasted perfect, as the softness of the ocean trout harmoniously combined with the fennel, caviar, and konbu. Definitely one of the best dishes I ever tasted!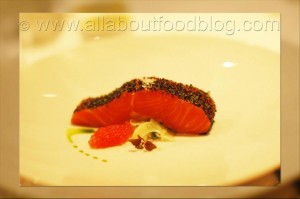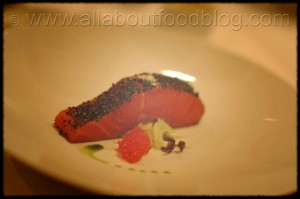 Steamed Queensland Spanner Crab with Bean Curd, Foie Gras, and Junsai
Presentation wise, it was plain – just looked like one white cylinder steamed tofu (bean curd). However, we could taste the delicacy of the spanner crab since the first bite!  The beautiful foie gras and junsai completed its sweet taste.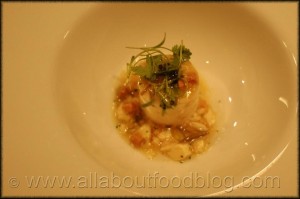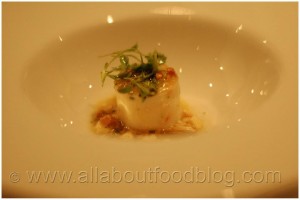 Breast of Quail with Quail Leg Rillettes and Hammond
The seventh dish was very nice, with the exception of its size. I am not a big fan of the spring onion, so I had to separate it from the rest of the elements. The dish still worked really well.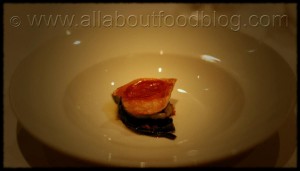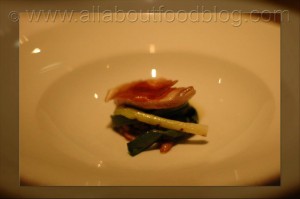 Slow roasted De-Boned Rack of Lamb with Sheep's Yoghurt and Kale
The last savoury dish of the day was a medium-rare, glossy, no-smell rack of lamb with the always perfect accompaniment of yoghurt. It was then softened up with Kale (wiki: cabbage's family).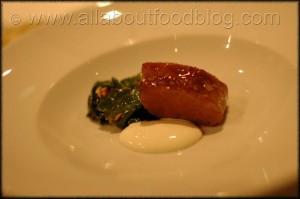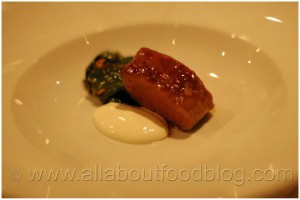 Pione Grapes with Grape Sorbet + Bread & Butter Pudding
Our first dessert of the day was a double treat. I really loved the sweet taste of grape sorbet. It was highly refreshing, especially after a nice array of savoury dishes. The pudding was glazed with brulee and it was slightly heavier than the sorbet which I think was perfect, considering most of the bread and butter pudding was very heavy.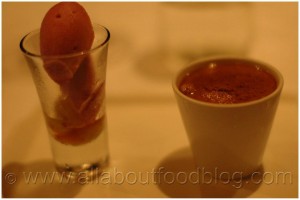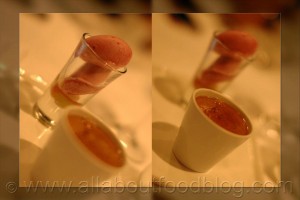 Double Chocolate Pave with Cream Cheese Ice Cream & Cinnamon Twigs
The last dish of the day was chocolate. I was amazed by the techniques presented on this dish and I thought the cream cheese softened the pave considerably. Unfortunately, I'm still not a big fan of chocolate. There's no chocolate that can make me ecstatic.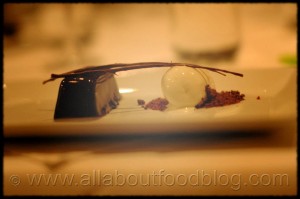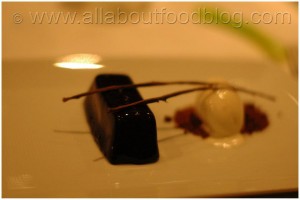 Chocolate Fondant with Hazelnut and Praline – Birthday Cake
Tetsuya's gave us a different dish for people who celebrated their birthdays there. On this occasion it was a chocolate fondant. It was softer in taste than the pave but it was still a bit too strong for me.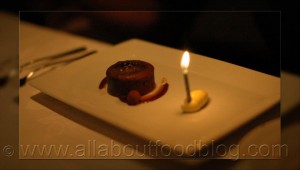 Petit Fours and Café Latte
Lastly, we also received complimentary dish of Petit Fours (although it's technically only one) and Café Latte.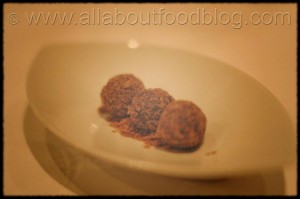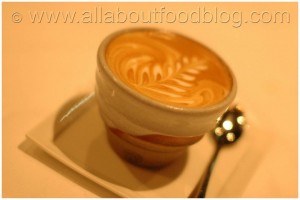 The final verdict for Tetsuya's Restaurant

:

Critics can say whatever they want, but for first time visitors (and even return visitor like me), Tetsuya's still presents the best dining experience in Sydney. Tetsuya's delivered the 10-degustation without any of them being 'average'.

Did you know?

Despite being in the Top 100, Tetsuya's was not listed as three-hat in Sydney's Good Food Guide this year. I found it weird since especially since only one restaurant in that three-hat category was higher than Tetsuya's in the world's list.

Details:

529 Kent Street, Sydney, NSW 2000

+61 2 9267 2900