This week we will write about our experience in dining at one of the best in Australasia, Restaurant Locavore. This restaurant is sitting at number 21 in the list of Asia's 50 Best Restaurants for 2018. They were a few spots off the world's top 100 list. To give you a bit more context, out of all of the restaurants in Australia, only Attica and Brae ranked higher than this restaurant!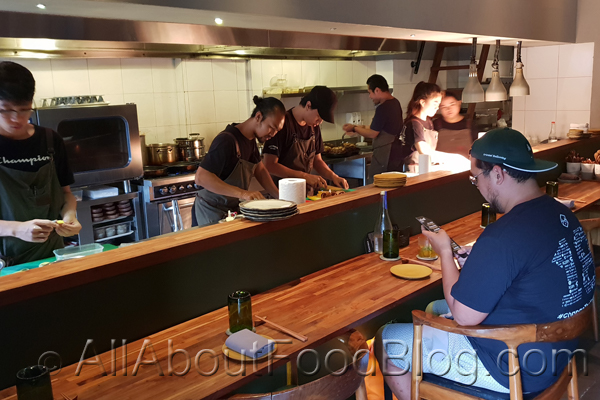 This will be a super long review because they served us 7 main courses, 2 desserts, 8 'snacks', 8 chocolates and 1 closing dish for a whopping 26-course degustation lunch. The official menu only stated 9 dishes, priced at Rp 1.200.000,- or equal to AUD 150.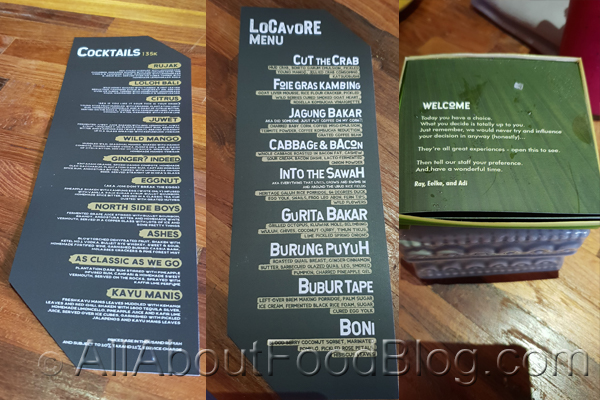 They call it 'Snacks'
Upon arrival at the restaurant they gave us a couple of very pretty flower arrangement that they called 'Cana'. What we didn't know that the flowers were all edible! They gave us a hibiscus spray, and kecombrang puree with drops of cricket oil. Super fancy and we were just starting up!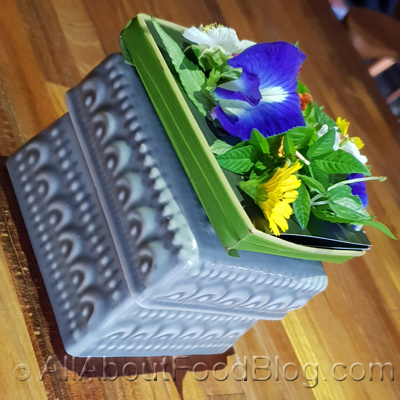 To shorten this review considerably, I won't go to too much details on the snacks. Each and every one of them were masterfully prepared. The mango and bengkoang dish was quite sweet with a hint of spicy. The pumpkin leaf was pretty filling despite it being crunchy. Then you got the sophisticated black rice blini that had a million taste.
It got better from there, the mushroom custard was very yummy with the distinct flavour of native kelor leaves. Then they had BBQ mango. It was sweet and super smoky. The mango kombucha was a sweet addition to the dish. The tomato sorbet and tomato consommé was quite an eye-opening. The dish was hot and cold at the same time. It was super refreshing!
The last snack was pretty interesting. There were three condiments for the brioche bun: chili jam, cashew nut puree, and freeze dried leftover vegetables… yes, you read that right: they even reused their leftover vegetables! Awesome!
[smartslider3 slider=3]
Main Dish at Locavore
After what seems to be an eternity of snacks, we come to the first dish of the day. Cut the crab was the official name. They transformed the mud crab into a cold salad with jellied crab consomme. They then put a layer of pickled young papaya and bengkoang (instead of mango as the menu suggested). Grated bonito katsuobushi was put as a finishing touch.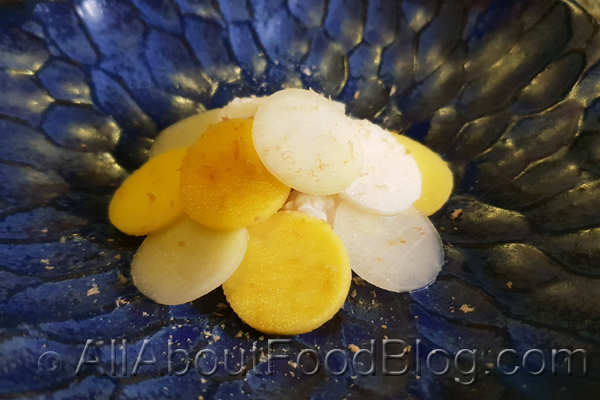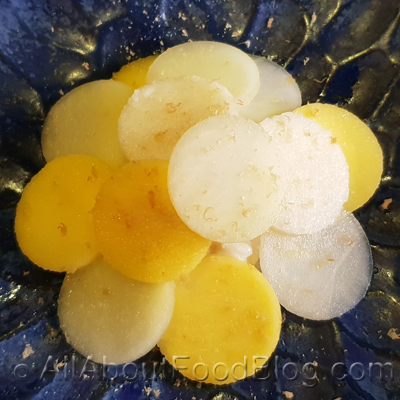 We then have Foie Gras Kambing, aka Goat Liver mousse. To complement the strong taste, they introduced pickled wild berries. On top of the foie gras, they had rice flour cracker and a sprinkle of green veggies. They had two garnishes to finish off: first they grated smoked goat heart then sprayed the dish with Rosella kombucha vinaigrette.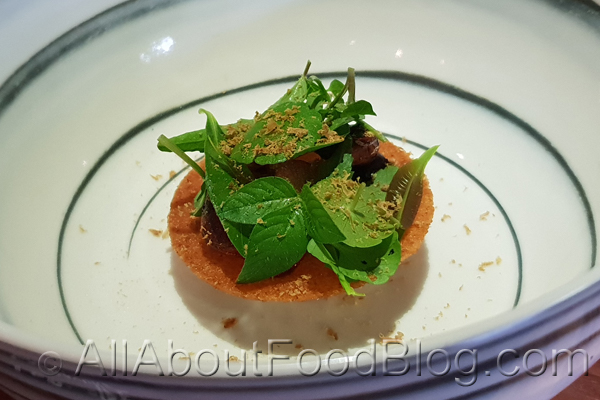 The third dish, jagung bakar, paid homage to a snack that most Indonesian loves, grilled corn. The twist here is they use coffee-miso emulsion and coffee kombucha reduction! They also used charred baby corn and added a little termite powder on top of it.
My son loved it so much that they actually gave him an extra plate (and that's after having most of mine as well)!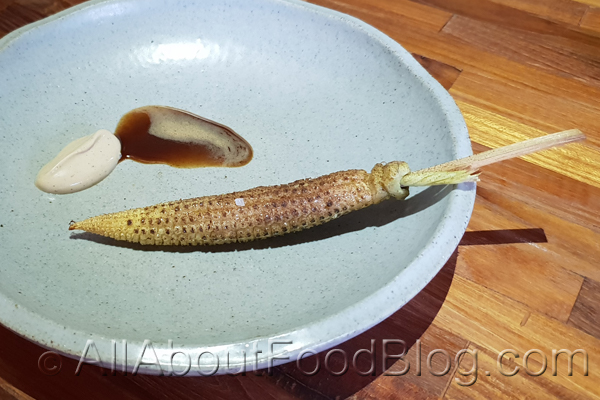 The next dish was supposed to be Cabbage and Bacon. However, we had it changed to a vegetarian version. For this, they gave us Banana blossom noodles. The 'noodles' were doused with white curry turmeric leaves, that tasted traditionally Indonesian with deep fried green leaves as garnish.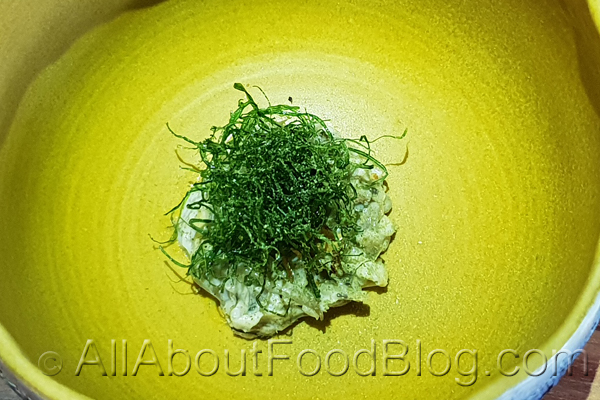 The Signature Dish
Their signature dish is Into The Sawah. Dish dish is a story of everything that live around the Ubud's rice field. They consisted of the following: Heritage galuh rice porridge, 64 degrees duck egg yolk, snails, frog leg abon, fern tips, wild flowers.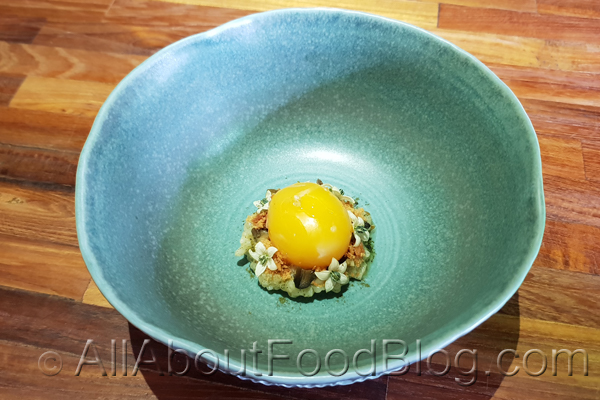 They boiled the duck egg yolk at exactly 64 degrees for 1 hour. That resulted in some kind of state between solid and runny.
Gurita Bakar is our penultimate main course. They twice-cooked the main ingredient, the octopus (or gurita): boiled and then grilled to perfection. They also introduced Mexican-inspired mole using a traditional ingredient, kluwak. Enhancing the taste, they used the sourness of belimbing wuluh and freshness of timun tikus with the pickled spring onions.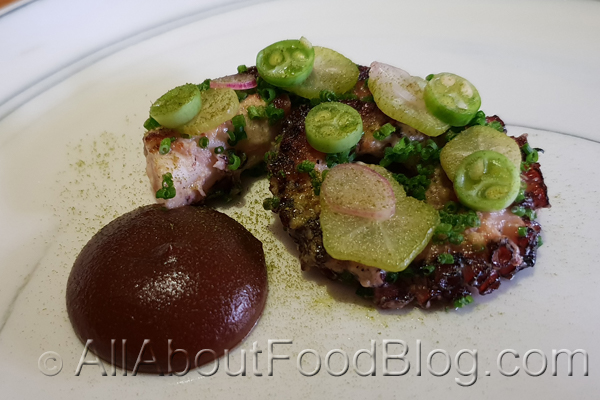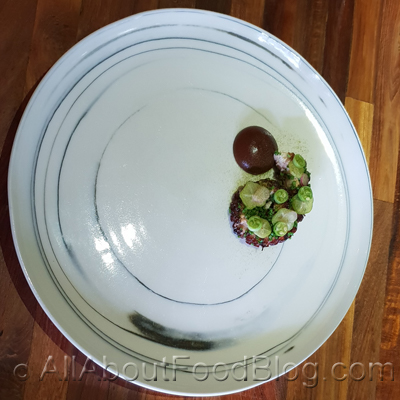 Quail, or Burung Puyuh, was the last main for the day. They used two parts of the quail: the quail breast, roasted to perfection, and the leg that was barbecued and glazed. They used smoked pumpkin and charred pineapple gel to complement the dish.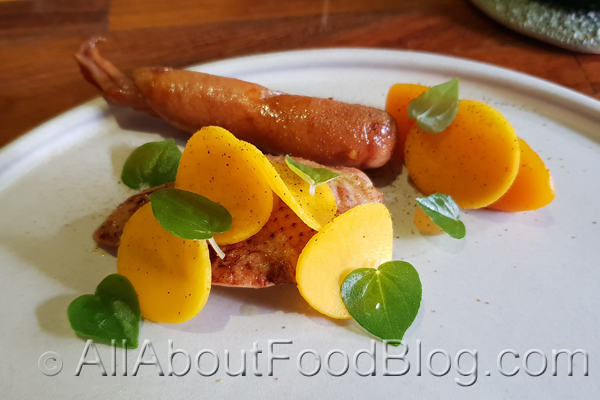 Desserts at Locavore
Looking at the menu, the desserts sounded pretty traditional. Bubur tape is a fermented rice porridge and boni is a traditional fruit from Bali.
Traditionally, bubur tape is warm. At Locavore, the dish was served at room temperature, except for the palm sugar ice cream. Interestingly, the ice cream wasn't really that cold either!
In addition to the porridge and ice cream, they also have fermented black rice foam (that purple blob in the middle). Probably I would have liked this more if it was a tad sweeter.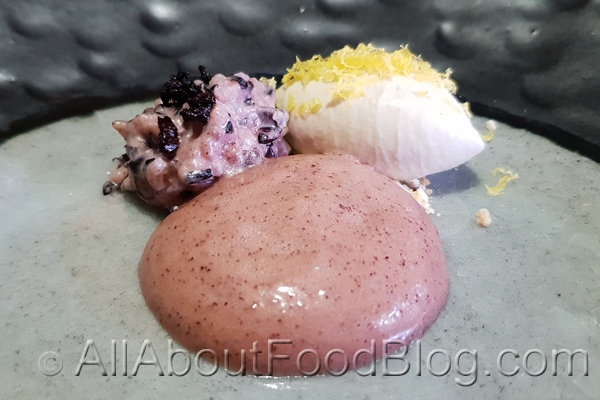 If you are wondering about the yellow shavings at the top of the ice cream, that shaving was sugar cured egg yolk!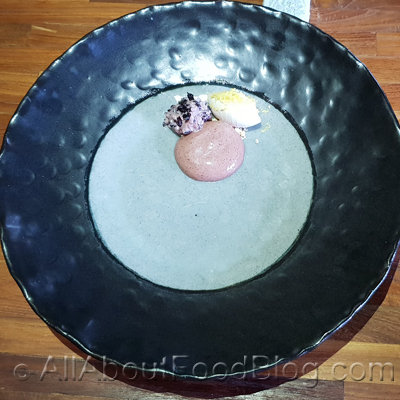 Boni or blood berry is a native fruit of Bali. They also have pomelo, or what the locals called Balinese orange. They also used pickled rose petals and hibiscus leaves as garnishes. The resulting dish was this complex dessert that was sweet, sour, crunchy, cold and quite heavy – especially being the 17th dish of the afternoon!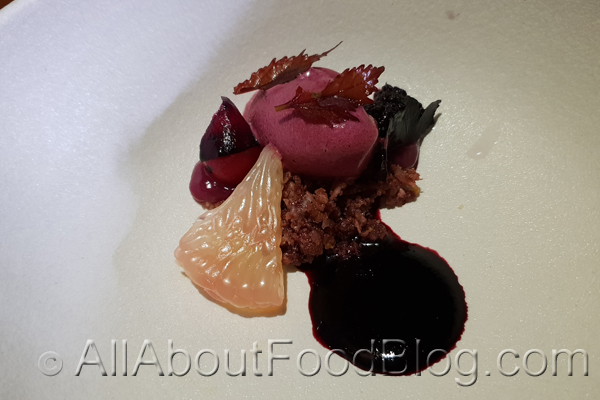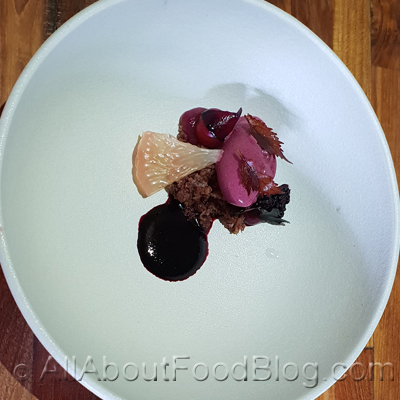 After Desserts at Locavore
We were almost packed up for the afternoon before the restaurant manager mentioned there were still a couple more dishes to go. Some members of my group almost gave up upon hearing the news.
The first 'surprise' was eight pieces of chocolate in different textures. They used a traditional game board called 'congklak' to serve them. Some of the more notable ones were coffee rice cookie, kaffir lime krokant and dried pineapple dark chocolate.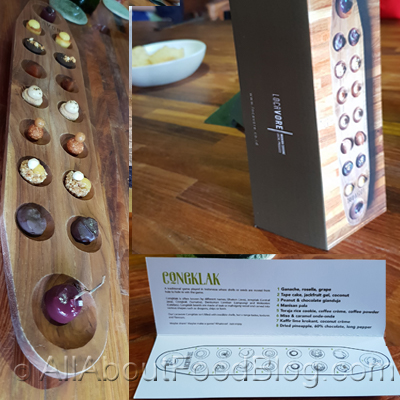 We finally came to an end with the Mangosteen ice cream. Served on a coconut husk, the dish consisted of fresh longan, coconut flesh, nata de coco and coconut cream with lime skin shaving as garnish.
It was incredibly refreshing and tasty. Somehow we forgot that it was the 26th dish that we had that day.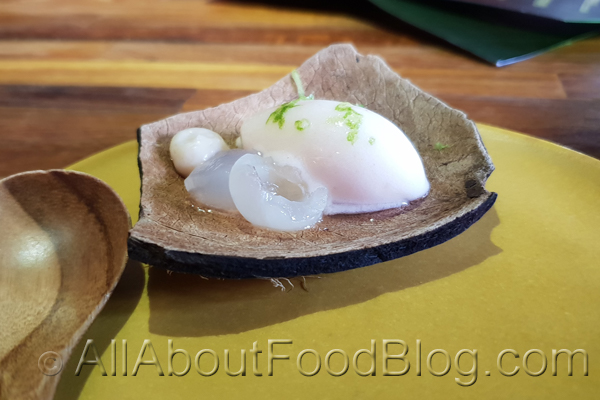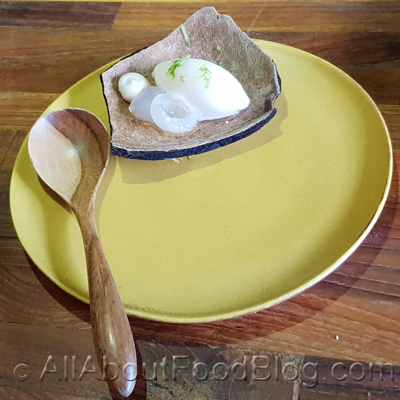 Drinks at Locavore
They do have drink pairings for the lunch service, but we didn't go for them. We opted for the normal drinks and cocktails on the menu. One of them was the 'ashes' that involved dipping burned cassia bark into your drink!
The final verdict for Restaurant Locavore
Restaurant Locavore is without a doubt the best restaurant in Indonesia. It is comparable to, or probably even better than, most high end dinings in Australia.
The staffs were super friendly and super attentive. The massive plus is that the restaurant welcomes children as well! – I must say it's super rare for a fine dining restaurant.
Do you think I should go?
Definitely!
Rating for Restaurant Locavore:
9.5 / 10
Taste: 9.5 / 10
Price: Rp 1.200.000,00 + 21% tax ~ $150 degustation menu
Place: 9.5 / 10
Details:
10 Jalan Dewi Sita, Ubud, Bali, Indonesia
+62 3619 777 33