Review for all you can eat menu:
Edogin is located in one of the most posh hotels in Jakarta. At a price point of $40 per person, it should be one of the most expensive dinner experiences in Indonesia. However, if you look at what they have to offer, that price is ridiculously cheap compared to other 'big name' restaurants with really crappy dishes and overly jacked up price.
So, what do they have to offer?
Quality All You Can Eat
I have been to Edogin twice now and I have yet to find any dishes that are below my standards. Some of them actually exceeded my expectations for non-Indonesian food served in Indonesia. They were as authentic as you could probably ask for!
They have several sections that serve different kind of Japanese cuisines. Without further ado, let me introduce you to the wonderful food from Edogin.
Fresh Sashimi
The obvious first spot to check for quality is its Sashimi range. They have a diverse selection of fresh fishes, octopus, fish roe, and fresh oysters – specifically I think it's the big pacific oysters!
Rumour has it that they were one of the select few restaurants in Jakarta that received premium grade sashimi straight from the dock.
But seriously, their sashimi is the best I have ever tasted in Indonesia. They are on par with great sashimi place in Sydney.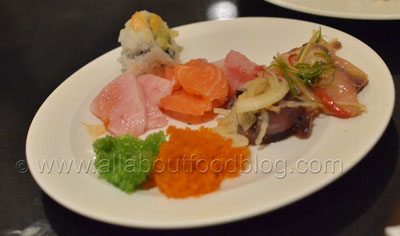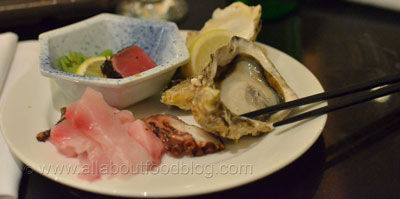 Teppanyaki
I think their Teppanyaki has the biggest selection of meat and vegetables. They have assortments of fishes, different cuts of meat including beef ribs, poultry, and mushrooms to name a few.
What I like most about its teppanyaki section is its tiger prawns. Gigantic prawns and sometimes with eggs are there (and unlimited) for you to enjoy.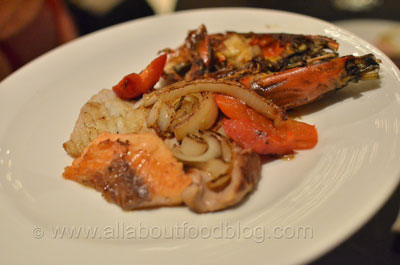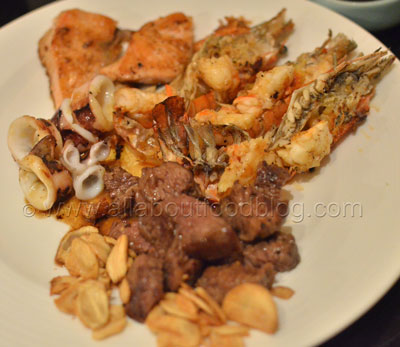 Robatayaki
If I told you above that Edogin's sashimi was fresh. One of the creatures in their Robatayaki range is still alive! Better yet, they are live baby lobsters! They can even cut your finger if you are not careful in picking them up. You can see a video of the lobster walking off the plate here.
They also have ikan malas (Marble Goby), salmon, tuna, lamb chop, sausages and fish head ready to be grilled.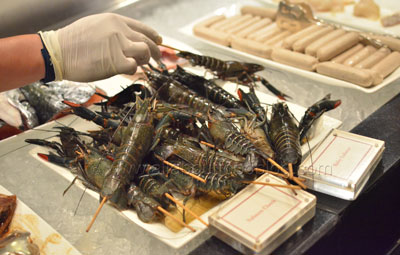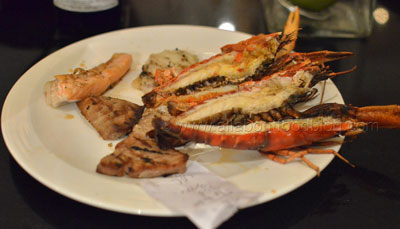 Noodles
I didn't get a chance to taste the noodles (even my tummy has its limit!), but just to let you know that they have made-to-order noodles counter.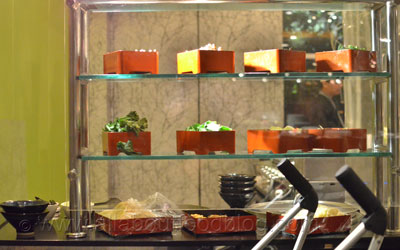 Assorted Japanese
There were quite a few fried stuffs in this section, including assortments of tempura. In this occasion, I tried their okonomiyaki, takoyaki, and fried salmon skin. I also tried its curious looking prawn and glass noodles in a short glass.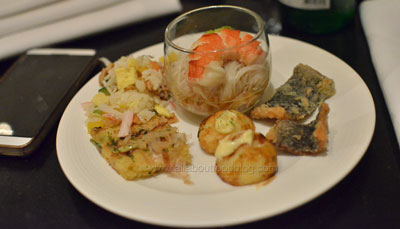 Assorted Desserts
By this point, I think you already got my point that there are lots and lots of options in every section. They seemingly have millions of mini bites, fruits, bread and butter pudding, and some things in shot glasses.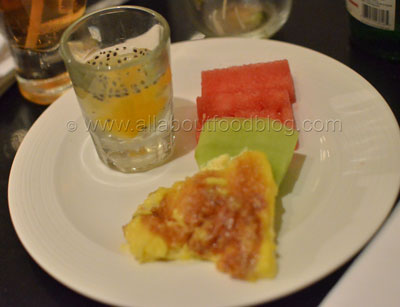 Assorted Ice Cream
And…. If your tummy can still handle it (or you can skip straight to this section), they have no less than 10 selection of ice creams with various toppings to enhance their flavours.
You can choose to have the 'standard' scoops and toppings scenario or they can mash them up on a bed of cold rock to create your personalised ice cream.
For this occasion, I ordered Pandan and Malaga ice creams with dragon fruit and lychee. You can also opt for the heavy options like chocolate ice cream with choco chip, cookies, and stuff.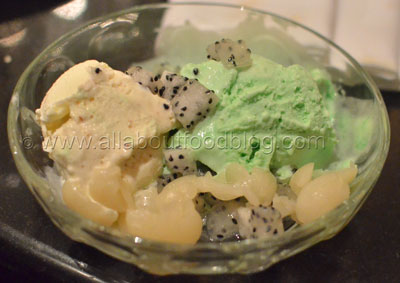 The final verdict for Edogin
Edogin might be a bit pricey to some Indonesians, but this all you can eat restaurant has the best value of any high-end restaurants in Jakarta!
Did you know?
This is the first restaurant in Indonesia that was given a score of 9.0. It is also possibly the only 9.0+ restaurant that I would come back to without severely damaging my pocket!
It is also nice to have the waiters and waitresses address you by your name when the food is delivered to your table.
Rating for Edogin:
9.0 / 10
Taste: 9.0 / 10
Price: $40 for all you can eat
Place: 9.5 / 10
Details:
Hotel Mulia Senayan
Jalan Asia Afrika, Senayan, Jakarta 10270
+62 21 5753274, 5747777
http://www.hotelmulia.com/index.php/dining.html