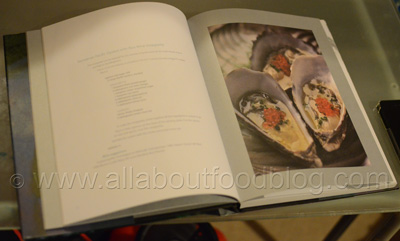 This oysters vinaigrette recipe was first written by Tetsuya Wakuda, the owner of the infamous restaurant Tetsuya's. If you are new to the website, please visit our review of Tetsuya's restaurant.
The first part of this recipe is the actual recipe written by Tetsuya. I will then let you know each of the items we used to make our rendition of the Vinaigrette.
Happy Cooking!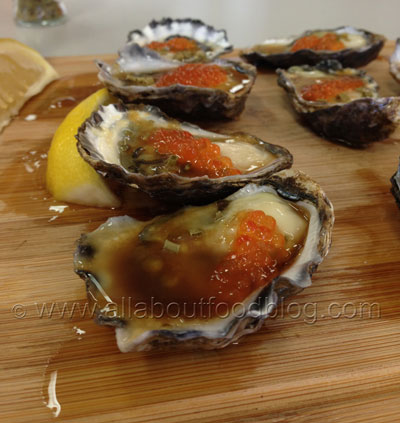 The recipe is called Tasmanian Pacific Oysters with Rice Wine Vinaigrette
Here are the ingredients:
12 large Pacific Oysters, shucked
Vinaigrette
1 teaspoon finely grated ginger
4 tablespoons rice wine vinegar
1 teaspoon castor (superfine) sugar
1 teaspoon soy sauce
6 tablespoons grapeseed oil
2 tablespoons olive oil
1/2 tablespoon lemon juice
Garnish
chives, finely chopped
3 tablespoons ocean trout roe
How to make the Oysters Vinaigrette?
To make the vinaigrette, whisk together all the ingredients in a bowl or jar.
Place a little ogonori on the base of the serving plate. Put the oysters on top and spoon over the vinaigrette.
Sprinkle the oysters with the chives and ocean trout roe.
So, the important question here is: How do we get all of those ingredients?
You can pretty much grab any soy sauce you can find in your cupboard.
We use crushed ginger that is normally sold in supermarkets
Castor (or superfine) sugar should be a staple ingredient for cake makers.
For the rice wine vinegar, we like to use Hinode Mirin. Mirin has a sweeter taste than normal rice wine vinegar.
Extra Virgin Olive Oil – I don't think you need an explanation for this.
Lemon Juice (you can easily squeeze it from a fresh lemon if you want).
Grapeseed oil might not be the thing you would normally have in your cupboard, but it should easily be available in any big supermarkets.
You should be able to buy freshly shucked oysters from your local fish market. They might also sell ocean trout/salmon roe.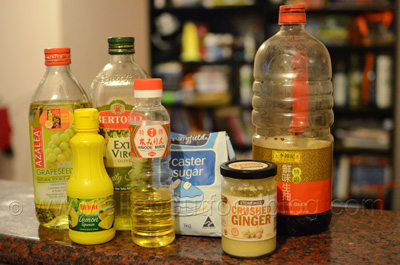 For an added kick to your Oysters Vinaigrette Recipe:
Just like any other fresh seafood, please buy the fresh oysters closer to the time you want to consume it – and for the love of God, do NOT buy them a day earlier!
I personally haven't tried this (because I think the vinaigrette is already awesome!), but Tetsuya advised that you infuse 10 cm of konbu in a bottle of 750 ml rice wine vinegar.
The vinaigrette can be made ahead of time and kept in the refrigerator.
Tetsuya recommend a good-quality champagne to accompany the dish.