7 / 10

Taste: 7 / 10

Price: $160 or $220 set menu

Place: 7.5 / 10
Review:
This is our last review of the year and also last review in our Melbourne trip and we would like to wish you all a happy holiday!! For this festive season, I present you a grand banquet from Shou Sumiyaki Sake Bar and Grill. There was quite a few of us and we ordered two of its sets: Wagyu Sumibiyaki Set ($160) and Wagyu and Seafood Sumibiyaki Set ($220). So, did the 'seafood' bit worth the $60 extra value? You can be the judge by reading the review below.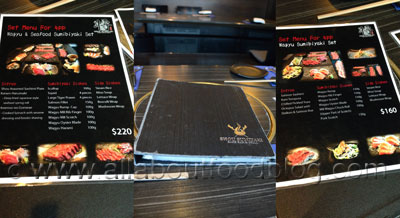 Side Dishes
Let's start with the boring stuff and the part with the least difference. You only received an additional Brocolli wrap for the more expensive one. The common dishes were: Steam Rice, Miso Soup, Lettuce Wrap and Mushroom Wrap.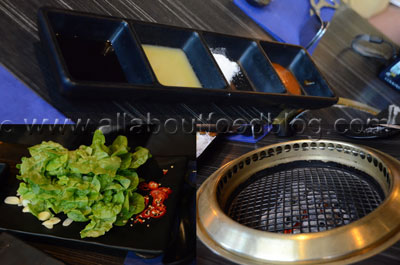 Entrée
It was two very distinctive menus for the Entrée. For the regular sumibiyaki, you get Salmon Sashimi, Kani Tempura, Chilled Pickled Yuzu, and Octopus Salad with Daikon & Salmon Roe.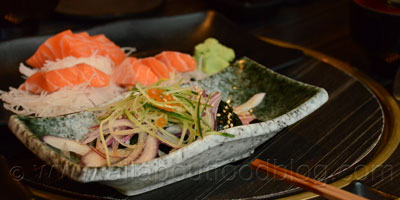 The seafood sumibiyaki offered more sophisticated names for the entrée: Shou Assorted Sashimi Plate, Kaisen Harumaki (Deep fried Japanese-style seafood spring roll) and Horenso no Gomeae (Cooked Spinach with sesame dressing and bonito shaving).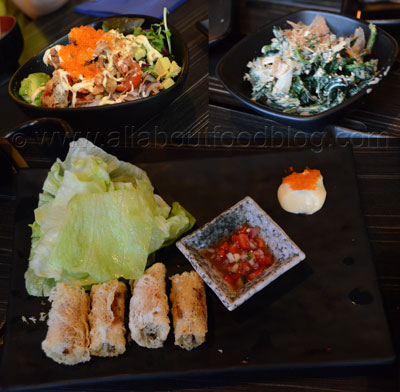 Strangely enough, I think that the regular sumibiyaki actually presented a better value when compared to the seafood one.
Sumibiyaki Dishes
The regular sumibiyaki was quite straight forward. The list was dominated by Wagyu beef: Rump, rib finger, scotch, oyster blade, and a Marble 8 wagyu chuck roll for a total of 650 gr and a pork scotch (substituted with Chicken for us – at 150gr)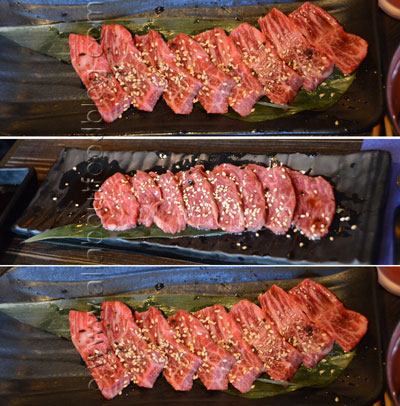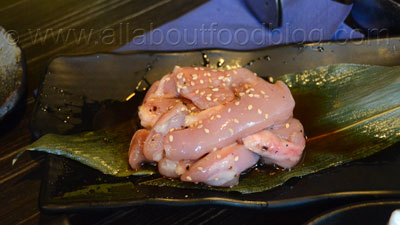 There were definitely a lot more qualities in the Wagyu (according to the menu) than the regular sumibiyaki: rump cap, Marble 8 rib finger, Marble 8 scotch, oyster blade, harami for a total of 500 gr. From the cost point of view, a marble 8 beef can cost twice as much as a marble 6 or 5. In addition to those beef cuts, you also got Scallops (100gr), Salmon fillet (150gr), squid (4 pieces), and 4 large tiger prawns.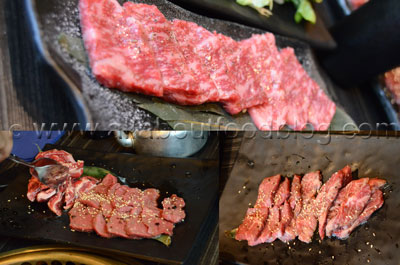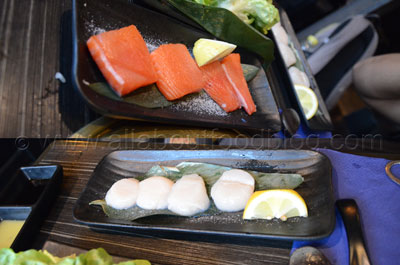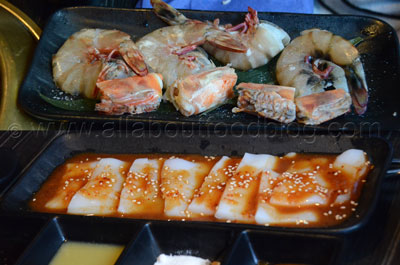 From the value proposition, the seafood sumibiyaki definitely came up top. However if you don't really know how to cook marbled wagyu, it might be hard to judge what's with all the fuss.
As my personal favourite, we have also ordered Wagyu Beef Yukke ($12.50).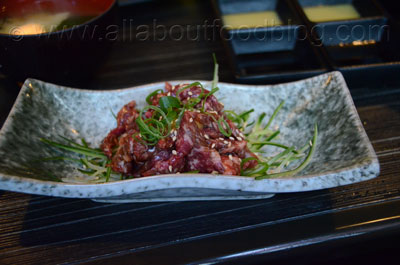 The final verdict for Shou Sumiyaki Sake Bar and Grill
The price point might be a bit steep in Shou Sumiyaki, especially for a four-person sumibiyaki. For a non-seafood eater, it's a no-brainer that they would choose the regular one.
Details:
160 Little Bourke Street, Melbourne
03 9654 3933
http://www.shousumiyaki.com.au/