7 / 10

Taste: 7 / 10

Price: $20++ main course

Place: 7.5 / 10
Review:
For our second Melbourne review, we went to a steakhouse called Meat Market South Wharf. As a reminder to readers, steakhouse faced quite a tough challenge in convincing me as I am very particular about my steak and I love to grill a steak at home!
Meat Market South Wharf has an interesting concept of an open kitchen. It was quite impressive that there were only three people inside the kitchen!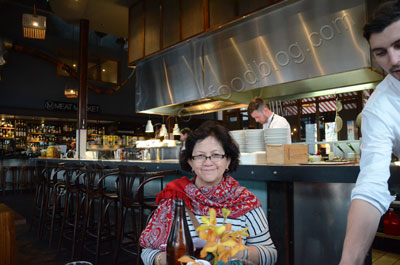 We were not going to order any starters, but our waiter warned us it would take around 40 minutes for the steak to arrive. Our choice fell to the House Made Dip ($16) – Olives, Feta, freshly baked buckwheat sourdough. This description omitted the most important piece (and the yummiest) of the dish, pumpkin dipping sauce.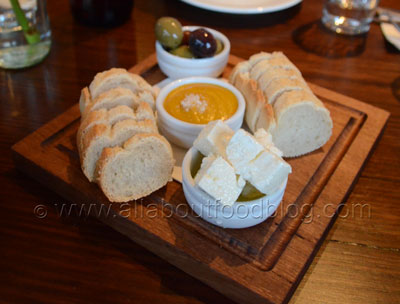 We did quite the unthinkable in a steakhouse by doing a shared dish for our main courses. We did it because of this sole reason: Meat Sharing Platter ($90) – chef's selection of today's cuts to share, mixed leaf salad and a selection of sauces (we chose peppercorn jus and blue cheese butter). It was a plate of three different cuts (if I'm not mistaken) – scotch fillet, eye fillet, and dry aged beef – for a combined size of 500gr. The presentation was quite appetising and the extra sauce and butter added a nice dimension to the steak.
Another interesting point here was the absence of potatoes (and their variances) from the plates. It might not be good news for a big eater like me as you would need to fork out an extra $9 or $10 for each of the companions. There were quite a few options here, but our choices went to Crumbed Onion Rings ($9) and Hand cut chips, spicy ketcup ($10). I always loved a good plate of onion rings and this one hit the spot for me. The chips on the other hand, I wasn't a big fan of.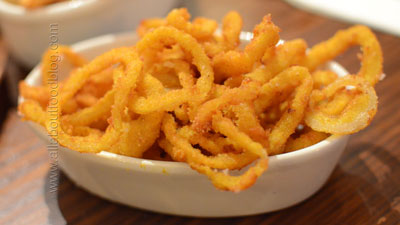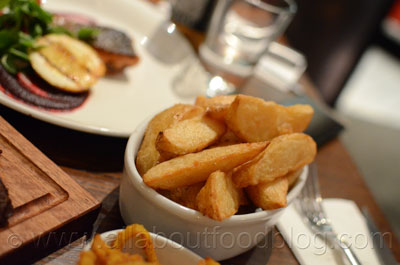 We also ordered the Catch (or fish) of the day. It was grilled salmon with beetroot sauce. The salmon was perfectly grilled but the plate looked quite barren with only a handful of vegetables and well-decorated spoonful of beetroot sauce.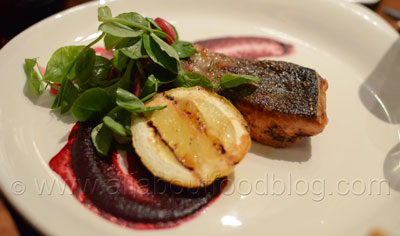 It took quite a long time (that's after the waiter's telling us it would take a long time) for the steak to arrive at Meat Market South Wharf. The steak itself ticked many approval boxes (including presentation), but there was really nothing sparkling about our experience there.
Details:
53 South Wharf Promenade, South Wharf, Melbourne
03 9008 8953
http://www.meatmarketsouthwharf.com.au/