8 / 10

Taste: 8/10

Price: $11 – $19 breakfast main

Place: 8/10
Review:
The Grounds of Alexandria is one of the hottest restaurants in Sydney. When I heard my friends describing it, it was always 'come before 8 AM or you'll be forced to wait for at least an hour!' However, they also said 'it was worth the wait.'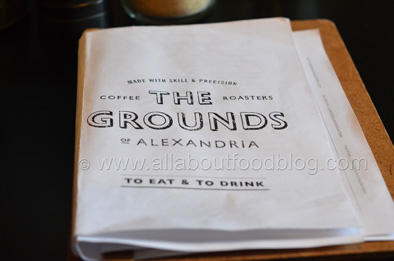 I finally got a chance to visit this fabled restaurant last week and I must say I am impressed! … and on a side note: No Queue! (I admit I cheated a bit by coming there on my day off Thursday Morning). Before you jump in to your car to visit the restaurant, make sure you turn your GPS on or you might need to make a very far U-turn if you missed it.
The Grounds of Alexandria gave us more than just a place 'To eat and To drink', it was a place to experience great coffee in a relaxing environment (you will see more pictures below). The front page of the menu also mentioned it was 'made with skills and precision.' There weren't that many dishes that we tried this time because there were only the two of us.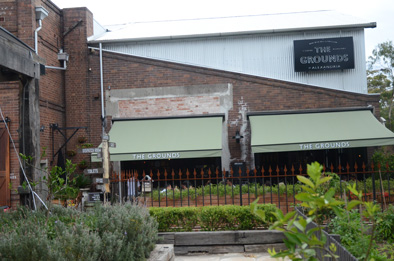 Coffee was obviously our main focus coming to the restaurant. It reflected on what the waitress asked us to begin our breakfast 'What coffee would you like to start with? '. I ordered my usual Café Latte. In addition to its great coffee, if you paid attention to the green saucer below (there was a small chip on it), it was actually designed like that.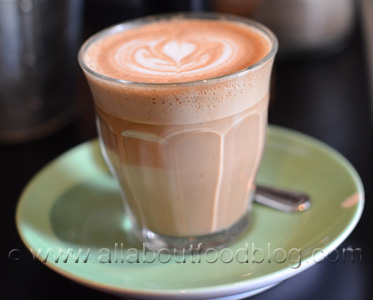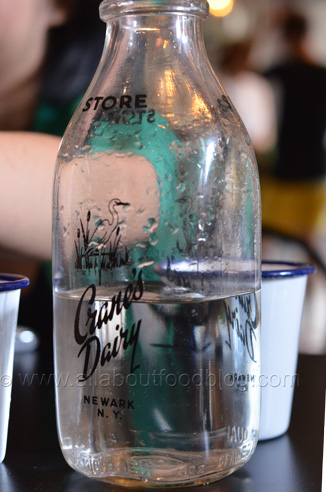 The menu was divided into two, breakfast and lunch. Since we arrived quite early, we only could order from the breakfast menu. We ordered two dishes that caught our eyes the most.
Our first one was House Cured Ocean Trout – $19. It had quite a hi-tech description from the menu: Soft boiled eggs with dill crème fraiche, pickled cucumber, micro herbs and sourdough. I can simply say: one fine dish! The combination of cucumber and crème fraiche was incredibly refreshing and the soft boiled egg was perfect. Enter the trout and you got yourself a really good dish for breakfast.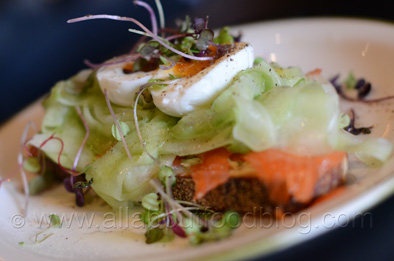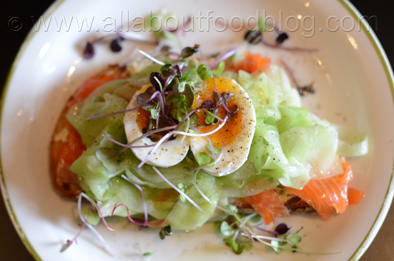 On the opposite side, Lemon Myrtle Mushrooms ($16) looked dead simple and I loved the selection of mushrooms; Shimeji, enoki, field, baby button and woody mushrooms. These tasty mushrooms were cooked in The Grounds lemon myrtle butter. The lemon toned down the mushrooms' woody and charred taste to a delectable level. To make it consistent, the fried egg and brioche enhanced the dry look of the dish.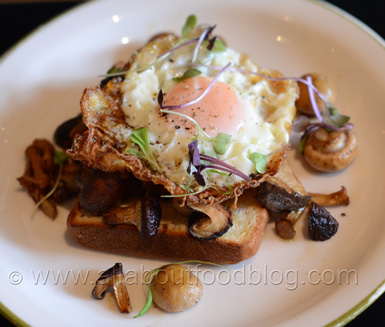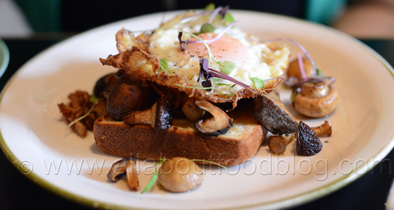 The next two pictures had nothing to do with The Grounds' food and beverages. I wanted to show you that even if you didn't get a seat inside, the outdoor area was about the same size. There was no table service for outdoor area.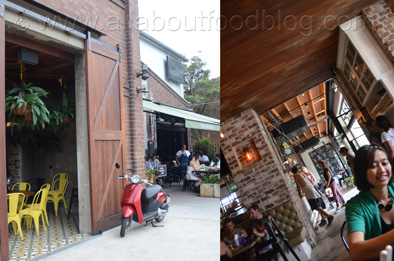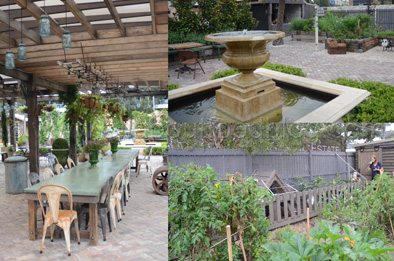 The final verdict for The Grounds of Alexandria
The Grounds of Alexandria really lived up to my expectations and I was happier as I didn't need to queue to get a seat! The House Cured Ocean Trout was fabulous and I have tasted nothing like it before.
Did you know?
In the block where The Grounds of Alexandria is located, there are three other shops opened. With very limited parking spaces, finding a parking around the area might be a difficult task.
One of the shops there deserved a special mention: Salt Meats Cheese. They sell some things that I've never seen anywhere in Sydney.
Details:
Building 7a, 2 Huntley Street, Alexandria 2015
Phone: +61 2 9699 2225