Review:
How many times have you seen chef prepare the dish in front of you in a restaurant? Possibly not that many.
How many times have you seen chef use liquid nitrogen in that preparation? Possibly almost none!
Alchemy restaurant did just that and with a pretty high standard! They call it the 'Nitro Bomb'. For just a fraction of your total bill ($9), you can enjoy liquid nitrogen sweet gastronomic nibbles. The nibbles were also quite varied (but they were strictly adult-only): Honeycomb, vodka meringue, tia maria meringue, and blood orange ice cream.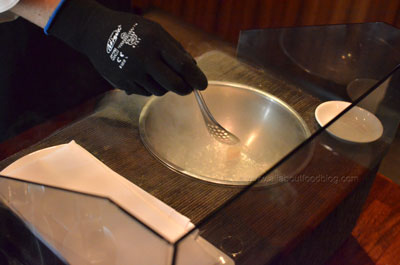 Alchemy restaurant is located in a nice riverside walk in Brisbane. You can opt to choose from the usual menu or their daily specials that were explained by the waitress.
I had a couple of dishes for the Entree: an oyster and pork belly. It was a pretty simple oyster with some slices of cucumber and a hint of yuzu. The pork belly was originated from Northern Rivers with diced eggplant (aubergine), apple salad and crackling. My pork belly was still pretty hot when served.
For the main course, I ordered braised beef cheek. The beef cheek was accompanied by silky smooth mashed potatoes, diced bacon, and mushrooms with red wine reduction sauce. The beef cheek was near perfection! You do not really need to use your knife because the meat was so delicate! It was a beautifully balanced dish. However, this main course was also pretty hot when served.
Feeling already a bit full, I pushed myself for a dessert, because the waitress told me that the Nitro Bomb was just nibbles. My choice fell to my personal favourite, Souffle. Their unique rendition of the soufflé involved mixed berry inside and outside the pot. It gave a very rich berry flavour for the souffle. For an even added flavour, you can mix almond crumble into the pot. Depending on how you normally enjoy a soufflé, you can either have the white chocolate ice cream infused or have it on its own.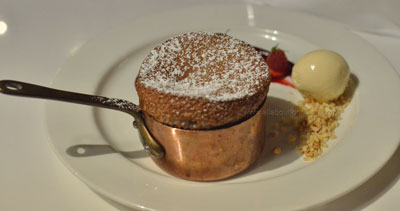 I left Alchemy Restaurant and Bar with a very full stomach and very happy feeling. Obviously, the highlight of the night was its nitro bomb and the beautiful display of craftsmanship.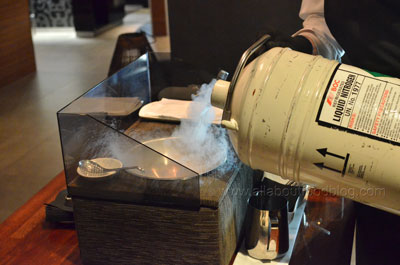 Rating for Alchemy Restaurant and Bar:
8.5 / 10
Taste: 8.5 / 10
Price: $90 for three-course meal
Place: 9.0 / 10
Details:
175 Eagle Street, Brisbane 4000
07 3229 3175
http://www.alchemyrestaurant.com.au/