Review:
Kazbah restaurant is situated at the heart of Darling Harbour's Harbourside shopping centre. In that place, there are dozens of restaurants for you to choose. One day, we felt like eating Middle Eastern cuisine and that's why I am writing this review.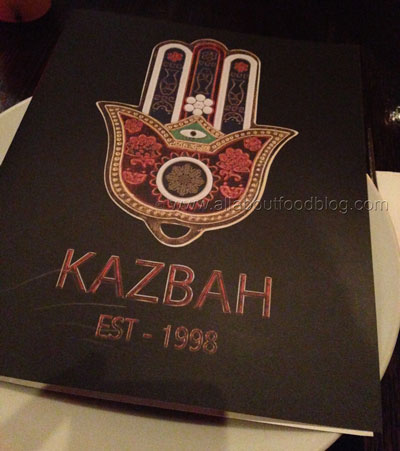 The restaurant has an extravagant atmosphere with dimly-lit, silky smooth vibe to it. Looking at the menu, we decided to go for a three-course meal with a simple entree. Middle Eastern main courses are normally pretty 'heavy'.
Each of us ordered Char-grilled quail (half a quail) with pomegranate sauce. We also had Rocket and Grilled Haloumi salad. Nice and light entree, as expected.
Main Course
If you are new to my blog, I usually look for two things in a restaurant: something unique and a dish that the restaurant is famous for. Obviously our first main course fell in the first category: Camel Kafta. Presented in Shish Kebab style, the Kafta was grilled perfectly and I loved how the date sauce gave an extra taste to the meat. Synonym to the grand theme, the camel kafta was showered with generous serving of lentil and Tunisian ratatouille.
We ordered the other main, Lamb Shank, because of our curiosity.  The lamb shank was stewed with prunes, carrots and kidney beans. Nevertheless, we are still trying to find a lamb shank dish as good as the one we had in Port Stephens.
Dessert
Since my wife is a massive fan of Baklava, we must order one everywhere we go. For this one, this one was not too sweet and quite enjoyable. We also had Turkish Delight but it was pretty sweet.
The second dessert was rather extravagant and very pleasing to see, Date and Walnut Linzer Tart with carob mascarpone. Two tempered chocolates decorated both sides of the tart with little droplets of butterscotch accentuated the plate. However, I would not recommend you if you already had a full tummy. This dessert was incredibly heavy with a rich taste!
Kazbah Restaurant delivered a nice Middle Eastern feel with well-presented Middle Eastern dishes.
Did you know?
There was one dessert that really stood out when we were there but we did not order. It was called Kazbah Bomb for Two. Flamed with Kurrant Vodka, this dessert should really excite everyone around you.
Also, for some reasons UrbanSpoon's reviewers think that Kazbah in Balmain is a lot better than the one in Darling Harbour.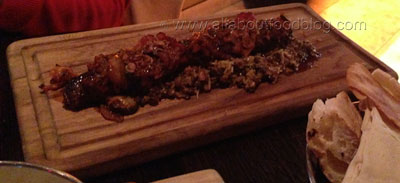 Rating for Kazbah Restaurant:
7.0 / 10
Taste: 7.0 / 10
Price: $50 for three courses
Place: 8.0 / 10
Details:
Harbourside Shopping Centre
Shop 284 / 2 – 10 Darling Dr, Sydney 2000
02 9555 7067