Review:
For this week's review we travelled up and down mountain side in Bandung to a place called Boemi Joglo. It is quite an interesting name choice that can be translated into 'The World of Joglo'. Joglo is a traditional house of Javanese people. You can read more about Joglo in Wikipedia as usual.
Boemi Joglo has this fantastic one-page listing of stuff you can eat and drink. It is very simple with no pictures. So, you kind of have to know what you want to eat.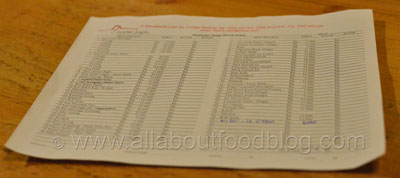 The first thing you have to order is Tempe Mendoan. Tempe mendoan is a deep fried soy bean cake with yummy spices. The difference between regular and great tempe mendoan is its 'sambal kecap' dipping sauce. This restaurant has a pretty tasty dipping sauce to complement the dish!
Their 'signature dish' is Nasi Liwet. There are two options of Nasi Liwet: Nasi Liwet Ikan Asin or Nasi Liwet Ayam Jamur. You need to order the nasi liwet based on the (perceived) number of people on the table. It has a serving for 2, 4, 6, 8, or 10 people. Nasi Liwet Ikan Asin has salted fish as its core ingredient. They put quite a few vegetables in the dish, but I don't really mind it this time.
Nasi Liwet Ayam Jamur's core ingredients are chicken pieces and mushrooms. I guess this one is for the less adventurous people that have 'regular' taste palate. The rice is cooked on a clay pot. Clay pot cooking presented a nice dimension to the rice you are eating.
What I love the most about the place is its Sate Maranggi. This satay has 1/3 of fat content in every stick -> Yes, it's crazy fattening but incredibly yummy! Sate Maranggi is usually served with chopped chilli, sweet soy sauce and vinegar.
The next one might be good if you have fussy eaters: Kentang Sosis, which translates into Fries and Sausages. Nothing can go wrong with fries and sausages… or can it?
This last dish is pretty good if there is only a few of you. Nasi Timbel Joglo + Sayur Asem is the name. You get a pretty good deal for this one: A quarter of grilled chicken, two pieces of Tempe Mendoan, rice cooked in banana leaf, chilli sauce, some vegetables and sayur asem. Sayur asem is a sweet and sour vegetable soup with tamarind as its main ingredient.
The final verdict for Boemi Joglo
Being Javanese I do not normally eat these dishes, except maybe the Satay. Moreover, I usually pass on Nasi Liwet, let alone eating them. However, Boemi Joglo delivered such a killer Nasi Liwet that I cannot get enough of!
Did you know?
Dago is quite a large (and famous) part of Bandung. They have shops, cafes, boutiques on the lower part and restaurants with nice view of the city at the Northern part, called Dago Pakar.
One small warning though: Going there on a weekend would seem like a struggle, because of the tiny road being run over by millions of people.
Rating for Boemi Joglo:
7.5 / 10
Taste: 7.5 / 10
Price: $3 – $5 per person
Place: 7.5 / 10
Details:
Jalan Rancakendal Luhur No. 17, Dago Bandung
+62 22 250 1344 / 9112 1679