Recently, there is a surge of burger joints in Sydney that serve American-style burger that looks pretty messy and possibly disregard any health concern. I tried a couple of them, especially the smoky beef brisket, and was instantly loving it. Coupled that with a tv show called "Man Fire Food" and here I am searching a way to make smoky beef brisket!
I read a recipe from Taste.com.au on how to make smoky beef brisket and tweaked it a bit. This way, I don't need to purchase additional ingredients that I might not need in the near future.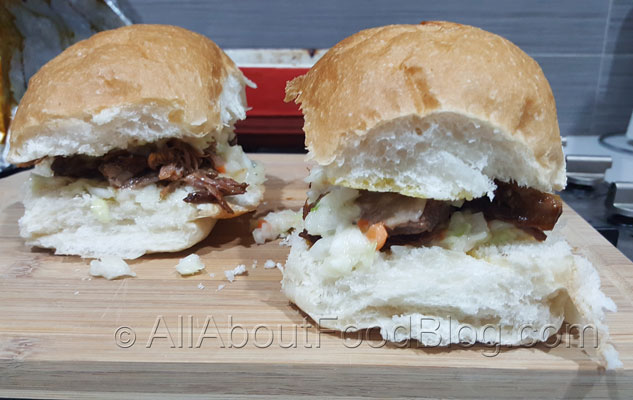 What do we need to make Smoky Beef Brisket?
This is the original recipe:
1. 1/2 cup smoky bbq sauce
2. 1/4 cup bourbon
3. 3 garlic cloves, crushed
4. 2 teaspoons smoked paprika
5. 1/4 – 1/2 teaspoon cayenne pepper
6. 1.3kg beef brisket
I substituted the sauce and bourbon to 3/4 cup of McCormick Grill Mates Brown Sugar Bourbon BBQ sauce (because this is the one I currently have at home). I also use Mexican chili instead of cayenne pepper.
The preparation for making Smoky Beef Brisket
Combine all of the ingredients above in a baking dish (quite a big one). Make sure you coat every part of the beef brisket (turn several times if needed). Once the beef brisket is fully immersed in the marinade, cover the dish with cling wrap. Leave it in the fridge overnight (or a minimum of four hours in the fridge).
You might also want to buy burger buns and coleslaw for the salad.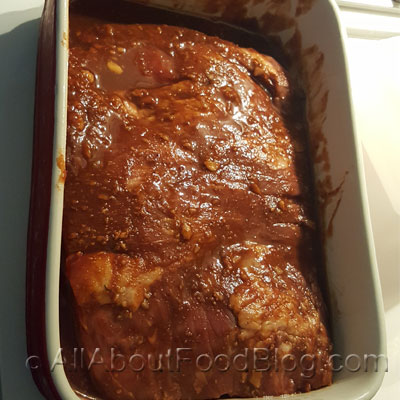 How do we make the Smoky Beef Brisket using conventional oven?
1. Preheat oven to 160 °C or 140 °C fan-forced.
2. Cover the baking dish with aluminium foil.
3. Bake for 2.5 hours.
4. Turn the beef upside down. Be careful when taking the dish out as it is very hot.
5. Bake for another 2 hours or until you can easily scoop the beef with fork.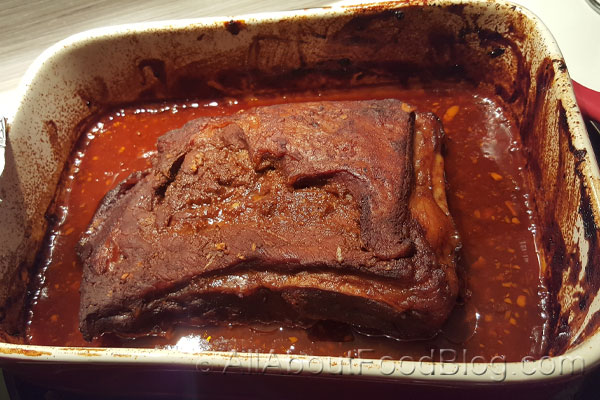 A little tips to make your perfect Smoky Beef Brisket
1. For the cup measurement, I use the standard kitchen cup (possibly something around 237 ml).
2. Be generous with the marinade sauce. Be VERY generous!
3. Add extra chili for extra kick!