Review:
One of the perks of having a birthday at the end of September is that you get to wait until Good Food Guide is released for the year. You can then book one of the winning restaurants. This year, we went to the 'double winner', The Bridge Room. In addition to getting their third hat, they were also crowned Restaurant of the Year in 2016.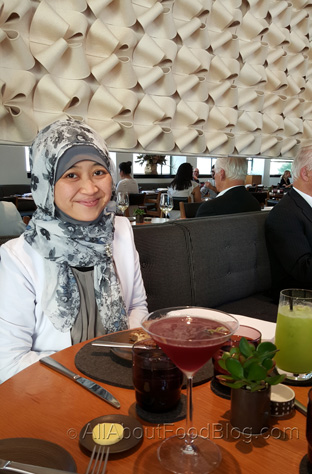 We came in for lunch on Friday and the restaurant was decently filled. Without further ado, let's talk about the food!
Children's Beef Steak – $25
Well, the fact that they have a kid's menu still amazes me. On top of that, this has got to be the best kid's menu dish I have ever seen and tasted in my life. Our little one is also a pretty good 'reviewer' – i.e. he wouldn't hesitate saying 'yuck' if it was a crappy dish. In this instance, he devoured everything on the plate.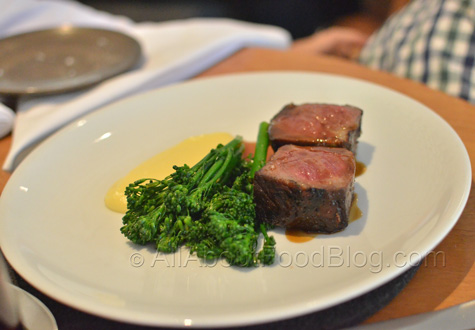 Fraser Island Spanner crab, pickled and shelled, new season asparagus – $34 – artichoke butter, basil, celery leaf salt
Our first entrée looked so light and simple yet it was elegant and sophisticated!  The soft crab meat combined with the delicate seasoning created such a rich dish. When you add artichoke butter and asparagus into the mix, you got yourself a very unique dish!
It is perfect for people who wanted to start their lunch on the lighter side.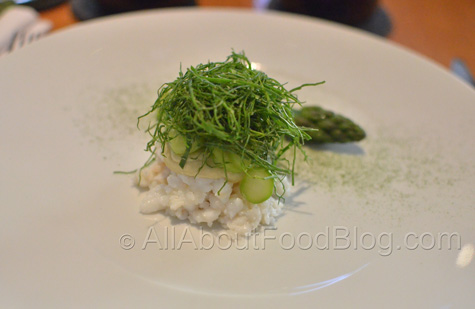 Robata grilled raw beef, pickled greens, shiitake mushrooms, puffed jobs tears – $33 – dried mushrooms, miso, roasted peanut oil
I have always known robatayaki to be a cooked beef satay. So, looking at the description of raw robata beef, I was very intrigued. Presented in a dark-themed plate, the raw beef was exquisite!
The beef was rather obscured by the dried mushrooms and was perfectly complemented by shiitake mushrooms and miso!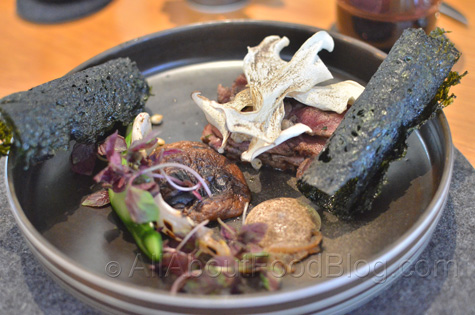 Wild caught Snapper, burnt celeriac, celeriac softened in butter – $48 – Cipollini onions, sticky chicken sauce
Our first main course was a snapper. The fish was cooked perfectly with crispy skin. It was enhanced by crunchy celeriac and sweetness of onion. The black sauce was the icing on the cake. It bound the dish into a perfect experience!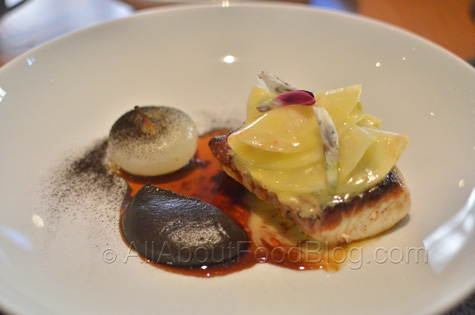 Ocean Trout, crisp skin, silken eggplant, roasted tea broth – $45 – sesame, puffed rice, organic soy sauce, grilled rock kelp.
This is not a dish that I would normally order in a fine dining restaurant as I would really hate my fish to be overcooked. When the dish came, it looked perfect. The taste? The meat was beautifully cooked and the skin was extra crispy.
There was also another surprise in this dish. They put hot and spicy stuff (I'd guess something like chili seeds!) on the silken eggplant! It added a whole level of complexity to the ocean trout. It was an exciting surprise!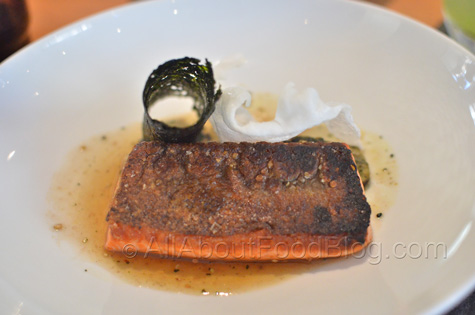 Steamed broccolini, smoked onion puree, sweet pickled onions – $11
Steamed broccolini was the side dish that accompanied our main courses. There was actually quite a lot of them on the plate! I actually loved mixing the smoked onion puree with my ocean trout. It gave that extra sweet taste to the fish.
Burnt caramel cream, candied Packham pear salad – $18 – pistachio crumb, mint, basil, raisins, pedro ximenez
The burnt caramel cream looked a bit more like a savoury dish with all of those edible flowers and 'salad'.
It was a rather bitter dessert with enhanced crunch from the pistachio crumb. The pear salad and mint balanced the bitter flavour really nicely.
It is suited for people who like complex dish to end the service.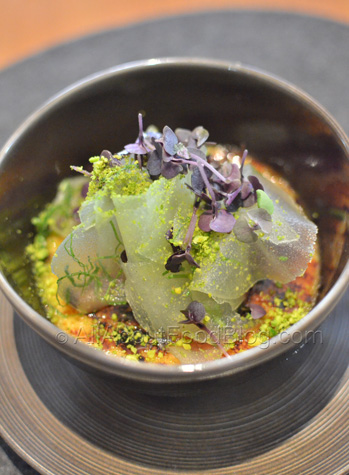 Aerated passionfruit, roasted nougatine, passionfruit ice cream – $18 – passionfruit seed powder, glass biscuit
On the other hand, the passionfruit ice cream gave us a very refreshing end to our lunch.
There are quite a lot of elements on the plate, including tiny meringue-looking aerated passionfruit.
A word of advice: Just try to cut the glass biscuit in small pieces … It was quite difficult to digest in a big chunk!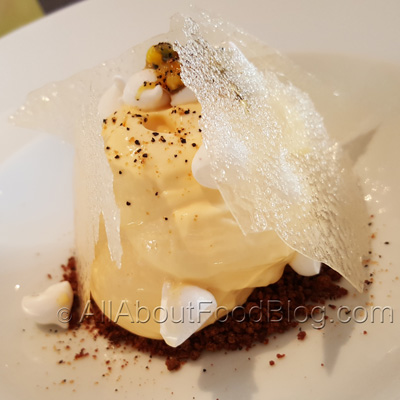 There is no doubt that The Bridge Room deserved the three hats and title of Sydney's best! Everything was spotless when we dined there!
Did you know?
This is only the second restaurant that we have ever given a score of 9.5, the other one was Tetsuya's.
You should also order their Berry cocktail with Yuzu. If I don't need to work after lunch, I would order a second!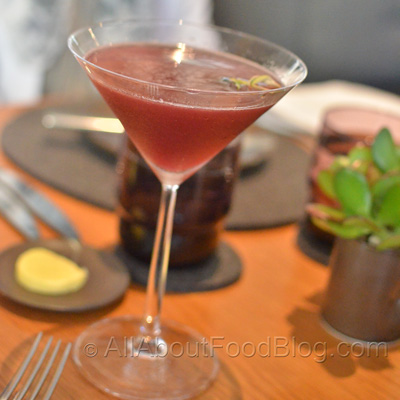 Rating for The Bridge Room:
9.5 / 10
Taste: 9.5 / 10
Price: $250 for two excl. wine.
Place: 9.5 / 10
Details:
44 Bridge Street, Sydney 2000
02 9247 7000
http://www.thebridgeroom.com.au/