The award season is here! It is the world's 50 best restaurants 2014. To be named in this site as the world's 50 best restaurants is probably the highest accomplishment a chef can get.
The World's 50 Best Restaurants 2014
Despite a different winner, there were no surprises in the Top 3 list this year. Noma reclaimed the top spot as the best restaurant in the world. This Danish restaurant came up second last year but winner of the previous three. El Celler De Can Roca from Spain was knocked back to number two. Osteria Francescana from Italy is the third best for the last two years.
Australia's best restaurants in 2014
Despite falling 11 places to number 32, Attica from Melbourne is still the best restaurant in Australia. Attica is also the only Australian restaurant in this 50 best restaurants list. This year, they even won the Acqua Panna Best Restaurant in Australasia.
Quay, the only restaurant that all about food blog has reviewed, fell 12 spots to number 60.
Asia's 50 Best Restaurants 2014
As a spin-off to the list, they also produced the 50 best restaurants list for Asian region.
This year's top Asia 50 best restaurants is Nahm from Bangkok, Thailand. Last year's winner, Narisawa, got the runner up position. Interestingly, Nahm became the top restaurant in Thailand after being the first (and only?) Thai restaurant in London to receive a Michelin star.
Indonesia's best restaurant in 2014
As an Indonesian descent, I am happy to know that  one Indonesian restaurant in on the list! Sarong Restaurant Bali was listed at number 47 in the Asia's 50 best restaurants 2014. Founder chef, Will Meyrick, was known to be an apprentice for Gordon Ramsay. He used to own Longrain restaurant in Sydney. Looking briefly at the menu, it looked like a mishmash of Asian food.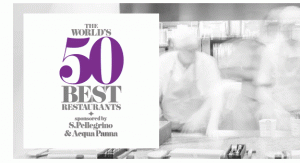 … and here is the list of 50 Best Restaurants 2014:
1. Noma, Copenhagen, Denmark
2. El Celler de Can Roca, Girona, Spain
3. Osteria Francescana, Modena, Italy
4. Eleven Madison Park, New York, USA
5. Dinner by Heston Blumenthal, London, UK
6. Mugaritz, San Sebastián, Spain
7. D.O.M, Sao Paulo, Brazil
8. Arzak, San Sebastian, Spain
9. Alinea, Chicago, USA
10. The Ledbury, London, UK
11. Mirazur, Menton, France
12. Vendôme, Bergisch Gladbach, Germany
13. Nahm, Bangkok, Thailand
14. Narisawa, Tokyo, Japan
15. Central, Lima, Peru
16. Steirereck, Vienna, Austria
17. Gaggan, Bangkok, Thailand
18. Astrid y Gastón, Lima, Peru
19. Fäviken Järpen, Sweden
20. Pujol, Mexico City, Mexico
21. Le Bernardin, New York, USA
22. Vila Joya, Albufeira, Portugal
23. Restaurant Frantzén, Stockholm, Sweden
24. Amber, Hong Kong, China
25. L'Arpège, Paris, France
26. Azurmendi, Larrabetzu, Spain
27. Le Chateaubriand, Paris, France
28. Aqua, Wolfsburg, Germany
29. De Librije, Zwolle, Netherlands
30. Per Se, New York, USA
31. L'Atelier Saint-Germain de Joël Robuchon, Paris, France
32. Attica, Melbourne, Australia
33. Nihonryori RyuGin, Tokyo, Japan
34. Asador Etxebarri, Atxondo, Spain
35. Martin Berasategui, San Sebastian, Spain
36. Mani, Sao Paolo, Brazil
37. Restaurant Andre, Singapore
38. L'Astrance, Paris, France
39. Piazza Duomo, Alba, Italy
40. Daniel, New York, USA
41. Quique Dacosta, Denia, Spain
42. Geranium, Copenhagen, Denmark
43. Schloss Schauenstein, Furstenau, Switzerland
44. The French Laundry, Yountville, USA
45. Hof Van Cleve, Kruishoutem, Belgium
46. Le Calandre, Rubano, Italy
47. The Fat Duck, Bray, UK
48. The Test Kitchen, Cape Town, South Africa
49. Coi, San Francisco, USA
50. Waku Ghin, Singapore