This week we are writing a Japanese food recipe that was passed on by our friend when they came to our place for a potluck. Agedashi tofu is probably something that is available in every Japanese restaurant in Sydney. So, we are facing a daunting task of giving you an edible Agedashi Salmon and Agedashi Tofu recipe. It is easier to prepare agedashi salmon, so I will write first about it and have a special section in the end on how to cook the tofu.
Happy Cooking!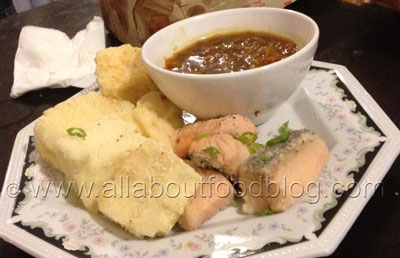 What's needed for cooking Agedashi Salmon and Tofu?
300gr boneless Salmon (skin on or not is up to you)
Silken tofu
Corn flour (or cornstarch) that is enough for coating the salmon and tofu
Salt, as preferred, to be mixed with the corn flour
Cooking oil (anything that you want) – we like to use sunflower
Spring onion, sliced thinly for the garnish
Sauce recipe:
Sauce plays an important part in this agedashi tofu recipe.
1.25 cup of dashi stock. Dashi stock is an ingredient commonly used in Japanese food. Please visit La Fuji Mama blog if you wante to know how to make Dashi.
5 tbsp mirin. Mirin is a Japanese sauce / condiment that has a lower alcohol level and higher sugar content than sake. If you don't have / don't want to use mirin, you can substitute it with 5 tbsp rice wine vinegar and 3 tbsp of sugar.
5 tbsp light soy sauce.
1 small onion, thinly sliced.
1 medium-sized carrot, grate coarsely
1 garlic, finely diced
How to cook Agedashi Salmon?
Salmon is diced according to our preferred size.
Heat up the cooking oil until around 160°C
Put enough corn flour (pre-mixed with salt) as the coating for the salmon.
Fry it until golden brown.
To make the sauce:
Mix all of the sauce ingredients into the saucepan.
Cook in high heat until it boils.
Add a bit of corn flour (mixed with a bit of water) to thicken the sauce.
 Things to be observed when frying Agedashi Tofu:
Cooking the tofu is pretty similar to Agedashi salmon. However, due to its fragile state, there are things to consider when cooking agedashi tofu.
Drain the water when you opened the package.
Encase the tofu with layers of paper towel. This will absorb the excess moisture in the tofu.
You might want to place the tofu on a plate before you sprinkle the corn flour.