6.5 / 10

Taste: 6.5 / 10

Price: $115 for 3.5 people

Place: 7 / 10
Review:
As someone who enjoyed food so much, just hearing this restaurant's name is music to my ears. Belly Busters is strategically located at the heart of Surfers Paradise and you would expect with big name like this, people would be enticed to at least try it out. That was exactly what we did…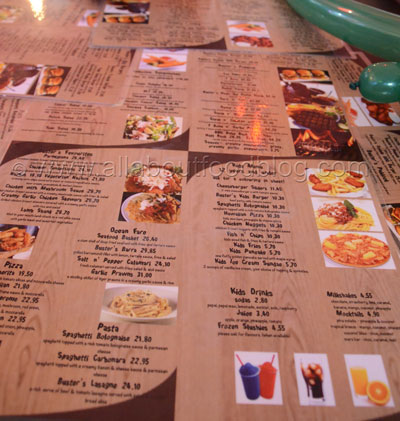 On this occasion, two of our entrée used the same ingredients, wings. They were Buffalo Wings – Chicken Wings with a spicy tomato sauce – and BBQ Wings – Chicken wings with BBQ sauce. It was quite strange to receive two deep-fried wings dishes, one with tomato and the other BBQ sauce. If they said on the description that it would be deep-fried, I wouldn't be as disappointed because they actually tasted okay for a deep-fried chicken. However, they definitely weren't Buffalo or BBQ Wings as advertised.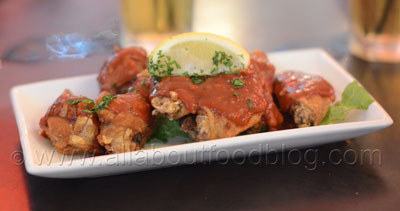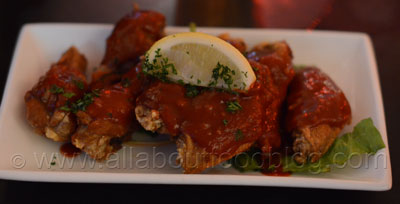 For the main, I chose Rump n' Bug – 350 gr rump steak topped with a bug covered in creamy garlic sauce. From the presentation standpoint, it was pretty good as they actually put an effort to decorate the plate. The steak was juicy but was cooked a bit towards the medium side, instead of medium rare. In addition to that, the bug was quite a letdown as it was not as fresh as I would like it to be.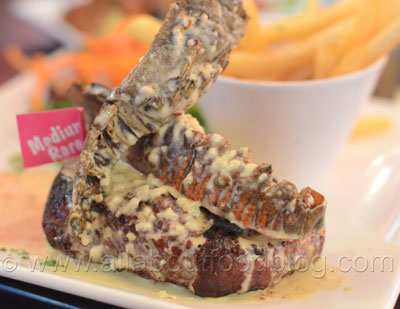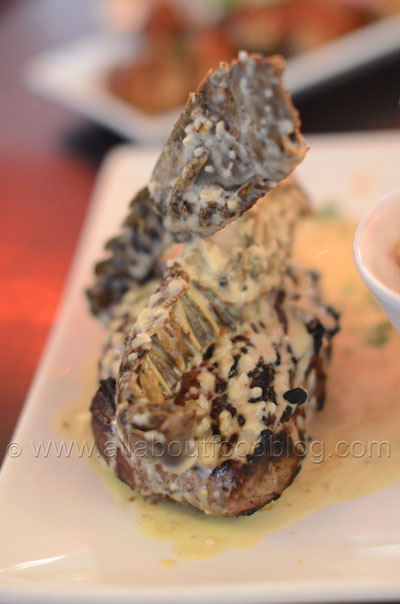 For the next main course, we ordered T Bone n' Garlic Prawns – 400gr T-bone steak topped with garlic tiger prawns in a creamy garlic sauce. Just by looking at the pictures below, you can see that the prawns were quite insignificant. The T-bone was also quite well done (instead of medium).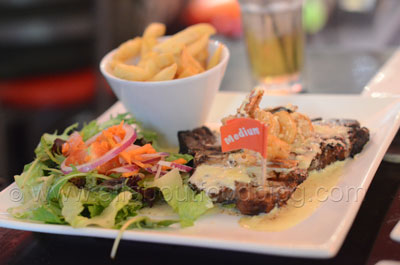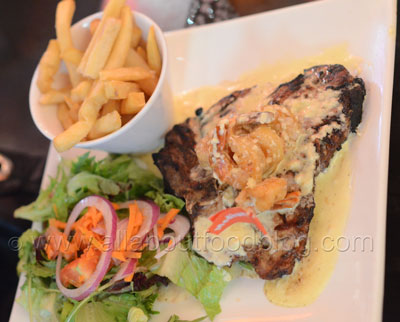 I guess when you ordered steak you might want to choose one below your expected level on how they cook the steak.
The final verdict for Belly Busters
Being at the heart of Surfers Paradise, Belly Busters will not need to do anything to advertise the restaurant. However, despite its big name, the restaurant under delivered on the taste department.
Details:
Centro Surfers Paradise, Cavill Mall, Surfers Paradise, QLD
07 5538 2355