8.5 / 10

Taste: 8.5 / 10

Price: $150 for 2.5 people

Place: 8.5 / 10
Review:
A little prelude before my review of Three Blue Ducks restaurant: My wife had wanted to go to this restaurant before we eventually had the occasion to do so. I would probably describe the restaurant as French-style modern Australian with Asian influence. The only downside here was that I did not bring my big camera with me and had to rely on my iPhone! Three blue ducks menu is a very simple piece of paper on a clip board. I think it is quite beneficial as they change dishes seasonally. The dish was divided into four categories: smalls, bigs, sides and sweets (I think you can figure out what they mean).
It is obvious that we have to select seafood as our 'smalls' dish as five out of seven selections were seafood dishes in three blue ducks. Our first option went to snapper ceviche ($14). It was a beautifully presented dish that gave us a fresh start to our dinner. The next one was an unconventional corn, chawanmushi and crab ($17). It came as the 'swipe' presentation on one end of the plate.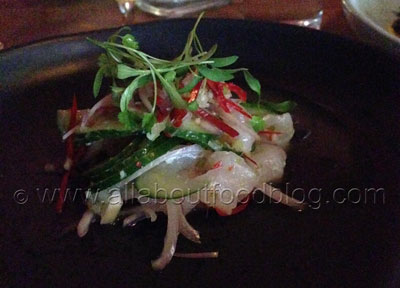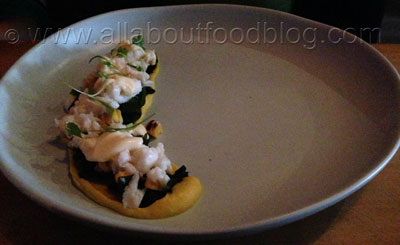 We also took out their special of the night, beef brisket with chimichurri. When the wait person explained the special for us, all I could hear was 'Beef brisket… slow cooked for x amount of hours… then cooked with chimichurri'. However, since I am a big fan of chimichurri, I took this option. I know my picture really didn't do justice here, but the beef was great. It was very soft and you didn't even need a knife to cut it up!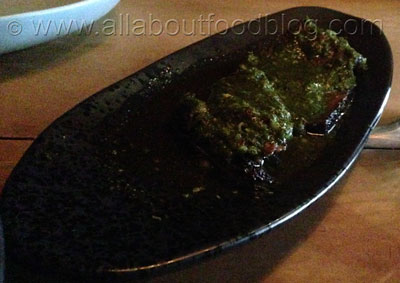 Now, we move on to the 'bigs' dishes. It would be a sin if you go to three blue ducks without actually trying their duck menu. On this occasion, it was duck, chilli jam, mushrooms and greens ($32). I was actually quite reluctant to try because of the word 'chilli'. However, when a one hat restaurant in Australia specified chilli on the menu, you wouldn't be expecting a blistering hot one! I had to share the duck with my son, because he chose this more than the beef brisket or chawanmushi we prepared for him. I guess he wasn't wrong because it was clearly the best dish of the day. We didn't even leave a single drop of the sauce!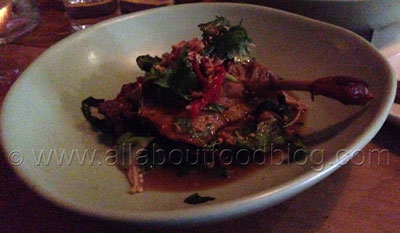 Our other 'bigs' dish was wallaby, broccolini, pickled grapes ($30). We tried this out of pure curiosity. How many restaurants listed wallaby as an item on their menu? Possibly not many! The interesting part of this perfectly cooked wallaby was a hint of wasabi on its sauce. To be honest, we had difficulties in actually recognising that it was really a wallaby meat.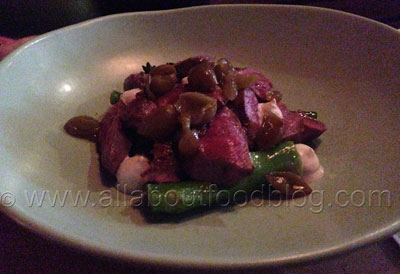 They have some unusual items for side dishes, the 'sides'. However, we found that they were the best value for money and tasted pretty great! For the first dish, it was a rich and flavoursome mushroom and grains dish ($8), they used different types of mushrooms and grains that were most likely consisted of barley and quinoa. We also loved the roast carrots, honey and almonds ($8). Not only they provided a sweet dimension to our dinner, it was also presented in quite a decent size.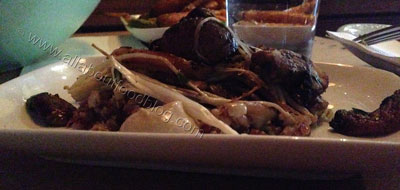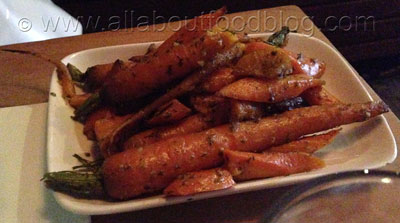 I must say the 'sweets' section had a list of dishes with quite unusual ingredients. We decided to pick apple & pears, ginger & mint custard ($14). It was quite an interesting mixture of sour apple sorbet, diced pears, and strong flavour of ginger and mint sauce. They also used savoiardi (or ladyfinger biscuit) that soaked up most of the strong-tasting custard.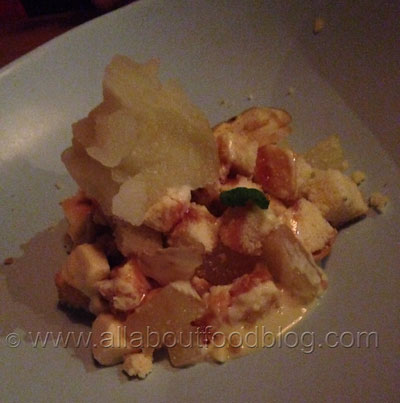 It is quite rare that we went to a restaurant with high hopes and met with equal or better presentations. Three blue ducks restaurant actually exceeded my expectations as a one hat restaurant!
Details:
141-143 Macpherson St, Bronte
02 9389 0010
http://www.threeblueducks.com/