Review: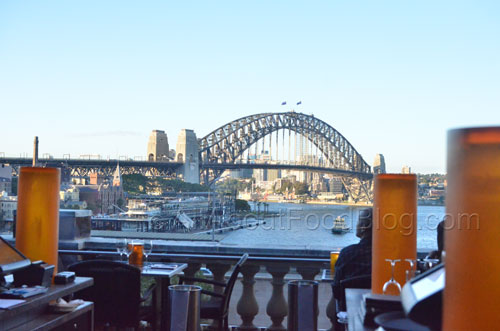 Cafe Sydney is probably one of only a few restaurants in Sydney with the best view of the Sydney Harbour Bridge. Since we came to the restaurant with a rather large group, we opted to have shared entrees and skipped desserts altogether.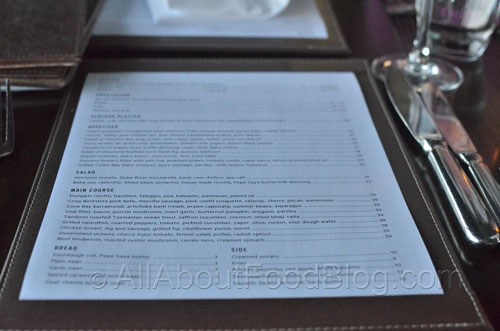 Entrees and Side Dishes
When I see Pepe Saya butter, I tend to want to order them. At $3, the sourdough roll with Pepe Saya butter is a pretty good deal. However, the ones that we could not get enough off were the garlic naan and spiced caramelised onion naan.
Our first entree was unanimously voted to be ordered: Carpaccio of wagyu beef, truffle dressing, caper, aioli, baby rocket. It was a light and refreshing entree.
Our second entree was Tathra rock oyster with Vietnamese-style dressing and salmon roe. According to the menu, the oyster was unique to Nelson's lake in NSW.
We also ordered Dutch cream potato Lyonnais, caramelised onion, béchamel. It is a pretty good addition to your main dish, considering that the main dishes did not include any carbohydrates.
Main Dish
There were quite a few main dishes ordered on the night. Due to proximity issues, I could only take pictures of four of them.
Our first dish was Crisp Berkshire pork belly. However my friend said it was lacking the crisp.
The award for prettiest and most exciting dish went to the Blue eye trevalla. It was served with pumpkin gnocchi, peas, pipis and tapenade butter.
I was interested with the Tandoori roasted Tasmanian ocean trout with saffron cucumber, coconut, onion bhaji, and raita. They were golden on the outside and a pink inside!
The dish that I ordered that evening was the Beef tenderloin with roasted oyster mushroom, cavalo nero and creamed spinach. I liked the combination of creamed spinach and roasted mushroom for my steak!
Restaurants tend to overcharge when they are on premium sites. Cafe Sydney balanced that with decent quality food! However, I do not recommend you to come in for early dinner.
Did you know?
We went to the Cortile at the Intercontinental Hotel for desserts as Cafe Sydney used time limits on their tables.
Our group likes to unwind there for a few desserts and drinks.
Rating for:
7.0 / 10
Taste: 7.0 / 10
Price: $35 – $48 for main dish
Place: 9.0 / 10
Details:
5th floor, Customs House, Alfred St, Circular Quay
02 9251 8683
Cafe Sydney: 
The Cortile: