Review:
This will be my first review for restaurants in New Zealand. Obviously, the first thing that I look for is meat! There is no better restaurant to test this out than El Sizzling Chorizo. El sizzling chorizo is an Argentinean restaurant that serves grilled meats with Argentinean chimichurri sauce. For the record, I love good chimichurri sauce!
The restaurant is located in an upmarket suburb of Ponsonby in Auckland. My friend in Auckland said that it was almost impossible to get a seat in this area for the weekend without queuing up for hours. They have an interesting open grill kitchen.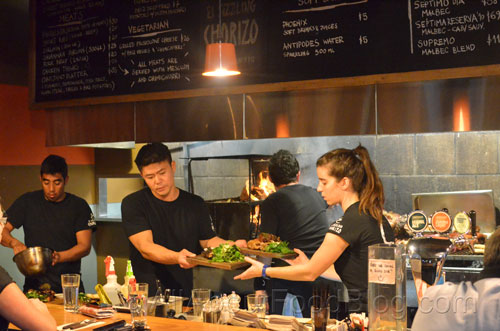 Their menu is pretty simple and straight forward: half meats and half booze! Well, you can choose the 'vegetarian' cheese option or a selection of side dishes. But the whole idea is to enjoy chorizo and meats! Oh, and prices are in NZ Dollars.
The first meat arriving at the table was the Beef Short Ribs. At $20, the 400 gr short ribs seemed to be a great bargain! It had the perfect balance of fat and meat ratio. Unfortunately, it was a little bit overcooked.
Our second dish was more of a 'mixed grill' called Orejano Platter. There were quite variations in this dish. You got one chorizo, an empanada, a strip of pork belly, one flank steak, one bread, and barbecued potatoes with yummy sauce. It was one of the best empanadas I've ever tasted. The barbecued potatoes were nice as well. The best thing is that you got all of those for only $35!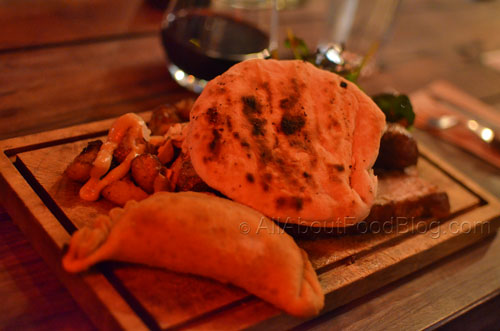 If you wanted to get the feel of what the restaurant is about, you have to order this dish. However, if you would like to have the all meats option, choose the Parrillada. You get over 600grams of 'a taste of different meats' for only $30.
The last dish of the day is supposed to be an entree. However, there was a warning stated on the menu (cooking time approx 20 mins) and the waiter also mentioned a 25-minute wait time. The name is Sweet Breads with lemon and fries. The sweet breads were perfectly grilled and it was well worth the wait!
All of the dishes were also served with Mesclun salad. I must say that we love (with capital LOVE) the chimichurri sauce!
We ordered an organic wine, Cabernet Sauvignon, called Santa Ana Eco. However, the waiter pointed out that the 'wine of Argentina' is supposed to be Malbec.
El Sizzling Chorizo showed glimpses of a great restaurant. If they could stabilise its grilling time without tendency of being overcooked, they could be a really nice restaurant.
Did you know?
There are quite a few restaurants in the area, but the one worth mentioning is probably Burger Burger. Due to time and tummy constraints we cannot try it out this time.
Rating for El Sizzling Chorizo:
7.0 / 10
Taste: 7.0 / 10
Price: $20 – $35 for a main dish
Place: 8.0 / 10
Details:
4 Brown Street, Ponsonby, Auckland
+64 9 378 0119
http://www.elsizzlingchorizo.co.nz/