Review:
A few weeks ago, there was a discussion amongst Sydney Food Bloggers about the best pizza restaurant (pizzeria) in Sydney. Some of them mentioned Aperitivo. Aperitivo is a member of AVPN, an organisation that guarantees true Neapolitan pizza. My curiosity surfaced and thought I had to go to the restaurant!
Upon reaching Leichhardt, I realised I went past this restaurant several times on the way to the infamous Bar Italia. My impression was that the restaurant was always buzzing. However, it resembled a bar more than a pizzeria!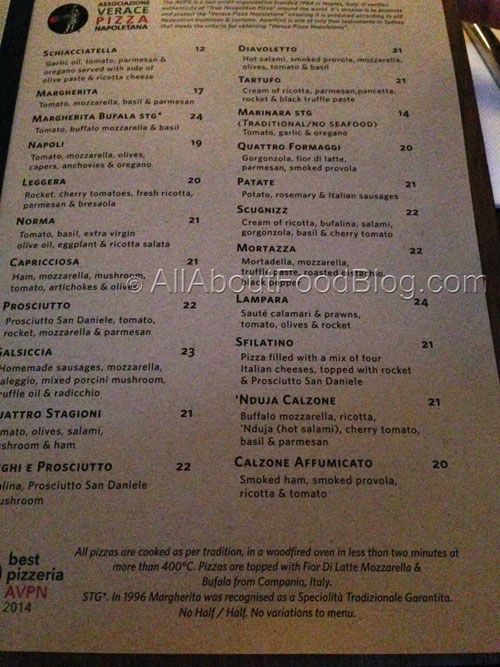 As a big fan of nice pate, we ordered the Pate di fegato di pollo e giardiniera. The chicken liver pate was presented with pickled vegetables on a wooden board. The texture was more on the coarse and heavy side.
Quite a lot of options for the pizza, so you might want to take your time in finding the perfect combination that suit your needs. The interesting thing on this menu is that they have two Margherita pizza. One is the normal Margherita and the other one is Margherita Bufala STG. So, what made it so special and warranted an increase of $7? The footnote gave a little bit of explanation about STG. In 1996, Margherita was recognised as a Specialità Tradizionale Garantita. Technically, you are guaranteed that the pizza you enjoyed is of traditional quality. You also got buffalo mozzarella instead of the normal cow's milk mozzarella.
The other pizza we ordered was Pizza Lampara. This one is the less-traditional seafood pizza. The toppings included sauté calamari and prawns with rocket. I found that this one was tastier than the Margherita one.
We ordered Aperitivo Tiramisu for the dessert. The tiramisu had quite a convincing description: Soft sponge, mascarpone semifreddo, salted caramel, strawberry compote and chocolate crumble. Despite its nice appearance, it fell short in the taste department.
The final verdict for Aperitivo
There is no mistaking that Aperitivo's pizza had the nice quality. However it is not enough to dethrone my personal favourite.
Did you know?
There are four members of the prestigious Associazione Verace Pizza Napoletana (The True Neapolitan Pizza Association) in Sydney. They are Lucio Pizzeria, Gigi Pizzeria, Pizza Mario and Aperitivo. Its main goal is to promote and protect the "true Neapolitan pizza" according to a very strict standard.
As mentioned above, we love going to Bar Italia for its Mascarpone (pictured below).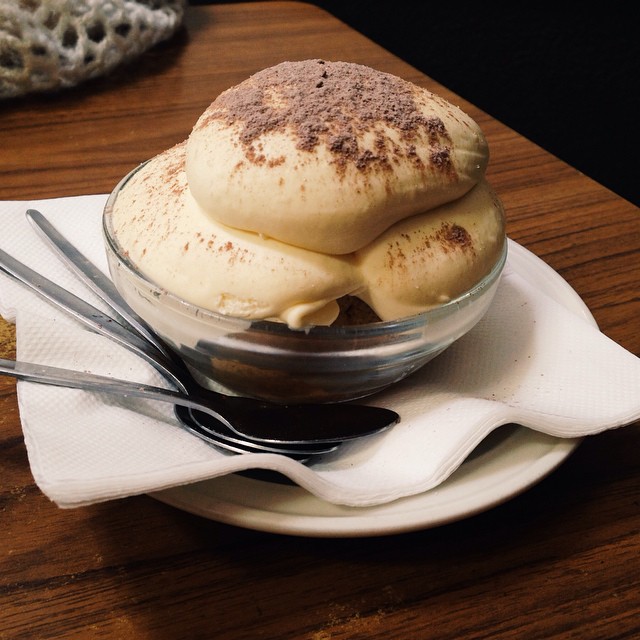 Rating for Aperitivo:
7.5 / 10
Taste: 7.5 / 10
Price: $14 – $24 per pizza
Place: 7.5 / 10
Details:
163 Norton St, Leichhardt NSW 2040
+61 2 9564 0003