Review:
I have heard about this restaurant for quite a while and people seem to be singing praise of the cafe, but I just couldn't bring myself to visit the area (not a big fan of trying to find street parking there!). So, when I finally went to the area, because I also wanted to try Gelato Messina, I couldn't miss the chance to pay a visit.
The name is Sel Et Poivre (it is the French for salt and pepper) and it is located at the heart of Darlinghurst's Victoria Street. From the moment we set foot in this restaurant, François (the boss there) showered us with great French hospitality.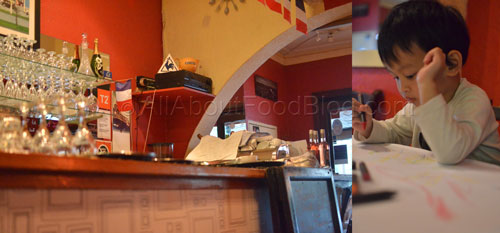 Obviously when you are in a French restaurant there are a couple of dishes that you have to order. Escargots are one of them. To be exact, they were called Escargots gratinés au beurre d'ail or Gratinated snails with parsley and garlic butter. It is advised to order the dish with baguette. In addition to filling your tummy quite quickly, the baguette also enhanced the flavours of your escargots.
The second entree was more on the pretty side, called Galette de crabe au poireau braisé, à l'américaine (Crispy galette of fresh swimmer crab, leeks and sauce a l'americaine). It was beautifully presented and got quite a strong lobster sauce that complemented the crispy galette.
Two of the mains that we ordered might not be your 'usual' types of dish. For the first main, it was steak tartare aller-retour avec sauce Béarnaise,frites et salade (Sel & Poivre steak tartare, seared or non seared with frites, salad and bearnaise sauce). Steak tartare is a raw minced beef that you enjoyed with tartare sauce and egg yolk. The sheer size of the steak might be quite intimidating to some and it was quite a heavy dish!
The last dish of the day was foie de veau poêlé à l'échalotte et pommes-frites (Seared veal liver with a French shallot sauce and frites). It is suggested that you ordered the veal liver medium rare. This way you can actually taste the liver's texture without being too rubbery. It's perfectly fine if you love this part of the meat. However, it can be quite pungent for those not accustomed to it. Just like steak tartare, enjoying a liver dish also requires an acquired taste.
The two main dishes came with quite a large bowl of salad and fries.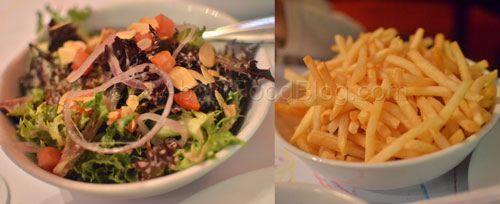 If both mains are a bit too 'adventurous' for you, they also have quite a few range in their menu. Sel et poivre can also cook a special kids menu for your little one(s). We chose chicken with chips. They also gave a scoop of ice cream at the end. It was actually quite a big portion for a kid's meal.
At the end of the day, we felt that we ordered a bit too much, but we just had to finish them all! The only regret was that we didn't come to Sel Et Poivre a lot sooner!
Sel et Poivre has everything you could have asked for! They served great food and complimented that with great hospitality and service!
Did you know?
Victoria Street in Darlinghurst is the home of one of the best gelato joints in Australia, Gelato Messina.
Rating for Ester Restaurant and Bar:
8.5 / 10
Taste: 8.5 / 10
Price: $25 – $35 main dishes
Place: 7.5 / 10
Details:
263 Victoria Street, Darlinghurst
+61 2 9361 6530
http://www.seletpoivre.com.au/