Review for lunch menu: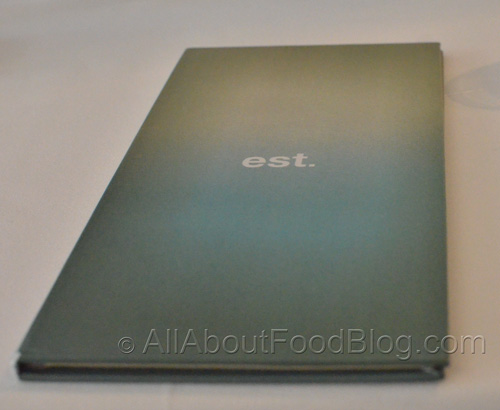 Our rare moment without the little guy was spent for lunch at Est. Restaurant. They have quite a flexible lunch arrangement of two, three and four-course lunch. You can also request for degustation menu, but I think it's a bit too much for a lunch period. In this occasion, we had the three-course lunch with an extra plate of oysters to start the lunch with.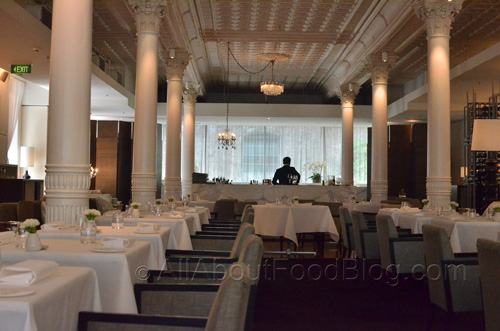 I am pretty sure I don't need to describe the menu in full details as the name of every ingredients is already listed.
To start
Six freshly shucked rock oysters, ponzu dressing ($5 each)
As six oysters would have been an overkill (especially for my wife), we decided to share this dish. Presentation was simplicity at its best and the ponzu dressing was pretty good!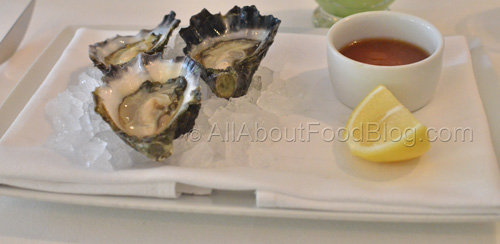 In addition to the oysters, we also got the usual bread and butter. However the bread and butter was too ordinary to remember.
Course 1
Moreton Bay Bug, orange, green shallot, fennel, watercress puree, puffed quinoa.
The bug was presented very nicely. I love how all of the flavours worked well together. For Your Information, Moreton Bay bug is known as flathead lobster outside Australia.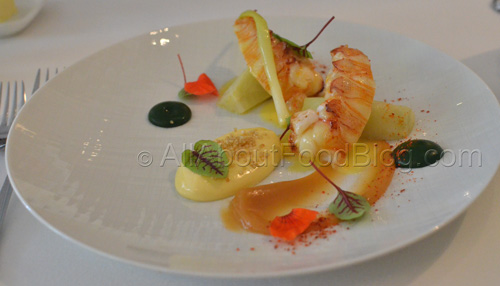 Lamb consommé, slow cooked lamb belly, green peas, pickled radish, mint oil
When I saw it, I knew immediately that this dish was the one I should have ordered. The lamb belly was presented like a roast pork belly. I have never seen lamb cooked this way and I was even more impressed with how it tasted! It was presented beautifully and the consommé was fabulous.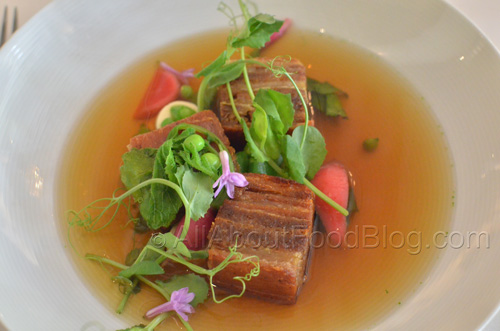 For the first course, the slow cooked lamb belly beat my Moreton Bay bug anytime!
Course 2
Slow cooked rangers valley wagyu beef tri tip, spinach puree, salsify, spring onion, rye crumb, red elk.
My first impression was that the steak was actually quite small (I blame my tummy!). As soon as I tried everything on that plate, I was actually very impressed with the taste of the beef and the charred taste of the onion and rye crumb. The spinach puree gave an extra dimension of freshness to the plate.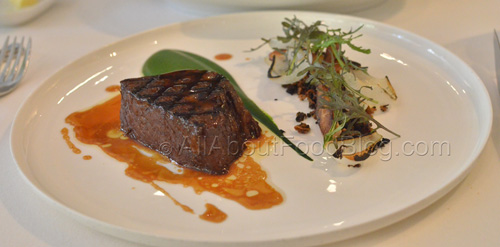 Murray cod fillet, shaved abalone, snow peas, black fungi, ginger – green shallot vinaigrette
The vinaigrette was a high-end version of the usual Chinese restaurant's steamed fish with ginger and shallot. However, the Murray cod fillet was beautiful… like really beautiful!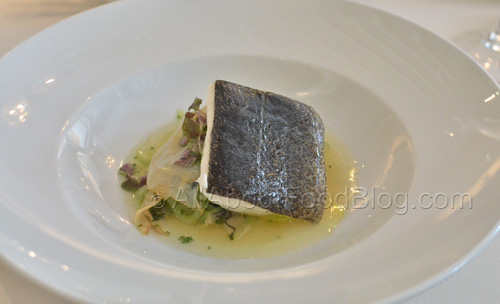 Both dishes were on par in terms of quality and taste, but I guess I am leaning towards the Murray cod fillet as it was slightly bigger than the wagyu beef!
Sides of spring asparagus, ricotta salata, marjoram, extra virgin olive oil ($11)
You can choose a selection of sides to accompany your main(s). We chose spring asparagus for this and was pretty pleased with it. They actually gave a near perfect amount of asparagus for us to enjoy.

Course 3
Strawberries, rhubarb granita, ginger cream, sorrel sorbet, hibiscus wafer
I thought granita was the highlight for the dish, but I think the two sorbets stood out more. It was a highly refreshing dish with the curious addition of ginger cream.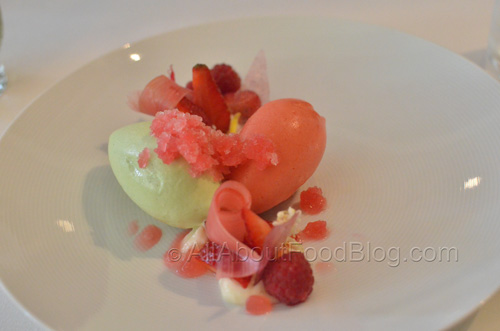 Peach, fresh peach juice, pistachio, summer berries, lemon verbena sorbet
I am not a big fan of peach, therefore I cannot make a fair judgement of what to like between the two. However, I am willing to try the mango with goat's milk yoghurt the next time we visit Est.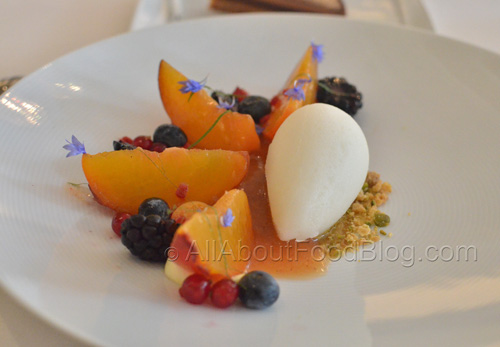 Drinks and Petit Fours
At the start of the service, there was a trolley full of champagne. I guess it made sense as most people were here for a special occasion (except for a few people who looked like big bosses of big companies having normal work lunch).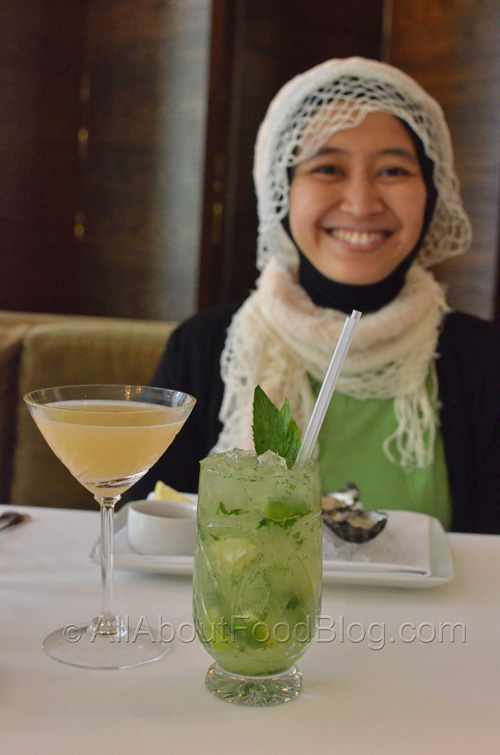 There were still a plate of petit fours and a small birthday cake to end the day, but I am not a big fan of chocolate.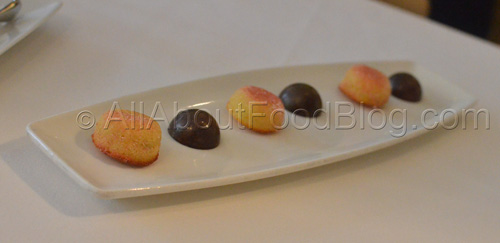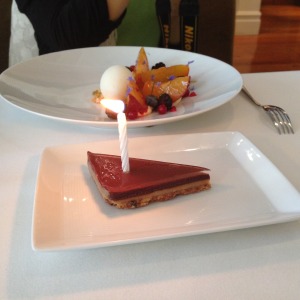 Est. restaurant thoroughly deserved the two hats status for their lunch menu. Service was fabulous and food certainly did not disappoint. The best dish of the day was the slow cooked lamb belly.
Did you know?
Est. restaurant is Merivale's flagship restaurant. The group owns several top market, high-rating restaurants in Sydney including Mr Wong that we reviewed earlier this year.
Rating for Est. Restaurant:
8.5 / 10
Taste: 8.5/10
3-course lunch: $95
Place: 9/10
Details:
Level 1, Establishment, 252 George Street NSW 2000
+61 2 9240 3000