Review:
Mr Wong is located in a hidden back alley of Bridge Lane just near the corner of George and Bridge Streets. Although it can seat 240 people and is considered a pretty expensive place to eat Chinese, Mr Wong is always pretty busy.
They put a lot of efforts on the decoration of their two-level restaurant and they have quite a number of dishes in their menu. You have a choice between having small dishes of dim sum or a big dinner.
Small dishes (Dim Sum and Entree)
We ordered quite a few dishes in this department (as it should in a Yum Cha place):
They made each dish as we ordered them. As a result, it took quite a while to get what we wanted. However, you can actually taste that freshly-made dim sums beat trolley ones any time! The dish of note was the scallop and prawn shumai. Even my son wanted to order more of this! The prawn rice roll was a bit tricky as they cut 2 long rolls into eight small pieces.
We also ordered a couple of entree: Drunken chicken and Peking duck pancakes.  The addition of goji berries in this dish accentuated the taste. I found that the duck pancakes were just okay.
Big Dishes (Roast Meats, Meat, Live Seafood, Tofu and Veggies, Rice and Noodles)
Since we were mainly concentrating on the dim sum and small dishes part, we only ordered a couple of dishes from this department. The first dish, "Mr Fong's" stir fried chicken, was my least favourite of the day.
However, the large King crab and sweetcorn fried rice was pretty amazing. I think this was the most posh fried rice ever! A tip: If you are a rice eater like us, please make sure that you ask the dish to be made first because rice and noodles usually come last!
Dessert
When I looked at the menu and saw deep fried ice cream and butter scotch, I was sold! Mr. Wong's deep fried vanilla ice cream was a dessert to die for. How can you handle crunchy, hot and cold, sweet, salty and tasty all in one spoon?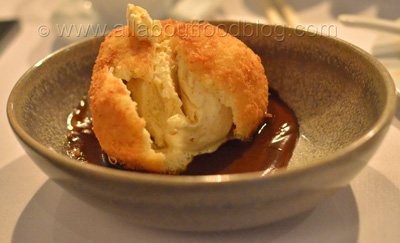 Shamefully, I forgot to take picture of the last dessert, Mango pudding, passionfruit granita, pomelo and pearls – $14. Instead of the heavy tasting pudding you usually get from a Chinese yum cha restaurant, you got this refreshingly-balanced mango pudding.
The verdict for Mr Wong
Yes, Mr Wong is expensive… but if you are thinking about going, you should already know that. It took quite a while for each dish to come out, but every one of them was executed perfectly. I would certainly come back for its shumai and deep fried ice cream!
Did you know?
Mr. Wong is part of a large hospitality group, known as Merivale. They have several hats restaurants. Mr Wong received the 2014 Good Food Guide award for new restaurant of the year.
You can only reserve a table for dinner if you have six or more people. For lunch time, you can book it with any number of people. They also serve banquet-style menu and mud crab.
Rating for Mr. Wong:
8.0 / 10
Taste: 8.0 / 10
Price: $300 for five people
Place: 8.5 / 10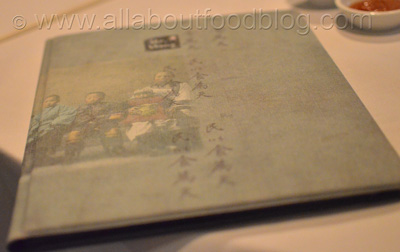 Details:
3 Bridge Lane
02  9240 3000