Dining Experience:
We were invited by Sibling Agency and Scentre Group (aka Westfield group) to try Westfield Chatswood's newest food precinct, Hawker Lane. If the name is not clear enough for you, Hawker Lane consists of 13 Asian restaurants,  an ice cream place and a Taiwanese milk tea place.
When we arrived at the venue, we were given a sample of coconut juice topped with marshmallow and cake. They had a promotional at the Hawker Lane: When you made purchases at Hawker Lane of $20 or more, you received the coconut for free. The coconut really stole the show that day.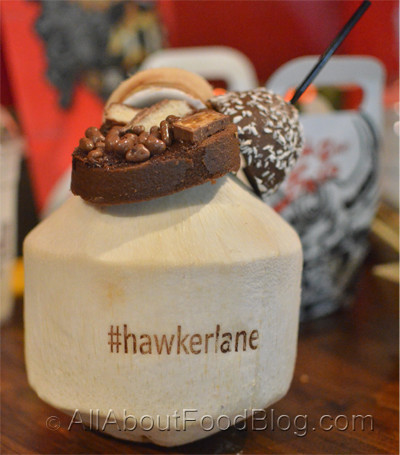 One Tea Grill – Baoger
One Tea Grill was the first restaurant we went to because we were so curious about their burgers. Their main attraction was the slider burger with three different kinds of burgers: ramen, matcha and rice. They also had three different patties: wagyu beef, teriyaki chicken, and green tea ice cream with red bean.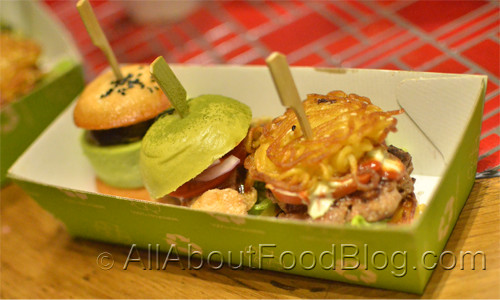 Cheers Cut
There are quite a few Taiwanese XXL fried chicken stalls in the city. The interesting bit about XXL chicken is its XXL size. It is seriously big! As you can see in the picture below, it is around three times the size of regular Taiwanese milk tea glass.
The rest of the restaurants are:
Aqua S – Dessert
Chachu's – Indian
China Chilli – Chinese
Dumplings & Co – It had not opened when we were there
Gong Cha – Drinks – Taiwanese
Jim's Malaysia – Malaysian
Lamb & Cumin
Noodle Warriors – It had not opened when we were there
Madame Nhu – Vietnamese
Makanai – Japanese
Mao Cai – Chinese
Nahm Jimm – Thai
Sushi World – Japanese
We also tried quite a few other restaurants on the day. The one that really stood out was Lamb and Cumin. We love the marinated lamb satay!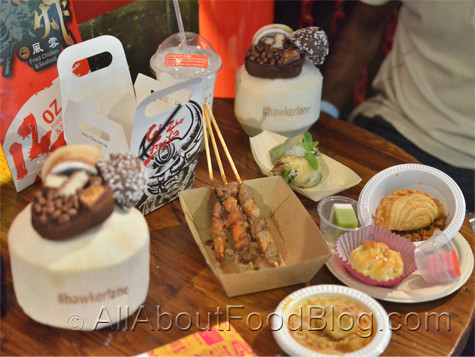 There was one stall that we missed out when we were there because we actually did not see the stall inside the precinct. I have tried the ice cream from the main shop for Aqua S in George Street. They are known for their sea salt ice-cream.
We also did not go to Mao Cai / China Chilli as the queue were ridiculously long on that day. Despite our curiosity, we could not be bothered queuing for it.
Details:
Level 2 Westfield Chatswood, 1 Anderson Street, Chatswood NSW 2067
(02) 9412 1555
https://www.westfield.com.au/chatswood/dining
Hawker Lane
This slideshow requires JavaScript.