In the last few years, we reviewed a few restaurants in Bandung. This time around, we would like to write about Bandung's local food offerings. You could easily find these food in big malls or plazas in Bandung. However, if you want the 'authentic' ones that are loved by the citizens of Bandung, we should really hunt for them.
What is Culinary Tourism?
Indonesians love to eat (including me). Their overabundance love of food enables them to create a whole new phrase dedicated to the journey of finding good food. Hence, the term 'Wisata Kuliner' was born. It was hard to find the English phrase for it. However, after brainstorming session with my friends, we decided to use the term 'Culinary Tourism' to describe this phenomena because someone has written a thesis about it.
Bandung Culinary Tourism
Batagor
When we talk about Culinary in Bandung, the first thing that everyone mentions should be baso tahu goreng, commonly known as Batagor. Batagor is a deep fried fish tofu that is usually served with spicy peanut sauce and sweet soy sauce. There are two famous batagor restaurants in Bandung: Batagor Abuy and Batagor Kingsley. In terms of taste, we like Batagor Abuy more. On the other hand, Batagor Kingsley is more suitable to have for takeaway.
Batagor Kingsley is located in jalan Veteran 10.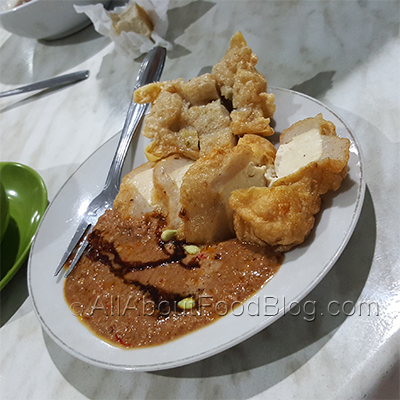 Mie Yamin
Mie Yamin is the Bandung version of Chinese noodles. It is a bit unclear why it was called 'Yamin' noodles. We found an Indonesian article about the origin of Mie Yamin in Jakarta. One of the more famous places in Bandung is Mie Yamin Linggarjati in jalan Balonggede. In addition to its noodles, Linggarjati is also well-known for its delicious Avocado juice.
We actually did not visit the Linggarjati restaurant due to the distance. We used the gojek app that is priced quite decently for food delivery service.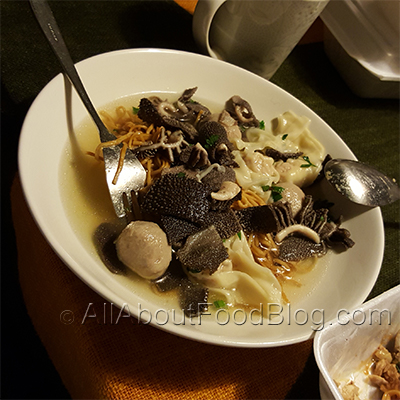 Cireng Bumbu
Cireng bumbu is probably the most common dish on this list (you can pretty much buy anywhere and it would taste pretty similar). Cireng is a tapioca-based snack that is deep fried with fillings (usually spicy ones). It is usually sold just outside a restaurant or in food stalls.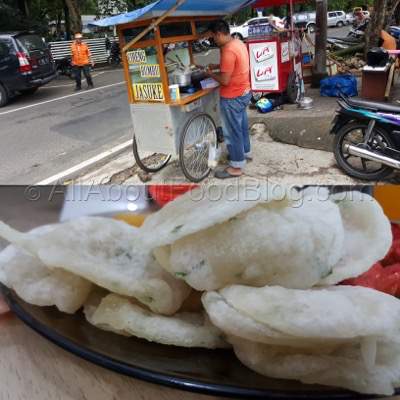 What else is available on this Bandung Culinary Tourism?
The following dishes might also be available outside the city of Bandung. However, they have been modified to have the Bandung traits.
Yoghurt Cisangkuy
I'm pretty sure everyone knows what Yoghurt is. The interesting bit about Yoghurt Cisangkuy is that it has been in the same venue for, like, forever! If you ask someone from Bandung, I'm pretty sure the person would know this place. They have a few flavours to choose from and also some light snacks.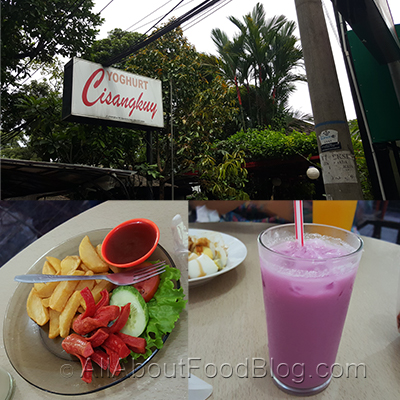 Sate Ayam Lavie
Lavie is a name of a baby shop in jalan Imam Bonjol, Bandung.In front of the shop, there is a small stall that sells chicken satay. It's the perfect place for those of you waiting around!
What I love about Bandung's chicken satay is the one called 'sate lemak'. It is literally just a skewer of fat! Pretty unhealthy I must say, but if you just eat the right amount, they are awesome!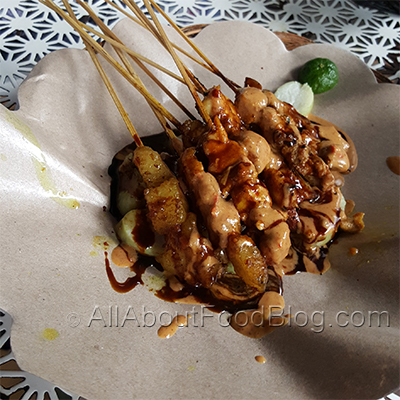 Bubur Sumsum a la Bandung
Bubur sumsum is a rice flour porridge with sweet palm sugar sauce. We bought this from a street vendor usually roaming around the housing complex. What separates Bandung's from the rest is the use of pomegranate.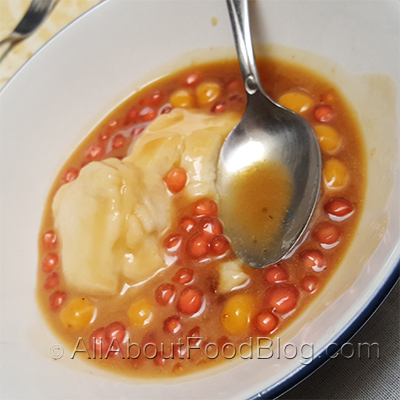 Coffee from The Good Life cafe
This cafe might be relatively new when compared to the rest on this list. However, you can't have a list of Bandung good stuff without a great coffee place! Located in Jalan Anggrek 15, this cafe is pretty obscured and part of a small office house. However, it's hard to find coffee as good as this one in Bandung!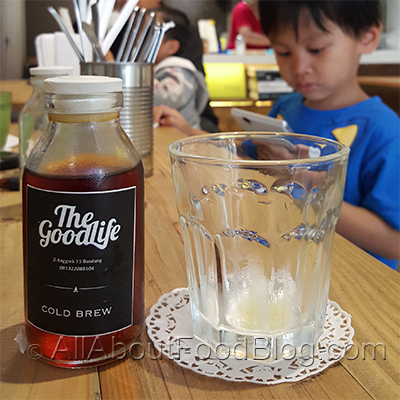 Obviously, there are a lot more dishes originated from Bandung that we could try. However, we did not have the time to try them all… maybe in the future…
The City of Bandung
Bandung is the third most populated city in Indonesia and is just a few hours drive from Jakarta (depending largely on the traffic!). However, the density of the city is twice as much as the second largest city in Indonesia, Surabaya. That's why if you want to travel to Bandung, I suggest you to avoid the weekends!