Ho Jiak Haymarket Review:
There is a new-ish Malaysian restaurant opened earlier this year, called Ho Jiak Haymarket. They quickly gained fame in Sydney because of the use of unusual ingredients in their dishes, like 'Indomee Goreng with lobster'. Yes… it's not a typo… you get instant noodles with lobster!
One thing to note that compared to the other Malaysian restaurants, their price point is considerably higher. You will find most of their dishes are $20 or more. They also have a couple of monthly specials like the 'crispy rendang' below.
Kiam Ah Nui Kay – $12 – Stir-fried with salted egg yolk, butter and curry leaves
I know the description didn't say it, but it's basically chicken wings slathered with salted egg yolk. Also, given how rich it is, I recommend you to eat this dish with rice.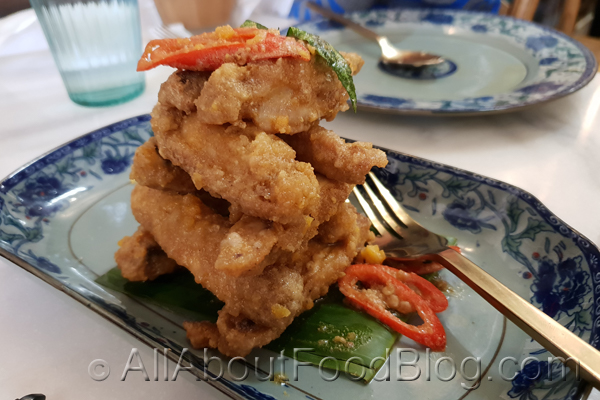 Sam Wong Dan – $15 – Silky steamed century, duck and chicken egg
We actually bought this dish for the little one. However, I ended up quite liking its taste. Sam Wong Dan is a Chinese-/Malaysian-version of chawanmushi. What we also didn't expect was that the portion was big enough to be shared around.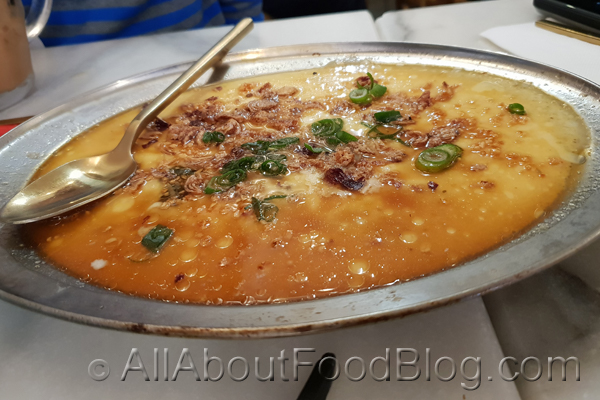 Nasi Goreng Lembu – $25 – Fried rice with house-made shrimp paste. Choose from: Normal, special, Pattaya, Lembu, JUMBO, Lobster and Salted fish.
I guess you can only do so much in terms of presenting a plate of fried rice. However, you could potentially introduce an exotic ingredient into the dish. That's what they are doing with Nasi Goreng Lembu. It's a fried rice with wagyu beef!
They have a few other options with the fried rice.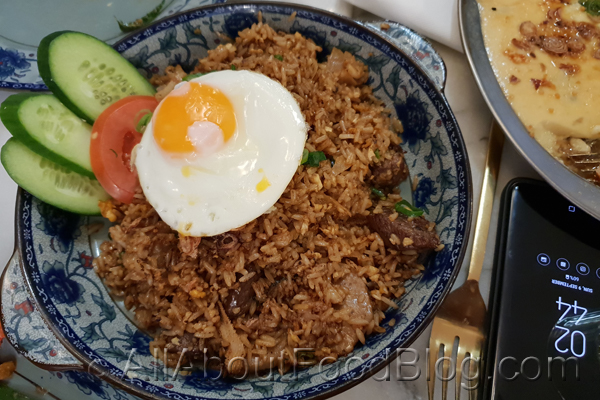 `
Indomee Goreng Lobster – $38 – Spicy stir-fried instant noodles with seafood. Choose from: normal, salted duck egg, king prawn, lobster
This is what we were here for. A $38 worth of instant noodles (yes, they actually wrote 'instant noodles' in the menu!). Obviously, the main attraction was what's in the noodles. Lobster is quite a delicate crustacean, but Indomee was not typically known to be delicate. Hence, it took a skilful person to combine the two elements.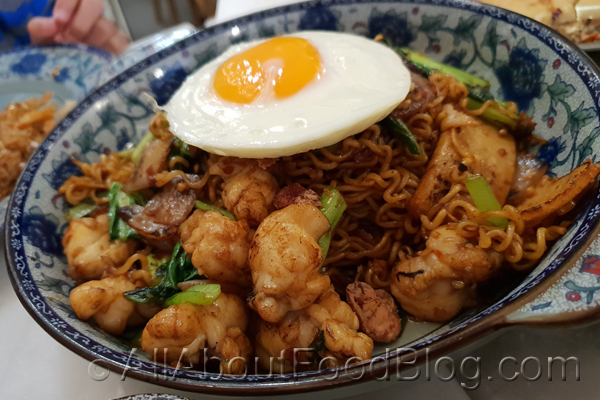 Crispy rendang with KFC Chicken – $38
I guess when there was an outcry about chicken rendang should not be crispy, Malaysian restaurants were actually racing to provide what the public was looking for: a crispy rendang. The Ho Jiak's version of crispy rendang is to cover KFC-like fried chicken with rendang sauce. It was quite an interesting combo and I guess it would be enough to save that contestant from elimination. 🙂

Air Mata Kucing – $8 / $16 (Jumbo) – Luo han guo, dried longan and wintermelon
Air mata kucing is literally translated into 'Cat's tears'. It's one of the famous Malaysian drinks that is very refreshing and cooling.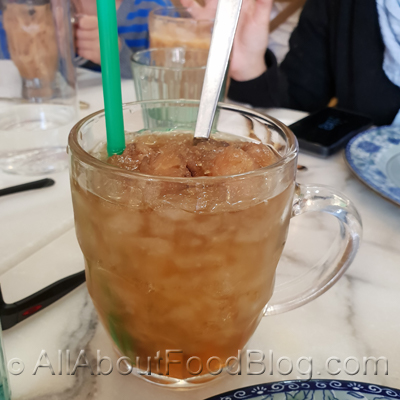 The final verdict for Ho Jiak Haymarket
Ho Jiak Haymarket is probably one of the best Malaysian restaurants in Australia. They are quite expensive but they backed it up with very nice taste.
Do you think I should go?
Definitely!
Rating for Ho Jiak Haymarket:
8.0 / 10
Taste: 8.5 / 10
Price: $30 – $40 per person with drinks
Place: 7.5 / 10
Details:
92 Hay Street, Haymarket 2000
+61 2 8040 0252