Review:
The original Hurricane's Grill in Bondi was the second review I wrote back in 2010. Back then, the Darling Harbour's branch had been opened, but people were still queuing in the Bondi Beach Venue. In 2015, they have 4 Hurricane's Grill and 2 Hurricane's Express restaurants.
The Hurricane's Darling Harbour venue is probably the one I go to the most for convenience purpose. It is still a very popular venue, so go early or expect a queue!
Rocket and Parmigiano Salad – $19.00 – with cherry tomatoes, green olives and red onion with vinaigrette dressing
Rocket is one of only few vegetables that I actually love. Nothing can go wrong with rocket and parmigiano cheese!
Op Prime Rib (500gm) – $48.00 – grain fed, prime rib on the bone; one of our finest cuts
As we had quite a large group, I got the chance to try a 'non-standard' dish. On this occasion I ordered Hurricane's Prime Rib… for myself!
It was a pretty good steak… However, considering that it was more expensive than full rack of beef or lamb ribs, I think I'll choose those two anytime!
Full rack of Beef Ribs – $47.00 – basted in Hurricane's rib basting then grilled until tender served with either chips or baked potato with sour cream and chives.
Hurricane's ribs are the main reason why people visit Hurricane's Darling Harbour. When I wrote the review 5 years ago, they didn't have the beef ribs on the menu. So, this is for those of you who are not a big fan of either lamb or pork ribs.
Rump (750gm) – $48.00 – the original "BIG KAHUNA", aged for a minimum of 28 days and basted in Hurricane's steak basting.
Rump steak is my father's favourite cut. 750 gr of rump steak is huge… no joke!
Depending on how big the group is, you can also opt for 350 gr or (an even bigger) 1 kg of rump steak. You can also order extra sauce (e.g. mushroom) for $2.50.
Onion Rings
I am not sure why they did not put this in the menu. However, you can order onion rings in Hurricane's Darling Harbour.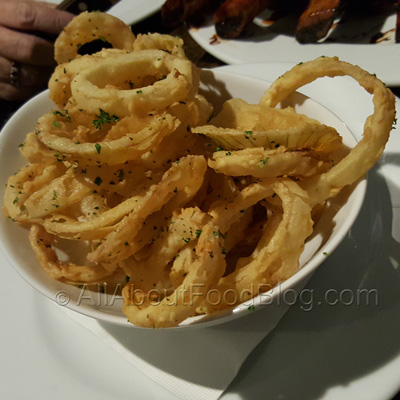 Junior Fish and Chips
It was a simple fish and chips with tartare sauce and lemon for kids. Suffice to say that the little guy enjoyed the main dish that we ordered better than his.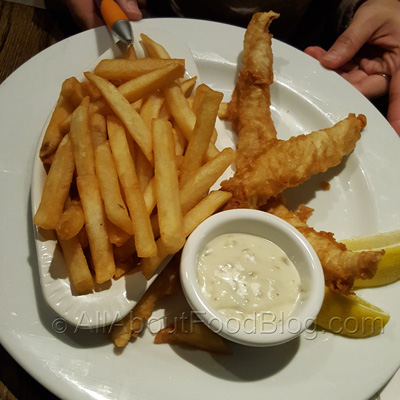 Hurricane's Darling Harbour is a lot more convenient meeting place than the one in Bondi Beach with the same quality that you would expect from Hurricane's.
Did you know?
I was going to review Hurricane's Express in Waterloo, before I found out at the last minute that they closed down a week after my visit to the restaurant!
Rating for Hurricane's Darling Harbour:
8.0 / 10
Taste: 8.0 / 10
Price: $15 – $35 for main and pasta
Place: 8.5 / 10
Details:
Shops 433-436, Level 2, Harbourside Shopping Centre, 2 – 10 Darling Drive, Darling Harbour, Sydney 2000
02 9211 2210