Review:
We went to Jamie's Italian in Sydney CBD just under 3 months ago and were pretty impressed with the quality of the dishes there. So, when we spotted Jamie's Italian whilst in Canberra, we were eager to return.
The restaurant is located right at the heart of Canberra – Canberra Civic Centre to be exact. That's pretty much the place where everyone goes out on a weekend. We went there for lunch so there was practically no queue at that time.
Italian Bread Selection – $1.50 – Homemade rosemary focaccia, sourdough, crispy music bread, ciabatta & tortano, all from our favourite artisan bakery. Served with extra virgin olive oil & aged balsamic.
I am not sure why they are even bothered to charge $1.50 for this.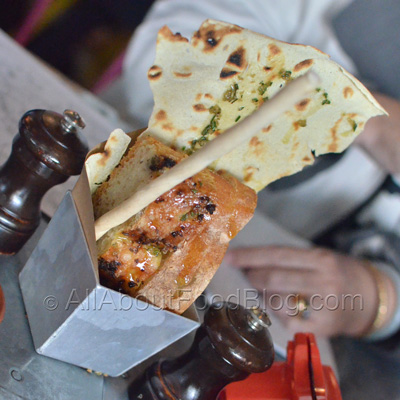 Chicken Lollipops – $9.50 – Three free-range organic chicken fillets, chargrilled & served with a lemony yoghurt, crunchy mixed seeds & baked crinkle-cut wedges
Jamie is a well-known ambassador for great-tasting healthy food for kids – he even had a tv show for it! It is not surprising that the kids menu in his restaurant is full of fun stuff!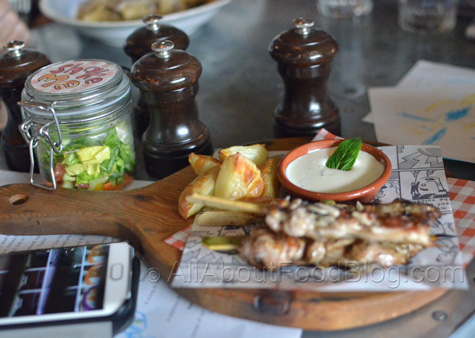 The menu can be seen in a stereoscope (or view-master) and the dishes had fun elements like the salad shaker that had the 'shake me' sign!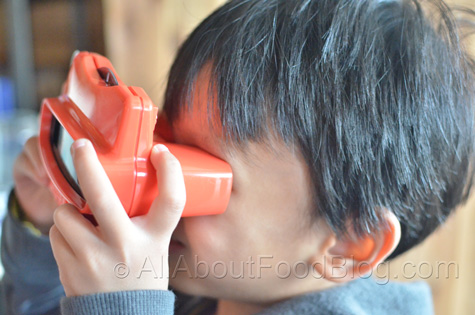 Porcini Fettuccine – $14.50 – Wild mushrooms, mascarpone, garlic, white wine, lemony gremolata, Parmesan & herby breadcrumbs
The fettuccine that we ordered was an entrée-sized pasta. The one thing that got me hooked was that crunchy crumbs. It added an extra dimension to an otherwise simple pasta.
Grilled Angus Rump Steak – $26.50 – Aussie Black Angus rump with garlic butter, rosemary skinny fries & rainbow slaw
I wanted to order the steak but I knew it was too small for me. So, I had to 'steal' from one of my guests and swap it for my dish!
The steak was cooked nicely but the rainbow slaw reminded me of shredded paper decoration for parties.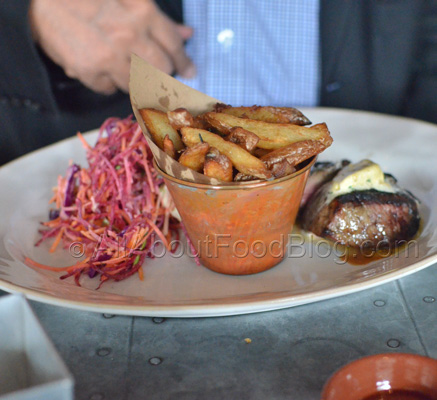 Wild Ruffle Risotto – $25.00 – Finely minced black winter truffle with butter & Parmesan – a real treat
The dish that I ordered for the lunch. With the big hype of truffle over the last couple of months, I just couldn't help but try this dish. The dish looks like a classic Italian Risotto.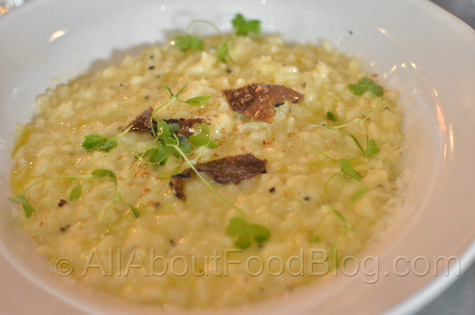 Jamie's Italian Canberra is cheaper than its brother in Sydney. However, I had the feeling that the dishes were a tad less spectacular than the Sydney one.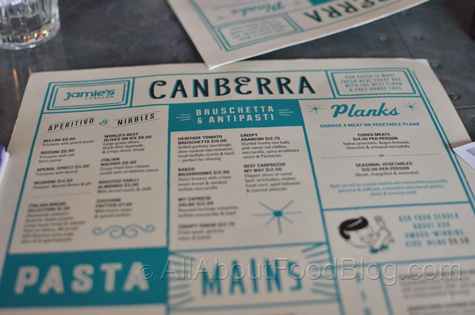 Rating for Jamie's Italian Canberra:
7.5 / 10
Taste: 8.5 / 10
Price: $15 – $35 for main and pasta
Place: 7.5 / 10
Details:
125 Bunda St, Canberra ACT 2601
02 6268 0400
Jamie's Italian Canberra website