Review:
Jamie's Italian restaurant is probably one of the most reviewed restaurants in Sydney. It has been almost four years since they opened their doors in Sydney (2011), but we just got the chance to visit it last weekend. As we arrived at Jamie's Italian Sydney quite early (around 5.30pm), we got the table straight away.
When you walked into the restaurant, you were welcomed by a wall filled with different pasta (and Jamie's books of course!). From this 'hint', we know that we should order some pasta.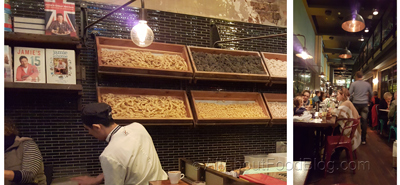 Italian Bread Selection – $2.25 – Homemade rosemary focaccia, Italian grissini, crispy music bread & ciabatta from our bakery. All served with Rylstone extra virgin olive oil and aged balsamic.
I was going to say that this dish might probably be the best-valued item in the menu, however when I read old reviews they used to give this for free. Since quite a lot of items on the menu is carbs-heavy, you might want to think about adding some more into your system.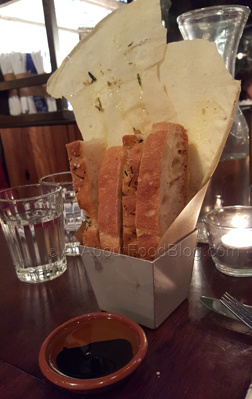 Crispy Squid – $12.90 – Fried squid, garlicky mayo & lemon
Despite its tiny portion, everything else was perfect for this dish. The squid was crispy on the outside and easily chewable on the inside. The mayo was also incredibly smooth and really punchy.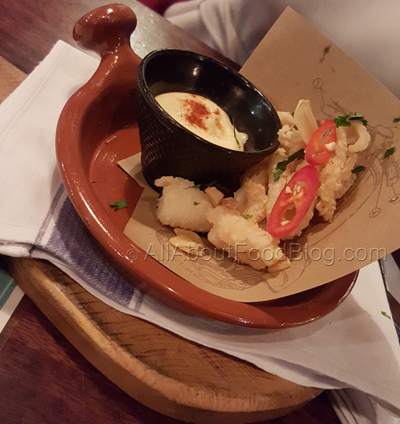 Potato and Truffle Tortellini – $24.95 – Delicate pasta parcels stuffed with ricotta & potato, tossed with butter, truffle & parmesan
This is the best dish of the day for me. I love the sauce… better yet, I can still imagine how good it tasted! The dish was both filling and yummy!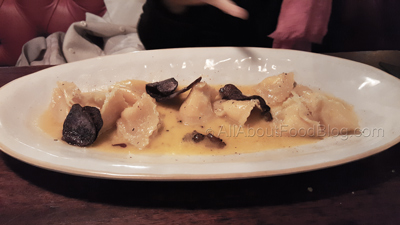 Prawn Linguine – $16.25 – Juicy pan-fried garlicy prawns served with tomatoes, chilli, rocket & fennel
The little guy ordered this dish (entrée size). The waiter actually warned us that there were chilli inside the dish. At first, he was reluctant to eat it, but we explained that the chilli here was nowhere near as spicy.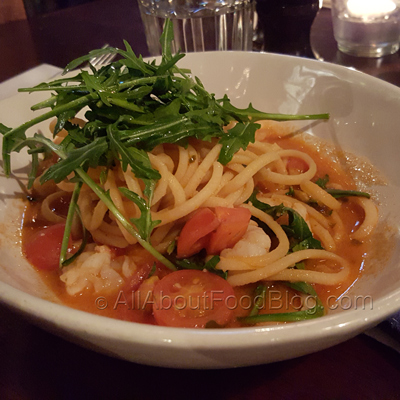 Fish in a bag – $29.50 – Baked sustainable fish, clams, mussels, chilli with Sicilian cracked wheat & pine nuts topped with our fiery arrabiatta sauce
Now, this dish's fiery taste was real (although still not as spicy as some dishes I've tried in my life). They actually served it still wrapped in aluminium foil and baking paper. However, the fish was cooked perfectly!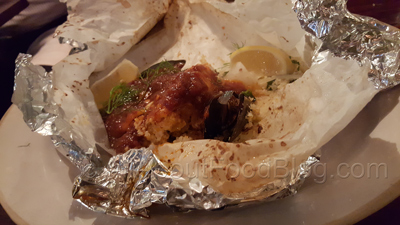 Ice Creams – $9.00 – Three delicious scoops of Serendipity ice cream (vanilla and salted pistachio) served with smashed honeycomb and seasonal fruits.
Despite not having their own ice cream, they managed to combine this delicious ice cream with smashed honeycomb and fruit compote perfectly!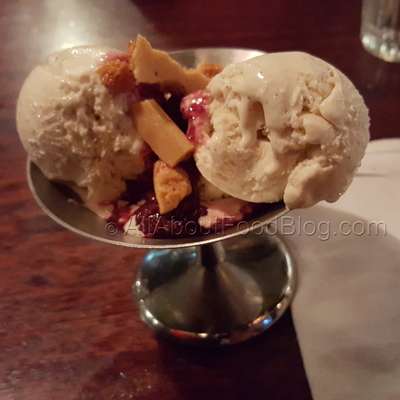 It was definitely a nice experience dining at Jamie's Italian Sydney restaurant. Despite its busy environment, the people are still very friendly and the food was very nice!
Did you know?
Jamie's Italian got its name from Jamie Oliver (that famous chef from the UK, but not the pissy one) but you might never see him at 'his' (practically owned by a different entity) restaurant in Sydney.
I am actually not a big fan of al dente pasta and prefer one that has been cooked thoroughly.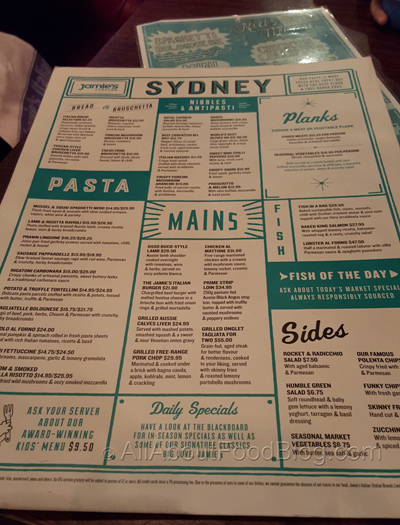 Rating for Jamie's Italian Sydney:
8.0 / 10
Taste: 8.0 / 10
Price: $20 – $48 for main dishes
Place: 7.5 / 10
Details:
107 Pitt Street, Sydney 2000
+61 2 8240 9000