Review:
If I have to pick the best restaurant to have cheap casual eat out, I would pick Mappen Bondi Junction. It is probably the restaurant that I visited the most in Sydney. It is also happened to be pretty close to where I work.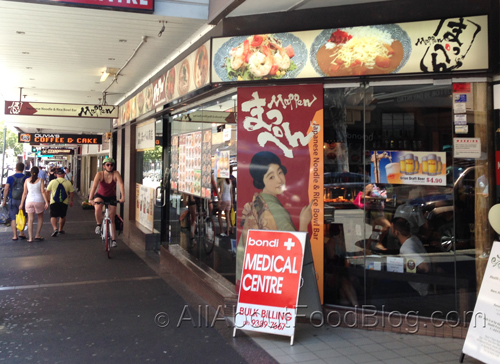 The restaurant is like a school canteen. You get a tray, order up and move along towards the cashier. In the middle of it there is an abundance of Fried Toppings and Tempura. The temptation is always there to pick quite a lot of them!
I have tried quite a few dishes in their menu and I think the top two are the ones below:
Ontama Stewed beef was my 'go-to' dish. The regular size (with a couple tempura) is usually enough to get me through the day.
Its chicken counterpart is Ontama Teriyaki chicken. It is also quite a simple dish.
They also serve a few noodle dishes, the cheapest that you can get was Bukkake. It is noodles with Bukkake sauce, shallot and lemon. For only $5.5, you get a very large bowl of noodles. You can choose between soba and udon.
So what's ontama? Ontama (or onsen tamago) is egg boiled in onsen hot springs temperature (just about 70 degrees). The egg has quite a unique property as it's just about cooked.
The last item that I purchased from Mappen was its Curry, I didn't take a picture of it because it was for takeaway. I think it'll be my new favourite there!
Seriously, what's not to like about Mappen Bondi Junction?
Low price tag? Check. Great taste? Check. Fast and friendly service? Check.
Did you know?
Mappen is part of a Japanese food business that includes Suminoya, Koh-Ya and Rengaya. Unlike its siblings, the restaurant is catered for a daily casual dining.
Rating for Mappen Bondi Junction:
7.5 / 10
Taste: 7.5 / 10
Price: $3.90 – $15.90 for main course
Place: 7.0 / 10
Details:
Shop 5, 183-193 Oxford St, Bondi Junction, NSW 2022
+61 2 9388 0609