Just a few minutes walk from the MRT station in Chinatown, Neon Pigeon can be quite hard to spot from the outside. The restaurant concept was Japanese izakaya with a little fusion twist.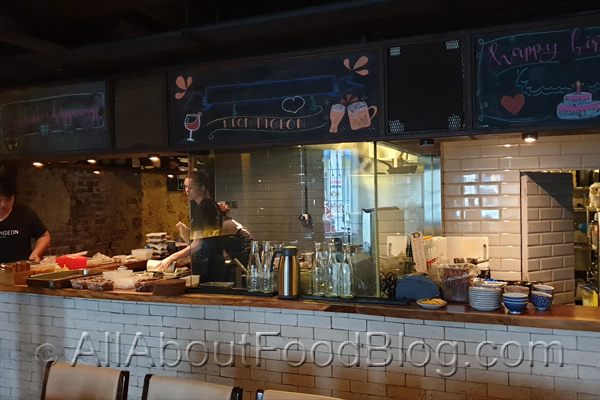 The menu at Neon Pigeon can be enjoyed in either small or large plate, except for one curious prime rib that would cost up to $500.
For our visit, we ordered everything on a small plate.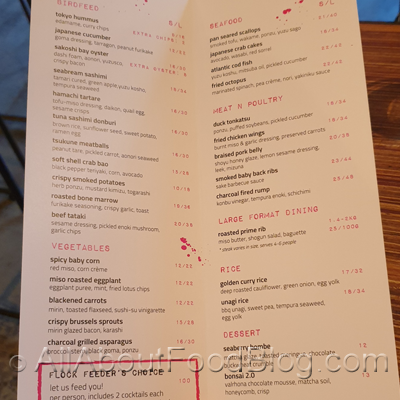 I would assume they called it 'birdfeed' because of their inherently small portions. However, as you read through this, it's not necessarily the case.
Tokyo hummus - $9 - edamame, curry chips
The night started off with a bang! I don't know how they make this hummus. IT WAS AWESOME!
We didn't mind paying an extra $2 for the chips to dip into those goodies!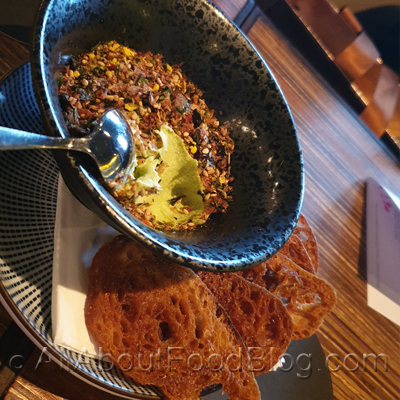 Hamachi tartare - $16 - tofu-miso dressing, daikon, quail egg, sesame crisps
One of my dining mates didn't quite like the tartare as it tasted a little too fishy.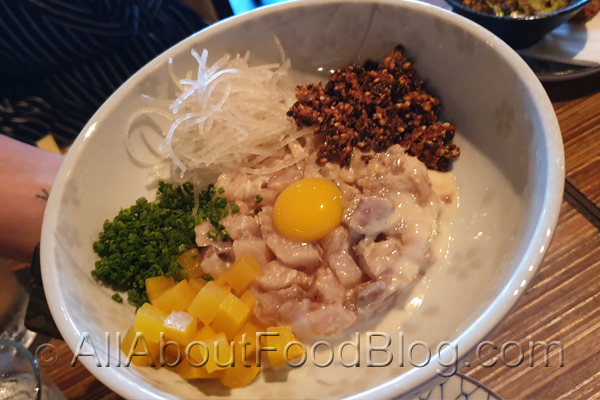 Seabreem sashimi - $18 - tamari cured, green apple, yuzu kosho, tempura seaweed
The seabreem dish, on the other hand, was pretty good. The crunch of tempura seaweed and the tartness of the green apple complemented the fish nicely.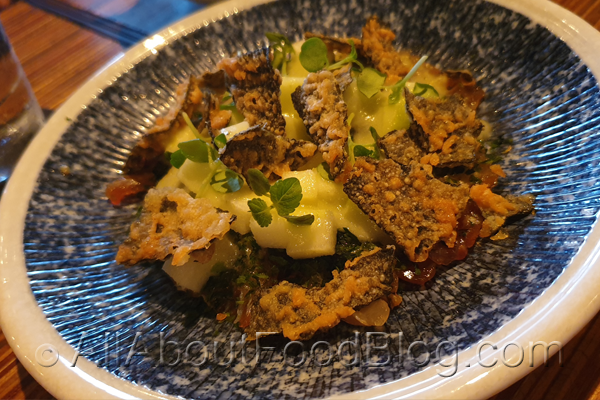 Roasted bone marrow - $19 - furikake seasoning, crispy garlic, toast
I got to finish the whole dish because none of my dining mates found it appealing.
I have always loved bone marrow and this one was very nice!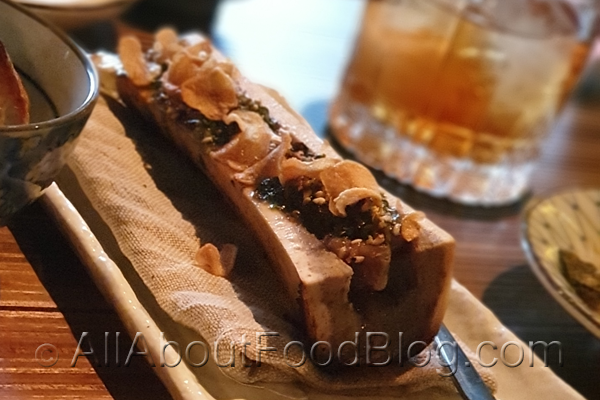 Spicy baby corn - $12 - red miso, corn creme
I've had two amazing corn dishes this year. While this baby corn was nice, it was obviously not as superior.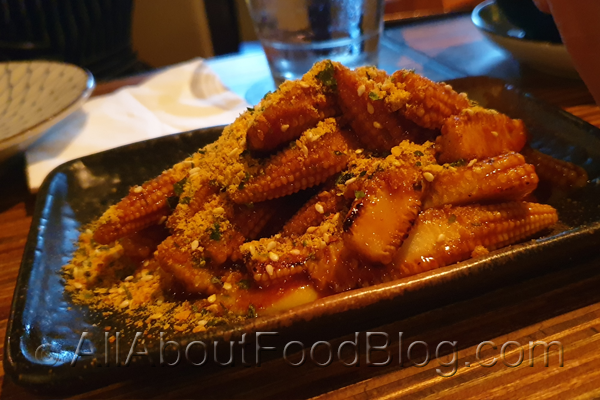 Crispy brussels sprouts - $15 - mirin glazed bacon, karashi
This was a nice little side dish for our otherwise meaty affairs.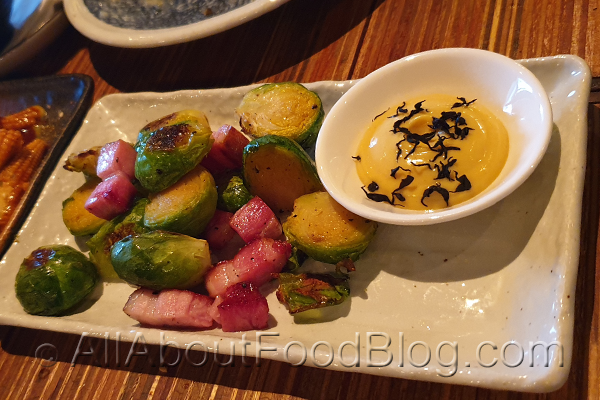 Miso roasted eggplant - $12 - eggplant puree, mint, fried lotus chips
The baba ghanouj-style eggplant was one of the favourites for this dinner.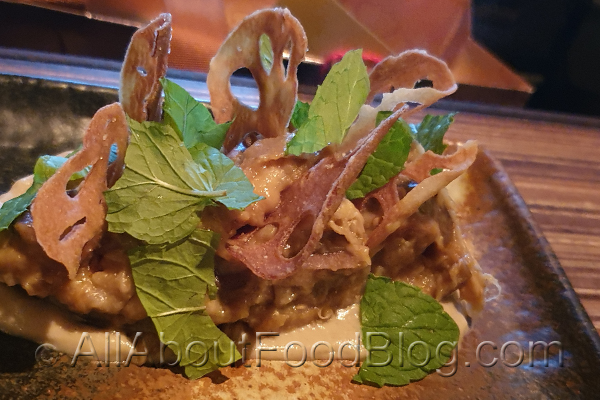 Pan seared scallops - $21 - smoked tofu, wakame, ponzu, yuzu sago
The portion for this dish was pretty tiny. It would probably have been more enjoyable if we each received one bowl.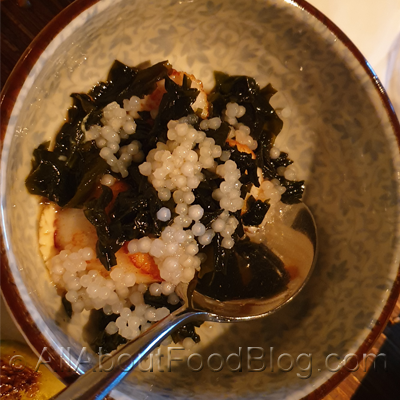 Fried chicken wings - $18 - burnt miso & garlic dressing, preserved carrots
We didn't originally order this. However, one of my dining mates couldn't eat quite a lot of dishes we had ordered. The preserved carrots weren't exactly a big hit.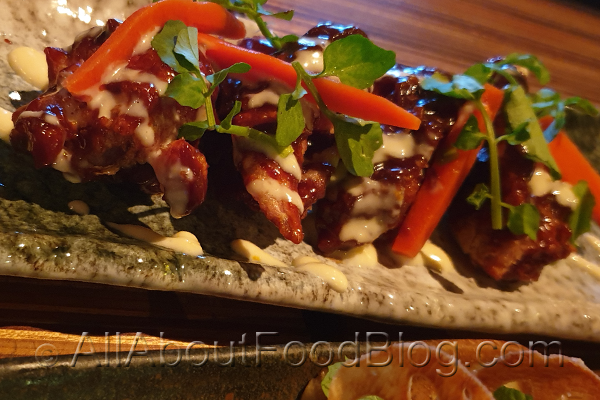 Smoked baby back ribs - $23 - sake barbecue sauce
If you went with 3 people, it would mean 1 tiny rib per person. The rib itself was pretty tasty. However, the portion could be better.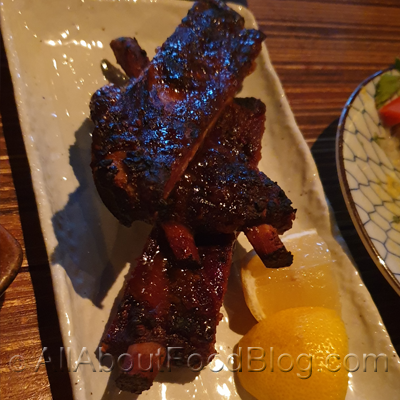 The final verdict for Neon Pigeon
The drinks and the small dishes at Neon Pigeon were very good. However, the substantials could probably be improved... or removed.
Do you think I should go?
It's a nice izakaya place to wind down after a hectic day in Singapore.
Rating:
tomodachi
7.5 / 10
Taste: 7.5 / 10
Price: s$9 - $48 per dish
Place: 8.5 / 10
Details:
1A Keong Saik Road, #01-03, Singapore 089109.
+65 6222 3623