Review:
This week, I will review one of my favourite Indonesian desserts, Martabak Manis (Sweet Martabak). Traditionally, martabak (or better known as murtabak) is a savoury dish that resembles pancake. The Indonesian version of martabak is differentiated into regular martabak and the sweet martabak (East Java people sometimes called it as terang bulan – translated literally as 'bright moon').
I was introduced to Martabak Cafe Australia by my friend. His 'sales pitch' was that their sweet martabak was similar to the famous martabak joints in Indonesia. I have never tasted martabak in Sydney that is remotely close to the taste of the 'real deal' in Indonesia. So, hearing the word 'similar' makes me happy!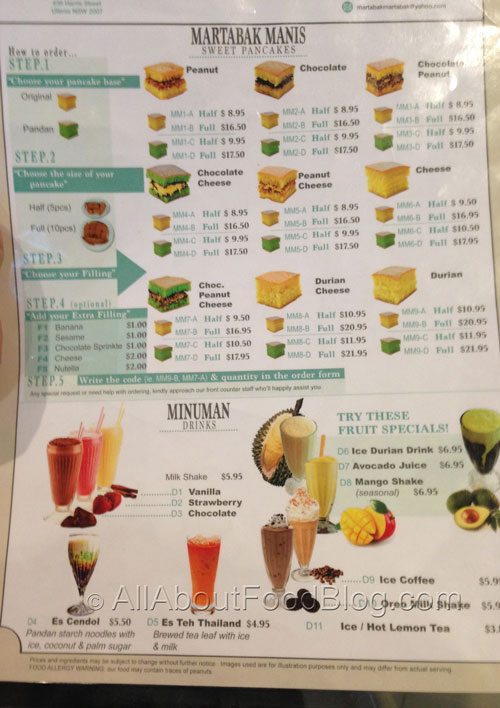 Looking at the menu in the restaurant, half of it is reserved for its martabak manis and the other half is for five other meals in the restaurant. So, you can tell that martabak manis is clearly its champion dish. The grid-like menu might seem a bit too challenging, but it's actually very easy:
Choose your base (pandan, or original) and the following combination of flavours: Peanut, Chocolate, Cheese, and Durian
Choose to have half or full with five or 10 pieces respectively
Their martabak manis was gorgeously sweet! It was fluffy with loads of toppings and big! It truly feels like eating martabak manis in Indonesia.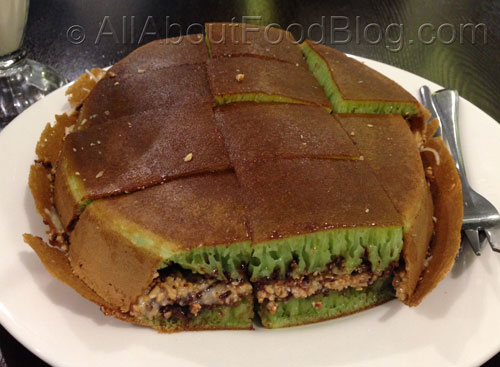 While we were there, we also ordered the savoury Martabak with Chicken Curry. It is quite an interesting version of Martabak as I usually enjoy martabak in Indonesia without the curry bit. They also have Martabak with beef rendang!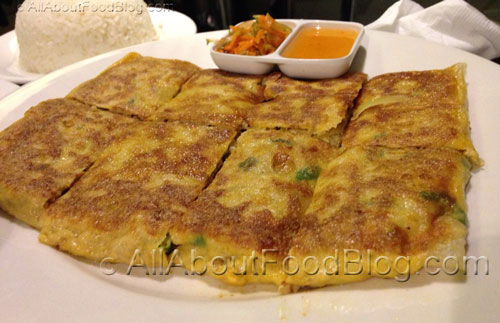 We also had Mie Goreng Udang Bawang (stir egg noodle with garlic prawn, tomato, meatball, garlic chives in special sauce) and Nasi Goreng Ayam (Indonesian fried rice with Chicken). The noodles were nice and had a decent proportion of prawns. My guest told me that the fried rice was a bit too 'colourful'. There were too many flavours at play.
Siomay Bandung is an Indonesian-rendition of dumplings. Instead of soy sauce, we use peanuts and sweet soy sauce (kecap manis).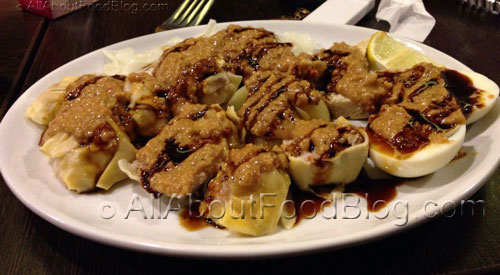 For those of you who really love Durian, they also have Ice Durian Drink.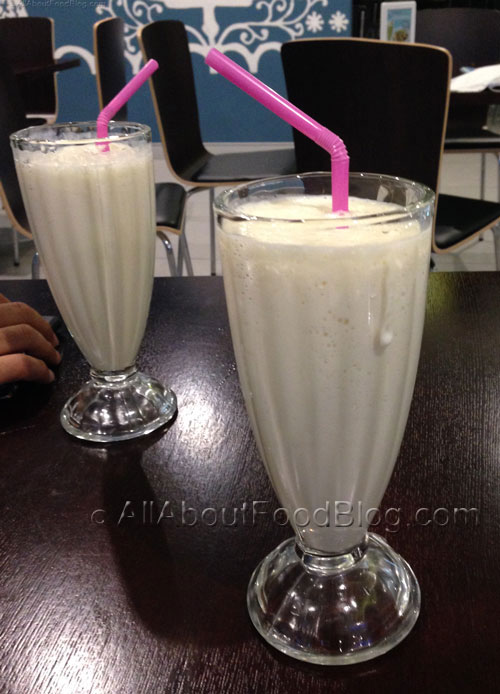 Martabak Cafe Australia has by far the best Martabak Manis in Sydney! We actually do not mind paying the slightly premium price.
Rating for Martabak Cafe Australia:
7.0 / 10
Taste: 7.5 / 10 (or 8.5 if you just eat their martabak!)
Price: $15 – $22 per martabak
Place: 6.5 / 10
Details:
439 Harris Street, Ultimo 2007
+61 2 9566 4178
http://www.martabakcafe.com.au/