JAPANESE INDULGENCE AT OKU: Where great food exceeds fancy place
I really prepared myself for Saturday's meet up on May 29th, 2016. It was a lunch invitation from Zomato Indonesia, which was held at Oku Japanese Restaurant in Hotel Indonesia Kempinski Jakarta. When I heard it was at Kempinski the first time, I was like "Oh man, this gotta be good!"
When I arrived, the place met my expectation. Here you'll meet a clean, modern, and sleek look of Japanese restaurant, but all screams luxury. They have sound-proof private rooms, semi-outdoor private rooms, and a bar too. They were newly opened a couple of months ago.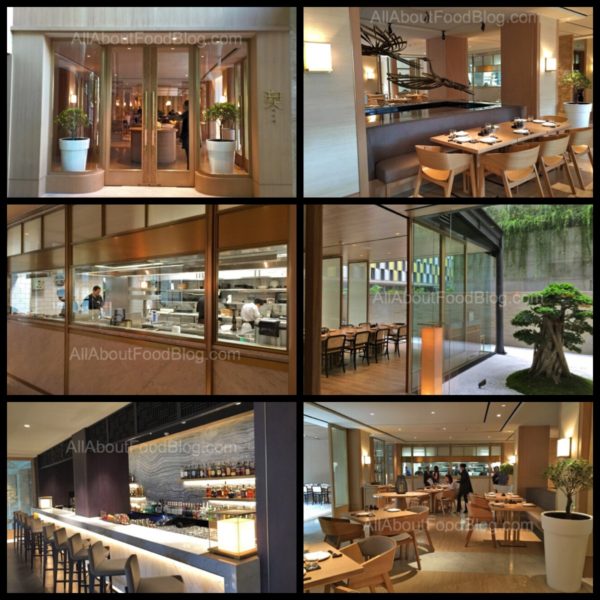 Menu

They let us picked a seat and mingle with other bloggers. After a few explanations from Rebecca, the PR director of Kempinski, they gave us a couple of menu books. Here was our today's set menu, full of exciting dishes! Just couldn't wait to start and I was drooling, haha… You could see that they'd serve more appetizers, just maybe to tease our appetites through main courses.

Appetizer

Oku Karaage

Ok, first teaser was Oku Karaage (IDR 110,000) They were actually black! The plating was as if we were gonna eat coals. I immediately took one, and bit it. Wow, it melted in my mouth! The chicken thigh was tender and juicy, and there was mayo filling inside. They used some kind of black pasta of garlic and leek for the batter to make it looked black. One-of-a-kind Karaage this was! I loved it.

Karasumi Uni

Then the second dish came… On that thick-based plate, you could find angel hair pasta, with uni a.k.a sea urchin and black caviar on top. It is called Karasumi Uni (IDR 320,000). It was served cold, surprisingly. And I found a hint of olive oil when I ate it. There was a sense of bitterness but after a few chewing it was gone.

Aburi Salmon Roll

The next one was Aburi Salmon Roll (price not listed). You can basically find this one in every Japanese restaurant. However, at Oku the presentation was so tempting! Instead of using tobiko on top of the rolls, they used black caviar. It made it tasted so rich.

Uni

The next dish came in in a bowl with bursting smoke! They called it Uni (IDR 245,000). Interesting! Inside the bowl was white asparagus, onsen egg and uni. It was served cold too. Unfortunately out of all the dishes, this was my least favorite. Maybe I just didn't like it served cold or simply because I've never been a fan of asparagus.

Ajitama

Then there was Ajitama (IDR 50,000), organic egg with onion flower and shigureni beef, served with smoked rice straws. The egg didn't give an egg smell, maybe because it was smoked. I liked this one, except for the small size, haha…

Sashimi

Next that came was a bowl of happiness… or the Japenese would simply call it Sashimi (IDR 350,000). There were 7 chef-selected sashimi, such as salmon, tuna, shrimp, squid, etc. Put as the base of the sashimi were soy jelly, angel hair seaweed, gracilaria seaweed, and sea grapes. These came with excellent quality, very fresh and clean cut.

Oku's Signature Cocktails

I couldn't hold myself to try one of Oku's Signature Cocktails. I picked Ume Jumon (IDR 170,000), which contained Ume-shu, whisky, sugar cane juice, and bitters. In one sip, I knew I fell in love with this one. It was so refreshing, not strong, and just had a slight of bitterness.

Main

Omi Japanese Beef

Ok, then we came to the peak of this culinary party. Did you know what we've got for main course? I couldn't believe myself that we deserved such an indulgence. Okay, don't freak out! They gave us Omi Japanese Beef (IDR 1,200,000), a 150gr Japanese Highest Marbling A5 OMI Sirloin. The price couldn't lie. It tasted soooooo good! Like it really melted on your mouth. No extra power of chewing needed, it was so so so soft, tender, and very very juicy. I thought it was everyone's favorite dish of the day.

As you can see here, they cooked it perfect medium. The center of the meat was still pink. I ate it altogether with the barbeque sauce, the black paste, wasabi, and fried garlic.

Potato

As a side dish, we got Potato (IDR 50,000). It was a cold potato salad, with cherry blossom, wood smoked aroma. The texture was a combination of mashed potato with diced potato. It was nice but I wasn't crazy about it.

Dessert

Granite

Dessert time! When these cuties arrived at our table, they got me thinking which one would I choose? These three sorbets on stick are called Granite (IDR 60,000). The green one is made from shiso and japanese plum, the yellow one is from pineapple and yuzu, and the red one is from beetroot and blood orange. I was hesitated between the green and red ones, but I finally chose the green one. It tasted good, so refreshing an had the perfect sourness.

Lychee Pannacotta

Then came the pinkish dessert. They said it was chef's new creation, a lychee pannacotta (price not listed). The plating was awesome, but I wasn't a big fan of this one. I found it just a standard pannacotta and a little bit too sweet.

Yuki

Here is Yuki (IDR 120,000). A yuzu-chocolate mousse with lemon cloud, dulcey sponge cake, and crunchy chocolate praline. They added passion fruit sauce at the time. The plating once again was awesome. The mousse, the sauce, the cake and the crunch altogether made an interesting combo. But I didn't like the lemon cloud though, tasted too sour for me.

Green Sundae

The last dessert, and also the last on the menu today was Green Sundae (IDR 80,000), a sweet matcha custard with shiratama mochi and azuki beans. This one was my favorite. It screamed matcha, the real matcha. Some bloggers found it unflattering because they didn't like the hint of bitterness. But hey, it's matcha! I'm soooo gonna buy this one!

Finally, at the end of the lunch, they brought us the man behind those fancy dishes. That man is Chef Kazumaza Yazawa. He is French-born Japanese.
He was actually specialized in French cuisine. But then he got back to his root, and tried to cook Japanese. Thank God he did that, because he's very good making Japanese cuisine.
The verdict for Oku
OKU is a really great place with great food. They really fulfill their promise: to serve excellent cuisine and not just a fancy restaurant. I'm so pleased with the dishes, and will absolutely go there again. Big thank you to Zomato.id for bringing us here.
Did you know?
The black paste that is used to make Oku Karaage was a mixture of garlic and leek, and it is continuously baked at 40 degree Celcius for a month!