7 / 10

Taste: 7/10
Price: Rp 10k – Rp 35k per plate
Place: 7/10
Review:
Let's kick off our holiday reviews with this uniquely Indonesian restaurant, Restoran Sederhana. This restaurant is now a well-known franchise throughout Indonesia and each restaurant has a pretty similar dishes. They serve 'Masakan Padang' (Padang-style) which originates from Sumatera and is known for its distinct spices that are almost curry-like (they called it 'gulai'). I should probably tell you how the restaurant works first.
As soon as you sit on your table, there will be people coming over to your table delivering all kinds of things, like rice, various dishes, hot tea, even desserts. Your table would end up like the picture below.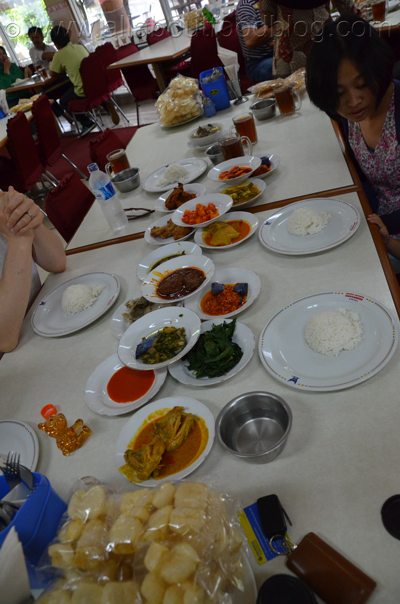 'It's shocking!' might be the usual response for first-timer, because within minutes all kinds of dishes are ready in front of you. You don't need to be afraid as you are not obliged to buy all of them. The way it works was that you eat what you want to eat and leave the ones you don't eat untouched (except for the purpose of moving the plates around).
The two dishes I loved in this place are Gulai sotong (Curry of Whole Squid) and Gulai kikil (kikil is a meat between cow's hoof and leg). I would never miss either of them whenever I visit a restaurant with Masakan Padang. In a decent restaurant, the squid should be easily shredded and not chewy, the same goes with the kikil.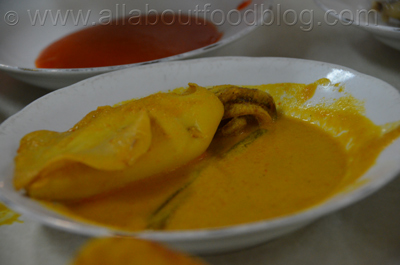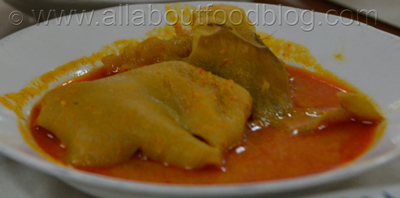 They have quite a few vegetable selections, like the hot and spicy potato and eggplant, quite a few seafood and chicken options. I think it's better to refer you to Wikipedia for the relatively complete list: http://en.wikipedia.org/wiki/Padang_food.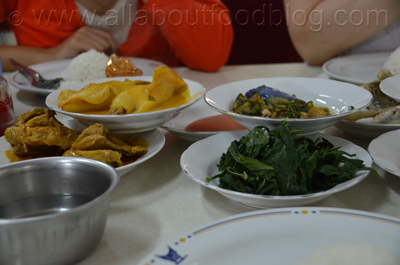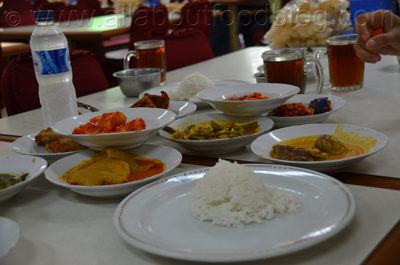 If you can read Indonesians, there are literally dozens other dishes on the menu and you can order like you normally would in a restaurant. I would suggest Sate Padang (Skewers of meat with special Padang-style sauce) with rice cakes. There is also the infamous Ayam Pop (not a big fan, personally), it's a pale-coloured chicken that is said to be boiled, then fried. If you feel a bit more adventurous, perhaps you can try its Gulai Kepala Ikan (Fish Head Curry). I really love it but it gets too expensive to my liking.
You might then be compelled to ask 'What about hygiene and stuff?'… well, if you have ever eaten from a buffet bar, I can't see the difference.
The final verdict for Restoran Sederhana
The best thing about Restoran Sederhana is its uniformity. It can deliver delicious Padang dishes in all of its restaurants. It also features a unique presentation in which all dishes are displayed in front of you.
Did you know?
For those of you Indonesian readers, I suggest you read this article about the founder of Rumah Makan Sederhana. I think it's pretty inspiring in his will to continue on and say no to giving up!
Restoran Sederhana in Indonesian means a simple/humble restaurant. It might be true 30 years ago, but I think it's more for middle (or even mid-upper) class people.
Details:
Multiple Locations
We went to the one on the highway rest area between Jakarta and Bandung.