Review:
There were a few distractions around the area that prevented me from trying Salmon and Bear. The restaurant is located in one of the newest shopping precincts in Sydney, Zetland – and I had a few places I wanted to try.  I also thought that it was a chain restaurant that I have never heard of.
When I eventually went to the restaurant, I was surprised that the restaurant was 100% seafood restaurant. I thought the 'bear' bit refer to meat. So, yeah no other meat but fish here!
Salmon Poké – 21 – Raw cubed salmon in a soy and sesame dressing served with corn salsa and avocado on coconut rice
I ordered poké out of curiosity as this was my first time ordering it. The description resembles chirashizushi with a little twist of tropical influence. Poké is said to be the next big food trend according to Business Insider. It is originated from Hawaii.
It was quite a colourful plate! The salmon was already dressed in soy and sesame so you don't need to add more soy (a la sushi). To top it off, the dried seaweed garnish gave us the crunchy texture.
One of a few salads that I actually enjoyed eating!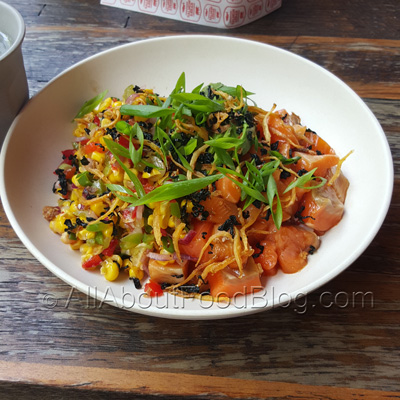 Fish and chips – 18 – crisp battered hoki served with chips, lemon, and tartare sauce
It was quite a simple-looking fish and chips. The portion was quite generous that my friend couldn't finish it.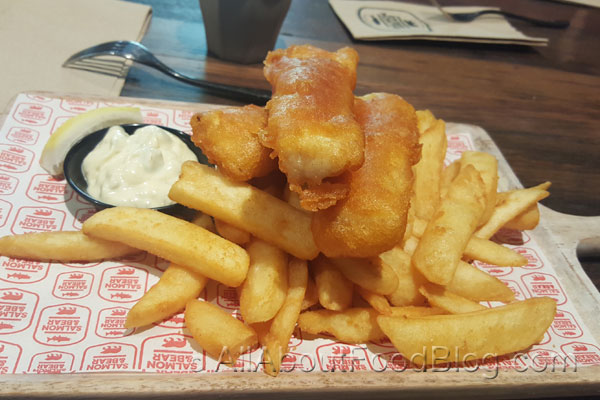 Tacos – 6 –come in a soft corn tortilla with cabbage, salsa verde, pickled pink onions, corander, lime and sriracha mayo
They have three different tacos that looked pretty similar with only a slight difference in the filling. On this occasion, I tried the sticky soy glazed salmon. It was nicely done.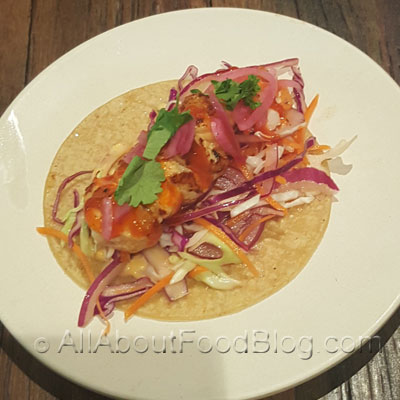 The other two are: Crispy fish (hoki NZ) and Crispy prawn and corn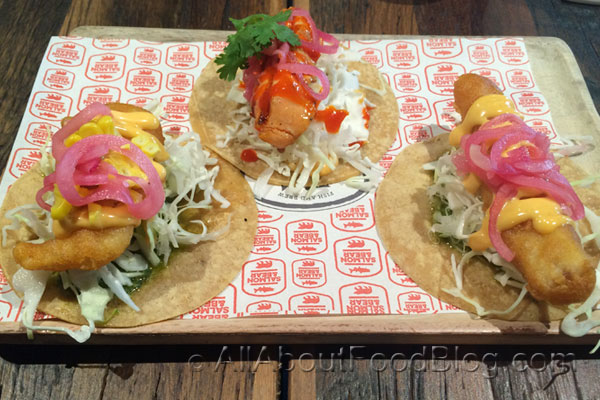 Salmon Bearger – 18 – A smoked and fresh salmon patty with cos lettuce, tomato, pickles, salsa verde and aioli
This is the only menu that has salmon and bear on its title. It was quite big and came with sweet potato fries (they are very nice!). The burger itself was pretty good, but clearly overshadowed by the poké.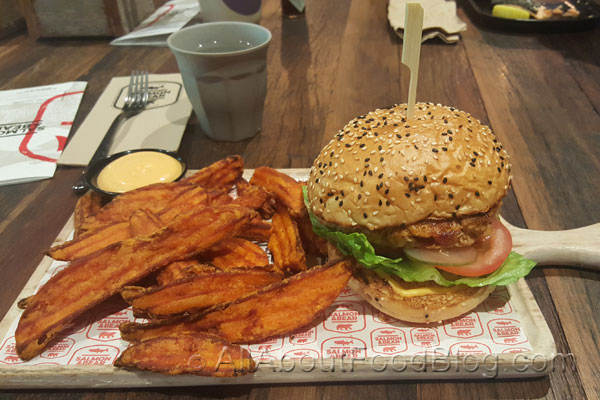 Grizzly plate – 28 – choose your fish, your sauce and any 2 sides/salads
This is supposed to be the main attractions at salmon and bear. However, I wasn't quite convinced. It was clearly the third wheel behind poké and salmon bearger.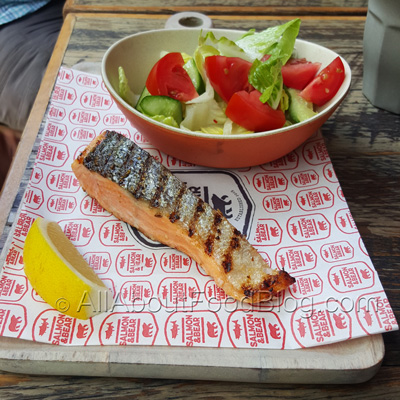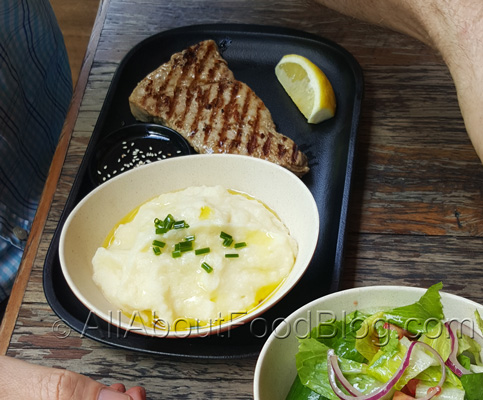 The first time we were there, my boss got a really small salmon and tuna. But in our second visit, the size of the salmon was more decent.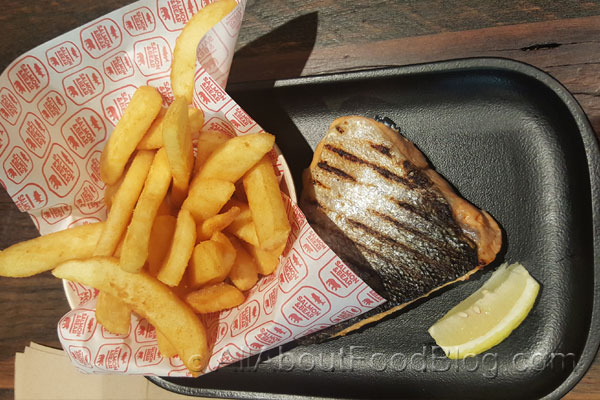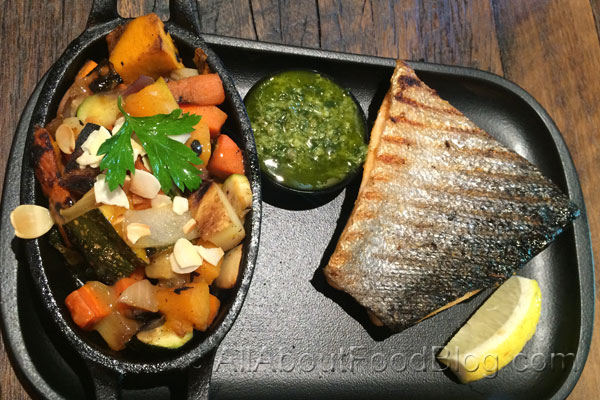 Individually, the grizzly plate is priced as follows:
$18 fish– Ora King Salmon, Barramundi, Tuna, Catch of the day
$2 sauce – Salsa verde, lemon herb butter, yogurt & dill, peri peri, tartare, oyster & sesame
$5 Sides – Chips, Chive mash, sweet potato fries, coconut rice
$8 Salad – All beans, asian greens, slaw, corn salsa, Moroccan salad, roasted beg, corn cob, garden salad
Salmon poké was the clear winner for me at Salmon and Bear.
Did you know?
Salmon and Bear sourced all of its fishes from a certified fisheries with sustainable practices.
Rating for Salmon and Bear:
7.5 / 10
Taste: 7.5 / 10
Price: $18+ for main
Place: 7.5 / 10
Details:
6 Defries Avenue, Zetland 2017
+61 2 9662 8188