6.5 / 10

Taste: 6.5/10

Price: $15-$25 for breakfast

Place: 7/10
Review:
Societe Food and Wine Bar is the latest upmarket, modern Australian restaurant. We went there for breakfast, towards lunch time. I can see they have a lot of tapas, but we didn't order them.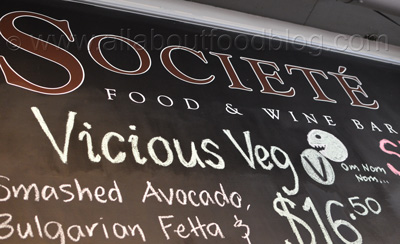 Let's start with my order: Societe BIG benny. Along with Societe big breakfast, it was the biggest and most expensive serving dish on the menu at $ 25.5. Directly taken from the menu, it was smoked salmon, haloumi, poached eggs, avocado, spinach & hollandaise sauce on Turkish bread… a whole lot of stuff for a breakfast! It was beautifully presented and pleasing to see. The salmon and eggs were nice but forgettable hollandaise sauce and pretty salty haloumi cheese.
On a lighter note, there was Euro Bruschetta for $15.9 or $3 more for one poached egg. Without the egg, it would be a nice vegetarian dish consisted of avocado, basil, tomato, grilled haloumi and drizzled with olive oil on Turkish bread.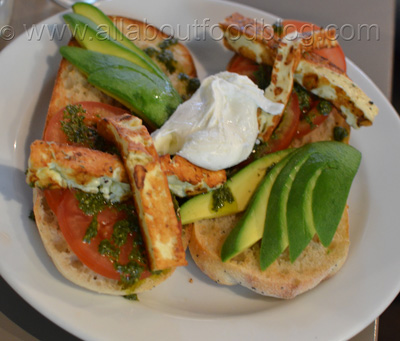 Not so very different than these two, my friend ordered B.L.A.T. ($16.5). It stands for Bacon, green Leaves, Avocado and Tomato. It was prepared on a wooden chopping block with aioli on Turkish bread with chips.
Breakfast is incomplete without a cup of coffee, I ordered Latte like I always did. The best thing of the day came in the form of babycino. It was frothed over the top and sprinkled with hundreds and thousands.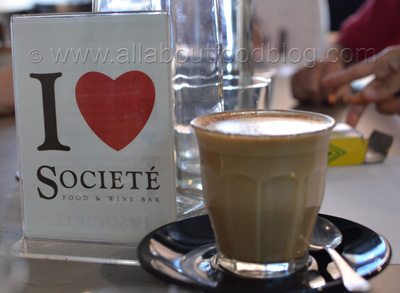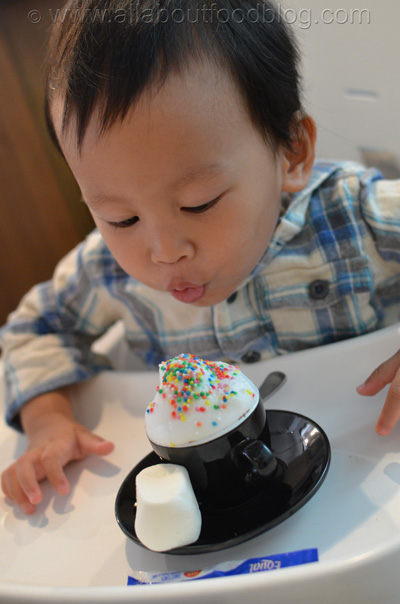 The final verdict for Societe Food and Wine Bar
There was really nothing outstanding for Societe Food and Wine Bar to command such a premium price on their breakfast menu. The only redeeming factors about the restaurant were their dishes' presentation and my son's happy face looking at babycino.
Details:
1/ 9 – 15 Danks Street
Waterloo NSW 2017
+61 2 9698 8899