8 / 10

Taste: 8/10

Price: $47 All you can eat

Place: 8.5/10
Review: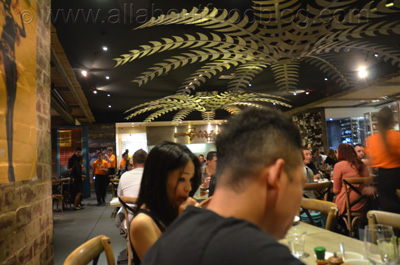 I wanted to say Braza Churrascaria is just another all you can eat Brazilian restaurant that's been flooding Sydney over the years… but I just couldn't!
Why?
I'll skip the part of explaining what Churrascaria is (you can look at the 'Did you know?' section) and let you know why I think you MUST visit this place. Look at the menu below or in this link and see an extensive list of things you can eat (including side dishes).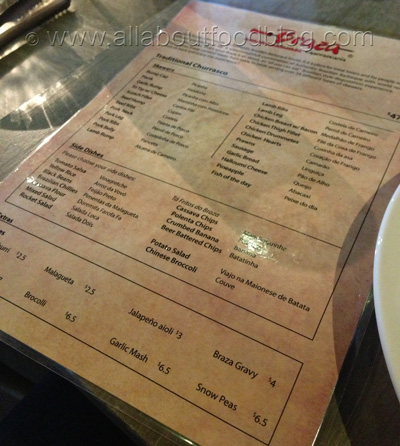 Let's start with the obvious Rump Cap or Picanha. Seriously, if a Brazilian restaurant doesn't serve a great picanha, don't return! Picanha is the core element of a churrascaria. Still in the beef department, they also have flank, rump, hump and Scotch Fillet. The meat quality in Braza restaurant was incredible.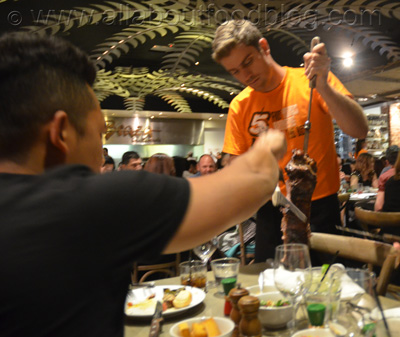 I have limited knowledge of food from the pork department. They have an assortment of Neck, Leg, and Belly. From the look of it, they were the least appealing in the restaurant. Strangely enough, you also got a chance to see a whole pig / pork meat sitting on the wooden trolley. They only have two lamb dishes: Leg and Rump. Both were nice and cooked correctly (i.e. no smelly lamb taste).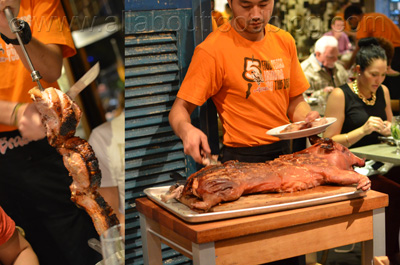 We're now on to the white meat of chicken. They have a decent range from chicken with bacon to chicken hearts. They also have Chicken Drummetes and fillet. Personally, I love chicken hearts and can easily have a dozen of them.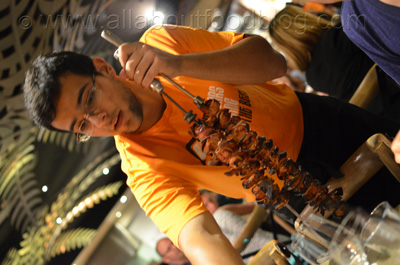 Braza's seafood range was extensive on easter with the addition of mussels and octopus. However, they were only limited to Fish and Prawns in a normal day. However, if you see the fish plate, please ask as much as you can. They were heaps good! I am not a big fan of the Chorizo in Braza. I think they were quite dry and tough.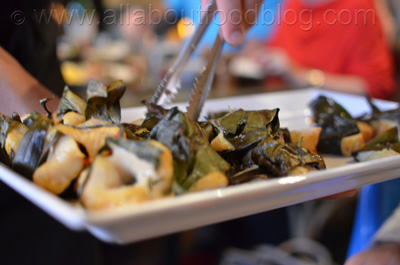 So now we are on to the best part: Braza Churrascaria's ribs. They prepared the ribs in a slightly different way. They would wheel around gigantic slab(s) of ribs on a wooden trolley and slice the meat in front of you.  The ribs were really the highlight of the day. They were succulent, juicy, and best of all, not burnt! You can have an option of Beef ribs, Pork ribs, or Lamb ribs.
They have Halloumi Cheese, Pineapple and Garlic Bread as the main churrascaria offered. I had no less than five slices of fabulous pineapple throughout the night. You might want to slow down on the cheese and bread if you didn't want to be full too fast.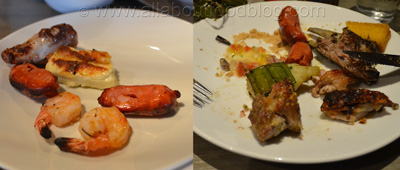 They handled the side dishes quite differently. Instead of circling around the table, you will need to order them specifically. My favourite was Polenta chips. They were really nice and crunchy. We also always have a supply of Brazilian Chilies, Farofafa, and Tomato Salsa because I like a bit more flavour on my meat.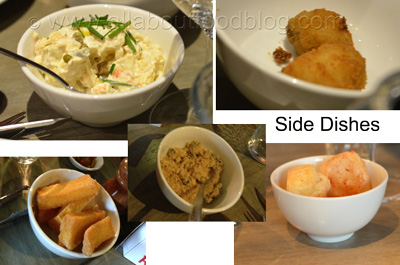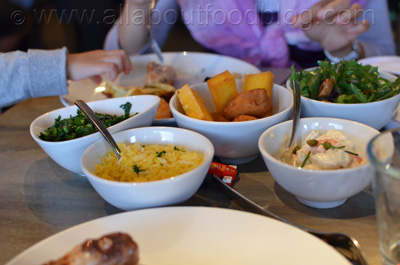 Braza Churrascaria is hands down the best Brazilian restaurant in Sydney. The assortments and quality of meat are unrivaled to those other Brazilian restaurants in Sydney. The only downside to their otherwise excellent review was the unavailability of complementing sauce. It's a very minor item but unfortunately I like sauce on my meat.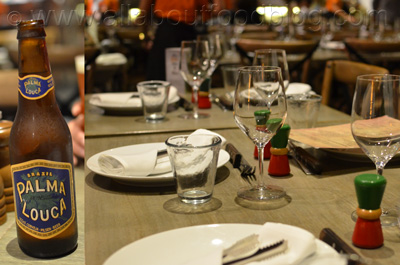 Did you know?
When we were there on Saturday at around 8 PM, they had a Brazilian dance a la Carnaval de Rio with very loud Brazilian drums.
For those of you new to the concept, Churrascaria is a place where meat is cooked in Churrasco style. The meat is grilled to perfection with an iron skewer on a fireplace. The waiters and waitresses would then go around the table offering those meats and you could decide whether you wanted it or not (no obligation to take everything they offered!).
Details:
1-25 Harbour St, Darling Quarter
Darling Harbour NSW 2000
+61 2 9386 9534