Despite the name 'world's 50 best restaurants', the organiser actually named the top 100 restaurants in 2015. They released the list for 51 – 100 a week earlier.
The World's 50 Best Restaurants 2015
The top three is pretty similar when compared to last year. El Celler de Can Roca (from Girona, Catalan, Spain) has retaken the top spot from Noma (from Copenhagen, Denmark) in this year's 50 best restaurants list. Noma actually dropped two spots to number 3. The runner up is Osteria Francescana from Modena, Italy.
Australian Restaurants in the 50 best restaurants 2015
Once again, Attica from Melbourne is the only restaurant from Australia included in the 50 best restaurants list. Their ranking is steady at 32.
Three more Australian restaurants were included in the top 100 list:
– Quay at 58. Quay is still the only restaurant in the list that we have visited.
– Sepia at 84. In addition to being a debutant on this year's list. Sepia is also named as the one to watch in 2015. It has certainly been on our list for as long as we can remember!!
– Brae at 87. Brae is a countryside restaurant in Birregurra, Victoria. According to the 2006 census, Birregurra was only inhabited by 688 people!
The list for the top four restaurants in Australia  is very similar to the one voted by Australian chefs in Financial Review.
Asia's 50 Best Restaurants 2015
Earlier in the year theworlds50best.com released a list of Asia's 50 best restaurants 2015. Gaggan from Bangkok Thailand is number one on the list.
However, on the world's 50 best restaurants 2015 released yesterday, Narisawa from Tokyo, Japan actually ranked higher than Gaggan. I am actually not sure how they managed to be ranked differently.
Indonesia's best restaurant in 2015
Indonesia was represented by one restaurant in 2014. However, not a single restaurant managed to get into the 2015 list.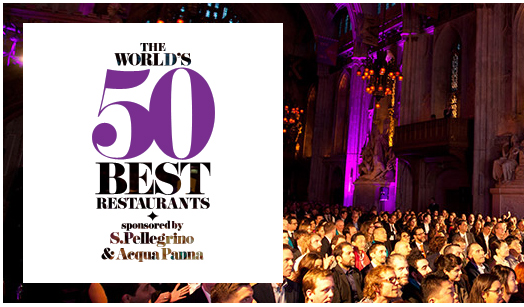 The full list of 50 Best Restaurants 2015:
1 El Celler de Can Roca, Girona, Spain
2 Osteria Francescana, Modena, Italy
3 Noma, Copenhagen, Denmark
4 Central, Lima, Peru
5 Eleven Madison Park, New York, USA
6 Mugaritz, San Sebastian, Spain
7 Dinner by Heston Blumenthal, London, UK
8 Narisawa, Tokyo, Japan
9 D.O.M, São Paulo, Brazil
10 Gaggan, Bangkok, Thailand
11 Mirazur, Menton, France
12 L'Arpège, Paris, France
13 Asador Etxebarri, Atxondo, Spain
14 Astrid y Gaston, Lima, Peru
15 Steirereck, Vienna, Austria
16 Pujol, Mexico City, Mexico
17 Arzak, San Sebastian, Spain
18 Le Bernardin, New York, USA
19 Azurmendi, Larrabetzu, Spain
20 The Ledbury, London, UK
21 Le Chateaubriand, Paris, France
22 Nahm, Bangkok, Thailand
23 White Rabbit, Moscow, Russia
24 UltraViolet by Paul Pairet, Shanghai, China
25 Faviken, Jarpen, Sweden
26 Alinea, Chicago, USA
27 Piazza Duomo, Alba, Italy
28 The Test Kitchen, Cape Town, South Africa
29 RyuGin, Tokyo, Japan
30 Vendôme, Bergisch Gladbach, Germany
31 Restaurant Frantzén, Stockholm, Sweden
32 Attica, Melbourne, Australia
33 Aqua, Wolfsburg, Germany
34 Le Calandre, Rubano, Italy
35 Quintonil, Mexico City, Mexico
36 L'Astrance, Paris
37 Biko, Mexico City, Mexico
38 Amber, Hong Kong
39 Quique Dacosta, Denia, Spain
40 Per Se, New York, USA
41 Mani, São Paulo, Brazil
42 Borago, Santiago, Chile (tied)
42 Tickets, Barcelona, Spain (tied)
44 Maido, Lima, Peru
45 Relae, Copenhagen, Denmark
46 Restaurant Andre, Singapore
47 Alain Ducasse au Plaza Athénée, Paris, France
48 Schloss Schauenstein, Furstenau, Switzerland
49 Blue Hill at Stone Barns, Pocantico Hills, USA
50 The French Laundry, Yountville, USA