Review:
I have been wanting to write about this week's restaurant for years. It was one of our favourite late night destinations (retired from nocturnal activities four years ago). Chat Thai has a few restaurants in Sydney.  On this occasion, we went to Chat Thai Westfield in Sydney CBD for dinner.
One of the interesting thing about Chat Thai is that they have different menu for different time of the day: Lunch, Dinner, and Supper. Supper menu is only available in Chat Thai Haymarket (Thaitown).
Padt Thai Chicken – $14.00 – stir fried thin rice noodles with chicken, dried shrimps, bean sprouts, galic and chives in a tamarind and palm sugar sauce
If you google 'National dish of Thailand', Google will tell you that it is Pad Thai. However, it is not something that we normally look for in a Thai restaurant. We ordered this because other people in the party love a good Pad Thai.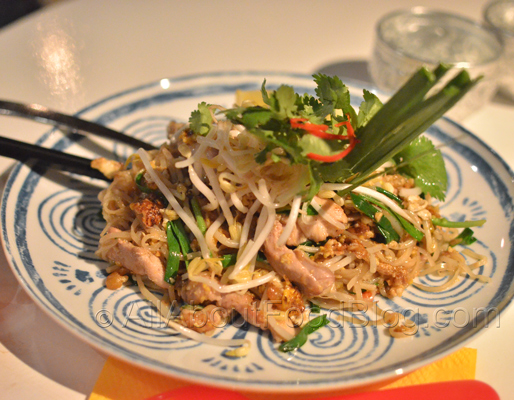 Som Dtum – thai-bpu – $14.00 – Green papaya salad with peanuts and dried shrimps with the addition of pickled crab
People generally judged a good Thai restaurant based on its Pad Thai. For us, som dtum is the dish that we'd like to measure how good a Thai restaurant is. Chat Thai Westfield's som dtum was one of the best we have ever tasted!  It was fresh and had a lot of punchy flavours, especially from the pickled crab.
If you are not sure about pickled crab, you can order the normal Som Dtum Thai.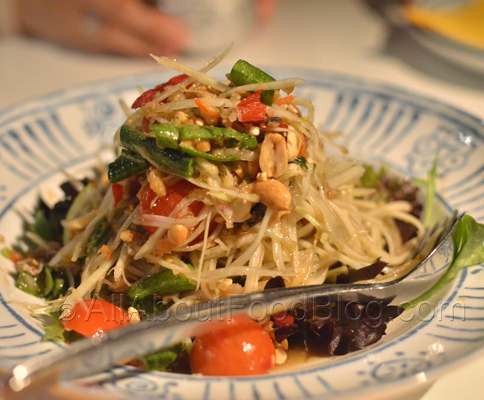 Gai Yaang – $14.00 – Char grilled turmeric and lemongrass marinated chicken with smoked chilli and tamarind relish
Crying Tiger – $14.00 – Char grilled beef tenderloin with smoked chilli and tamarind relish
Gai Yaang and Crying Tiger are the two dishes that my Thai friend always ordered when dining at Chat Thai Westfield. These two are also staple food in Thai restaurants. Both dishes were cooked to perfection. They were juicy and full of flavour!
Mussamun nuea – $16.00 – Mussamun curry of slowly braised beef shin and potato
This is a curry my partner love to order in a Thai restaurant. You can tell Chat Thai Westfield's mussamun is great by the quality of its meat. The curry was thicker than other massamun curries we have tried and the meat was so tender that you can actually fork it off!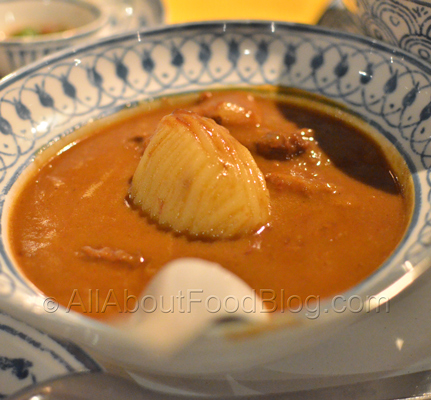 Suki Chicken Soup – $14.00 – braised chicken and glass noodles with water spinach
This is a dish that is rarely seen in a Thai restaurant. It resembles Chinese hot pot dish.
You can opt for a soup or dry suki.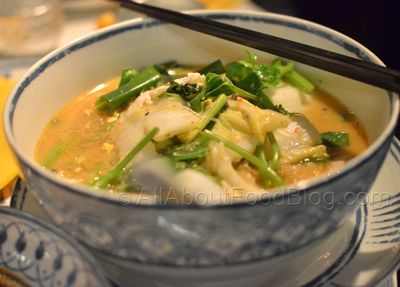 Padt Si-ew – $14.00
The little one always orders Padt Si-ew when we go to a Thai restaurant. This dish is probably the most generic out of all Thai dish and the little-known brother of Padt Thai. It was a simple dish of rice noodles, chicken, vegetables and sweet soy sauce.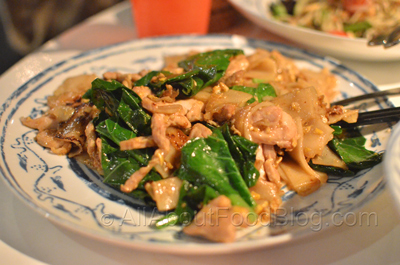 Bpla Dtom Som – $24.00 – steamed blue eye cod in caramelized palm sugar, turmeric and tamarind sauce.
I ordered this dish because of the picture in the menu. Being the most expensive dish of the night (and the last to be served) definitely put some pressure on this dish to deliver. All I can say is that it did not disappoint. Despite looking a bit overcooked, the fish was still perfect. The combination of sweet and sour sauce (a different kind!) was also very good!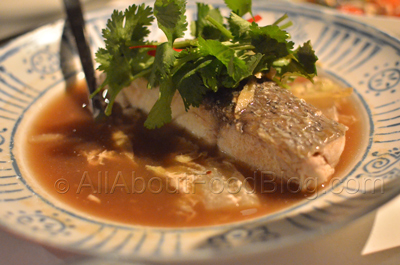 Chat Thai is one of my favourite Thai restaurants in Sydney! Should I really say more?
Did you know?
Unfortunately we had to skip on the desserts as we were pretty full at the end of the dinner.
With that said, I can create a whole post for Chat Thai dedicated solely for its desserts. They have a nice range of desserts. My personal favourite is Pa Tong Go – deep fried donuts with pandan sauce. I glanced at the dessert menu in Chat Thai Westfield and could not find it there, but they are definitely available in Chat Thai Haymarket.
Rating for Chat Thai Westfield:
8.0 / 10
Taste: 8.0 / 10
Price: $14 – $24 per main dish
Place: 8.0 / 10
Details:
Shop 6002, level 6, Westfield Centre Point, 188 Pitt St, Sydney 2000
+61 2 9221 0600