Review:
I wanted to take a couple of VIPs from overseas to enjoy Australian beef. I have heard that Chophouse was one of the best steakhouse in town. So naturally, Chophouse was our choice for enjoying the beautiful Australian beef.
Looking at the menu, they have cuts that you will most likely not find in your local butcher. So, we were pretty happy with the prospect of having quality food for dinner.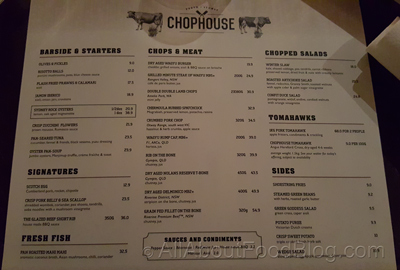 The night started off wonderfully with two beautiful starters:
Crisp Zucchini Flowers with prawn mousse, and Romesco sauce – $21.90
There were three golden zucchini flowers with beautiful prawn fillings.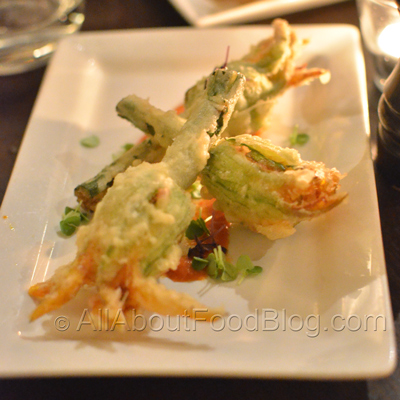 Flash Fried Prawns & Calamari with Aioli – $17.50
Despite looking like an ordinary salt and pepper calamari, they were nothing but ordinary.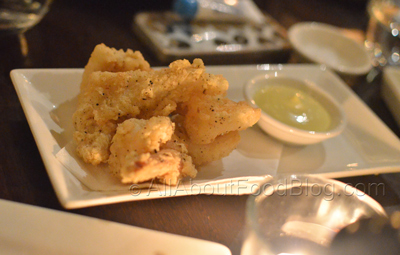 Something Fishy
It is actually one of the names for the kid's menu. It was a deep fried fish fillet with steamed greens. The fish was way too overcooked. The little guy did not want to finish it (and I didn't blame him). The good thing about it was that it was FREE of charge!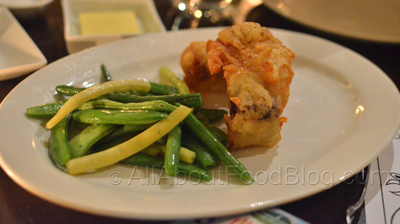 After quite a long wait, with a few guests that came around the same time as us already paid their bills, our main course arrived. On a side note, the complimentary bread actually managed to keep my tummy busy while waiting for the main course.
The Glazed Beef Short Rib with house made BBQ sauce (350gr) – $36.00
Obviously when you are at one of the best steakhouses, you will want to try the best item (usually the most expensive one?) on their 'signatures' range. This short rib was the one. It was the dish I originally ordered (and was subsequently halved and traded with the rump cap below).
The meat was incredibly tender and the BBQ sauce was nice.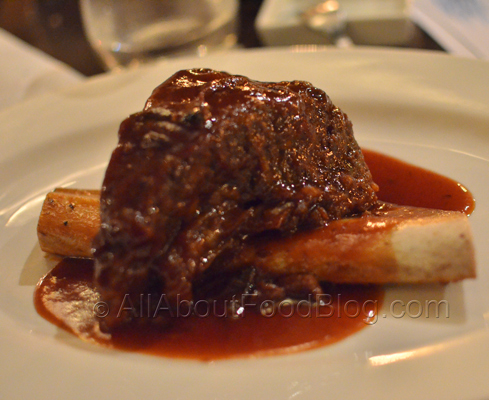 Double Double Lamb Chops with mint jelly (2x180gr) – $30.90 – from Amelia Park, WA
I must admit that the double double lamb chops sounded very intriguing! However, my tummy said 'no' to the weight listed on the menu.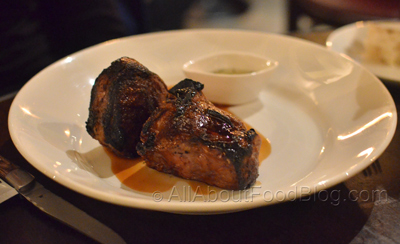 Wagyu Rump Cap, MB6+ with harissa and jus (200gr) – $39.00 – from FI, AACo, QLD
Wagyu rump cap was the best dish of the night for me. It was the smallest portion for the night and wasn't the one I ordered (unfortunately!), but the steak was beautiful.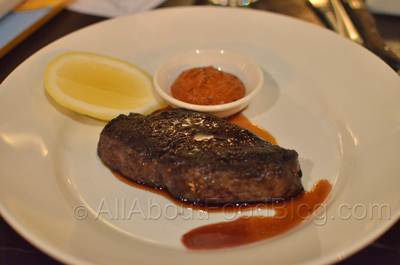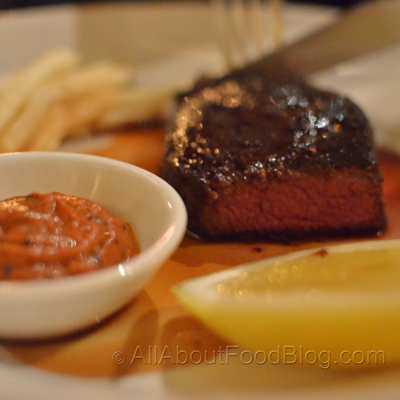 The final verdict for Chophouse
Quality was definitely there when it comes down to the steak they served at Chophouse… as expected from quality meats! However, a very long break between the two courses and the fact that no one told us the steak did not come with any side dishes made our experience somewhat less satisfying.
Did you know?
I was quite interested in their Tomahawks. However considering it weighed in excess of 1.5 kg, none of us dared to order it.
The side dishes cost from $9 to $25. So, in order to have a complete meal, you might need to add that cost into your main dish.
Rating for Chophouse:
7.5 / 10
Taste: 8.0 / 10
Price: $20 – $55 per main dish
Place: 8.0 / 10
Details:
25 Bligh St, Sydney 2000
1300 246 748
http://chophousesydney.com.au/