Review:
One evening, we cannot decide which restaurant to go for dinner. So, we have to ask for a help to our friends, collectively known as Zomato. I saw one restaurant in Marrickville that pretty stood out. It was a Japanese restaurant, named Sakae Japanese Kitchen, which had a rating of 4.3. Marrickville is universally known for its Vietnamese restaurants. So, we were pretty curious about this Japanese restaurant.
The restaurant looked unassuming from the outside and the décor was quite minimalist. The staff was very friendly and we were happy to see that none of the mains cost more than $20 on the menu.
Salmon Nigiri Sushi – $4 and Salmon thin roll – $4.50
Obviously these two are the indicators of a truly great Japanese restaurant. Our little one finished it and we were pretty pleased about their size and taste.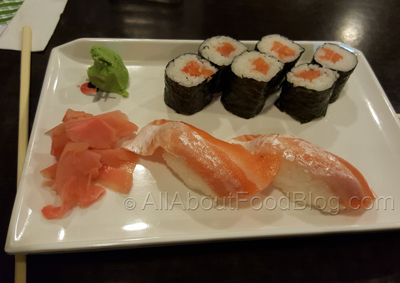 Beef Tataki with Sakae special sauce – $9.80 – Thinly sliced rare beef
$10 for this beauty? We'll take it anytime! Seriously tho… portion was big and taste was great!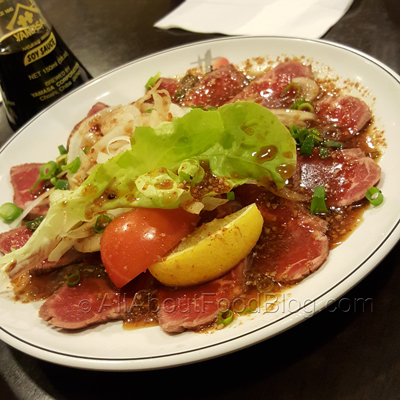 Natto thin roll (6 pcs) – $4.00 – Japanese traditional fermented sticky soy beans
I ordered this out of curiosity. Natto is one of those things that need an acquired taste to enjoy. This was my first exposure to natto and I could understand why a lot of people hate it. Personally, I don't mind the taste and managed to adjust my palate to accommodate the 'natto' taste.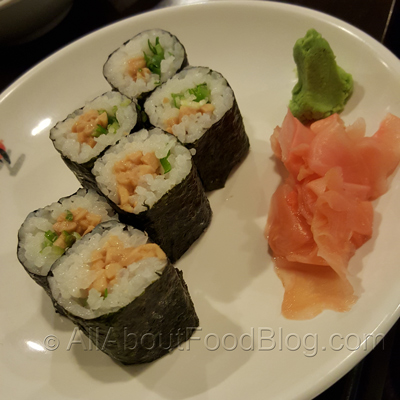 Agedashi Eggplant & Prawn Wonton – $7.50 – Deepfried eggplant and prawn wonton in Agedashi sauce
This dish was on the 'special' section.  It is the lesser known sibling of Agedashi Tofu and another 'first try' for me. I actually liked how they combined the eggplant and prawn wonton. You just need to add rice for the dish to be a 'complete dish'.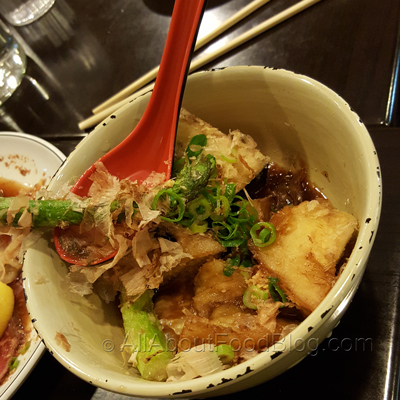 Yakizakana Entrees – $9.80 – Grilled half mackerel lightly salted
We ordered this because of the picture on the menu was pretty inviting! Despite being pretty interesting, the mackerel lost out in the battle to become our favourite dish.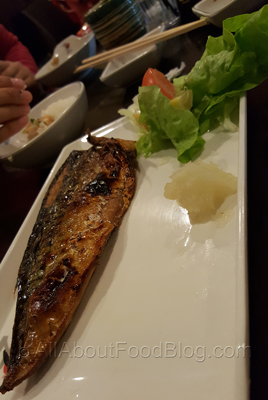 Sakae Special Sashimi – Scampi – $5.80
Scampi sashimi at special price? who wouldn't want that! What's the catch? You have to order it with a main meal.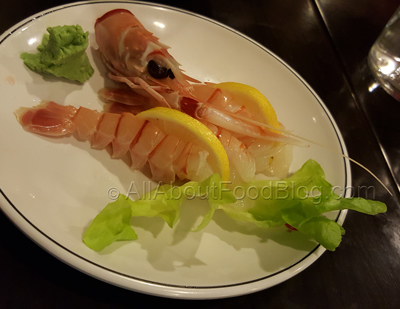 Spider Roll – $7.80 – Soft shell crab and vegetables with mayonnaise
The spider roll was pretty big. They were generously sprinkled with fish roe.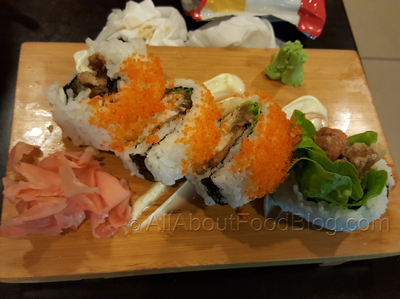 Mixed Katsu Don – $12.80 – Specially cooked fish, prawn and pork cutlet with onion and egg on top of rice
Katsu don is generally the dish that I use to fill up my tummy in a Japanese restaurant, considering that the sushi and sashimi are generally enjoyed in small pieces.
In Sakae Japanese Kitchen, the katsu don was pretty big and the mixed katsu don was even better with a variety of cuts on a plate!
Note: You can swap the tonkatsu with chicken katsu.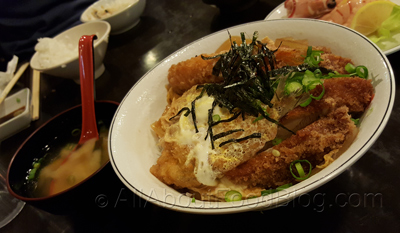 Tempura Udon / Soba – $14.80 – Noodle with tempura prawns and veggies.
I did not order the dish and had no capacity to try it either. It looked pretty good tho!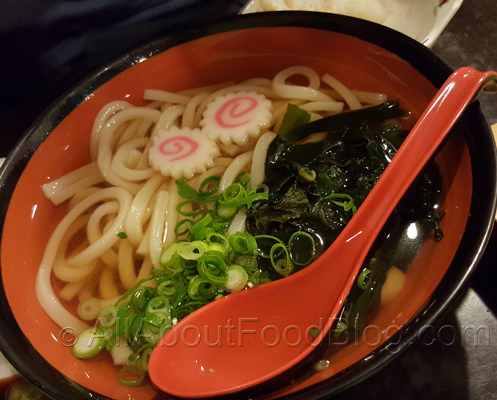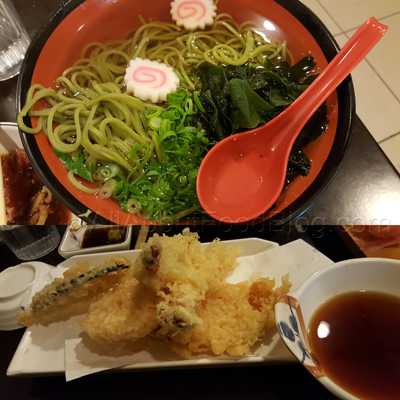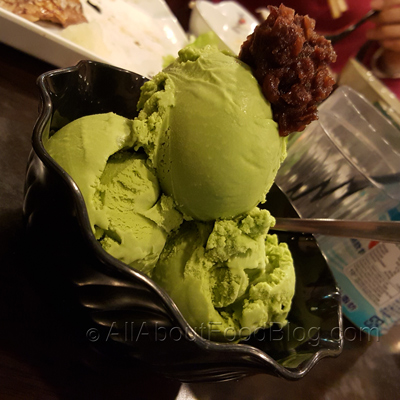 Sakae Japanese Kitchen was a pretty small restaurant with incredibly friendly staff! The food was cheap, the portion was pretty big and ,most importantly, the taste was surprisingly good.
Did you know?
Sakae has two other restaurants in Eastwood with a slightly different concept: as a Yakiniku House and Japanese Dining Bar.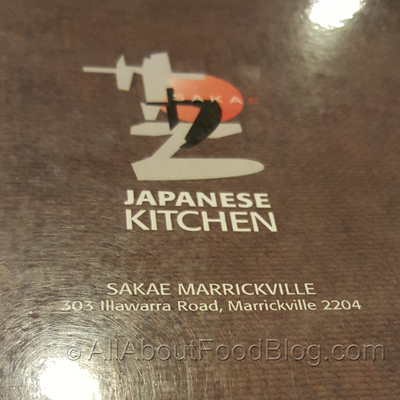 Rating for Sakae Japanese Kitchen:
7.5 / 10
Taste: 8.0 / 10
Price: $10 – $18 per main dish
Place: 7.0 / 10
Details:
303 Illawarra Road, Marrickville 2204
02 9559 7873