Dapur Ibu Alya Review:
We went to Dapur Ibu Alya the first time on the 30th December 2017, one week after their grand opening. They were so new that they had not even put down the signboard from the previous restaurant. Dapur Ibu Alya is located on the main street of Lakemba, Haldon.
Dapur Ibu Alya is an Indonesian restaurant that serves food primarily from the Western part of Indonesia, specifically from the city of Padang. Their main dishes were mostly spicy, except probably their fried rice and noodles.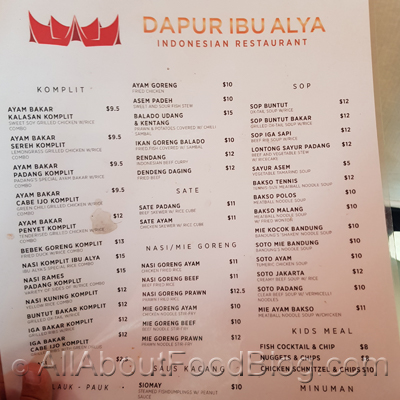 3 Choice – $11 – Rice + 2 meat + 1 vegetables
The hot bar deal is one of the main features of the restaurant. Basically, you choose three things from the bain-marie and have a quick lunch or dinner meal. The menu might differ from time to time but generally speaking, you will find a few curry options, some vegetables and some fried stuff.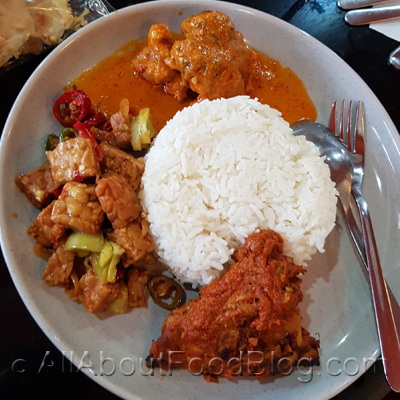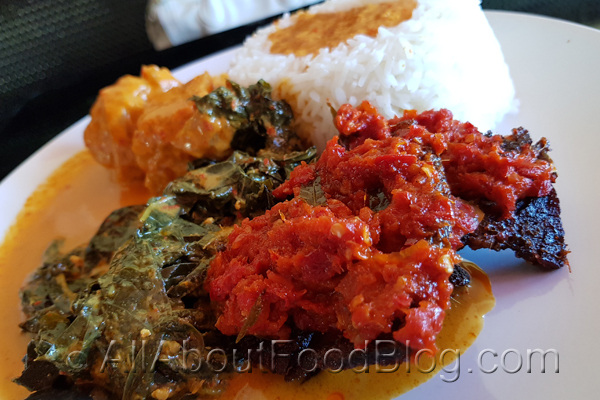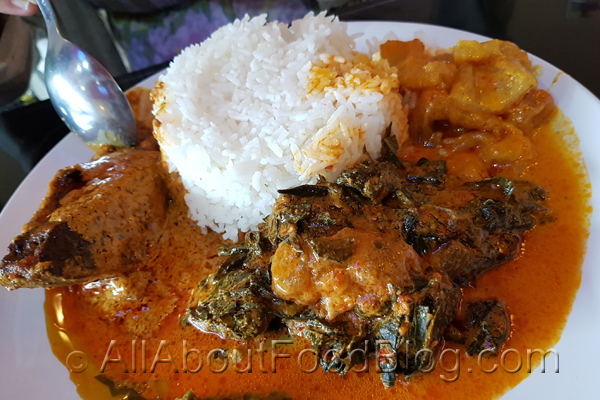 Iga Bakar Komplit – $12 – Grilled ribs with rice
The grilled ribs are actually not spicy (unless you choose to add the chilli sauce in the small container that comes with it). The portion was actually not too bad, given that it was only $12.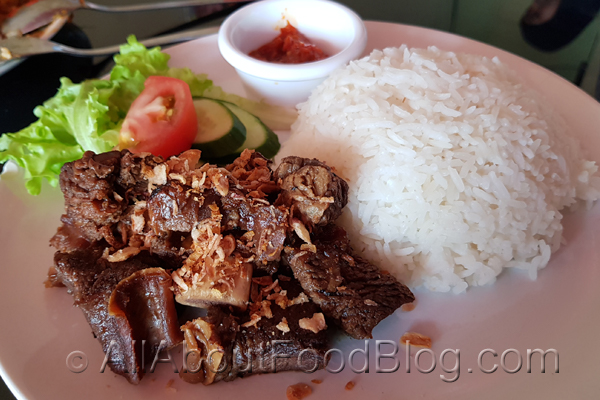 Gulai Limpa – $12 – Spleen Curry
This is why we visited the restaurant in the first place. We have heard through the grapevine that they have a very nice spleen curry. Spleen is a part of the internal organ of a cow, obviously not everyone's cup of tea. Unfortunately, this curry is usually the first one to sell out. If you come to the restaurant just for this, I would advise you to call first to avoid disappointment.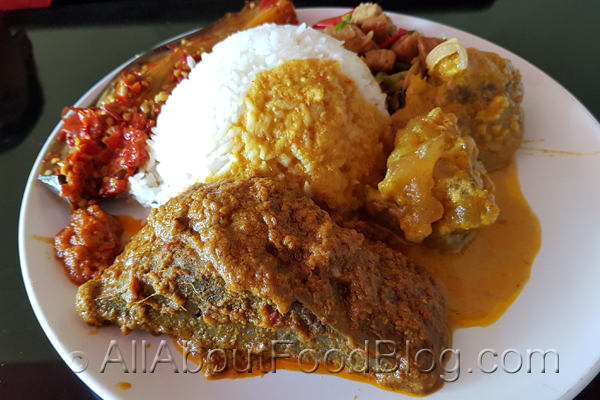 Sate Padang – $11 – Beef Skewer with rice cake
Sate Padang is quite an intereting satay from the city of Padang. Instead of the usual peanut sauce, they have the very distinct-looking thick yellow sauce.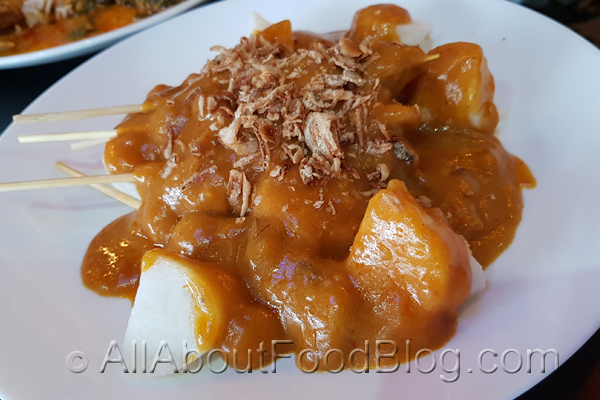 Mie Ayam Bakso – $11 – Meatball noodle soup with Chicken
Mie ayam bakso is usually a favourite of the little one.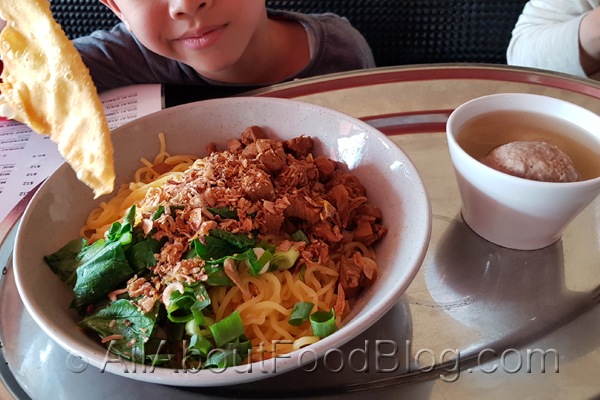 Mie Goreng Ayam – $10 – Chicken Noodles Stir-fry
An alternative, if you like the noodles stir-fried instead of just boiled.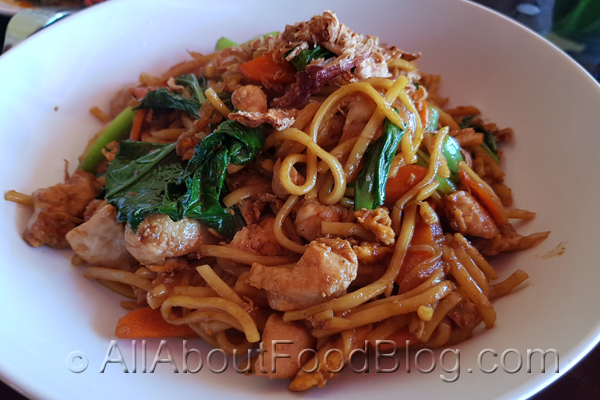 Es Campur – $5 – Mixed Fruit Punch
Es campur is a traditional Indonesian drink that is pretty refreshing. Especially during a hot day.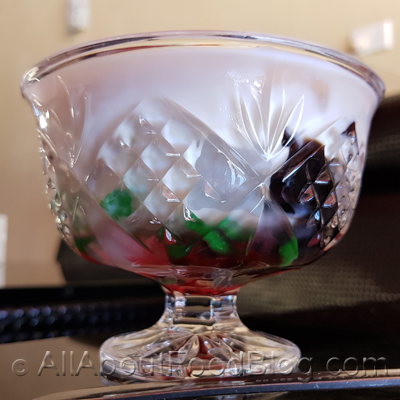 Es Duren – $6 – Durian juice
I don't think it needs an introduction. You either love it or hate it. We are from the 'love durian' side.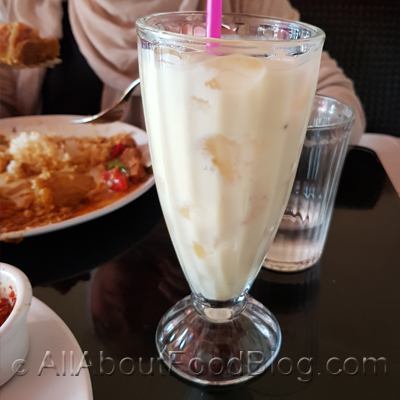 The final verdict for Dapur Ibu Alya
I have been here quite a few times after that first visit. It is a pretty good option for an Indonesian restaurant around the area. However, don't expect fine dining quality and service in this restaurant.
Do you think I should go?
I think Indonesians would appreciate this restaurant more as the taste was pretty authentic. It could be a bit challenging for the others (unless if you are familiar with Indonesian cuisine).
Rating for Dapur Ibu Alya:
7.0 / 10
Taste: 7.0 / 10
Price: $10 – $15 main dish
Place: 7.0 / 10
Details:
41 Haldon Street, Lakemba 2195
+61 404 910 060