Review:
This week we went to a restaurant in quite a premium venue, GPO Grand at Martin Place. The name of the restaurant is Intermezzo Ristorante. Their menu is predominantly Italian with French influence. It has all the cues of a fine dining restaurant. However, they are not a hatted restaurant and also not listed in Top 500 restaurants in Australia. The good thing about it is that you don't put any expectations on the restaurant and anything good coming out of it is a bonus!
Sicilian Green Olives, Diced Marinated Roma Tomato with Fresh Herbs, Extra Virgin Olive Oil and Sourdough – $9.50
It is quite a simple antipasto for little nibbles… and you might need to order a bit more sourdough.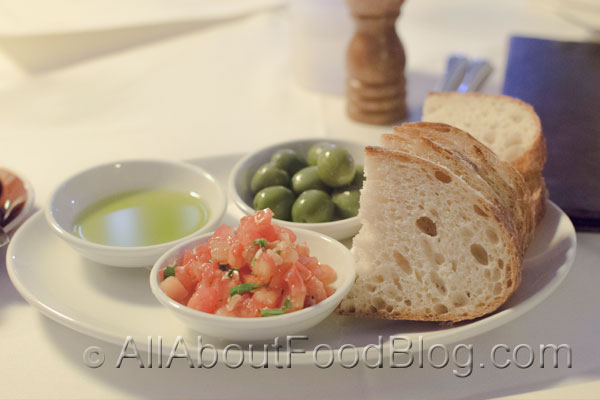 Carpaccio di Bresaola – $21 – Cured Wagyu Beef, Marble Score 9+, thinly sliced with Rocket, Reggiano and Housemade Grissini
It was a pretty well made beef carpaccio and I quite enjoyed it.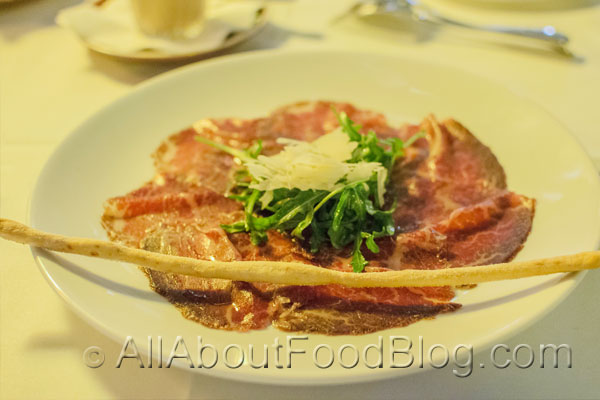 Linguine Scampi – $36 – Linguine with Western Australian Scampi, Fresh Vine Ripened Cherry Tomatoes and Chilli
We chose to have the Linguine for starter because originally my wife thought she could share it with the little one. However, to our surprise, the chilli was actually quite spicy here.
Calamari Fritti alla Napoletana – $21 – Crispy Hawkesbury River Calamari Rings with Lemon and Chilli Oil
We had to order this as a backup plan to the kid. We asked for a tomato sauce to accompany the calamari rings and they actually gave us a proper tomato pasta sauce.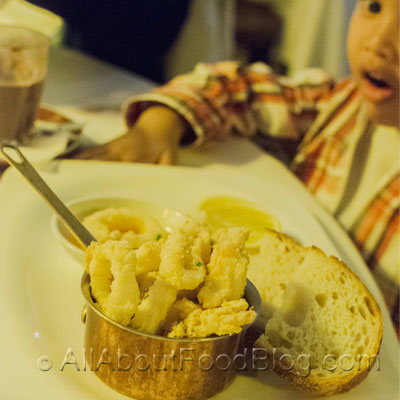 Bistecca Alla Fiorentina – $41 – Dry Aged Grain Fed T-Bone (400g) served with Roasted Potatoes and a Rocket and Parmigiano salad
I liked my steak medium rare. I think the t-bone was just a tad overcooked. The rocket salad was also quite sour.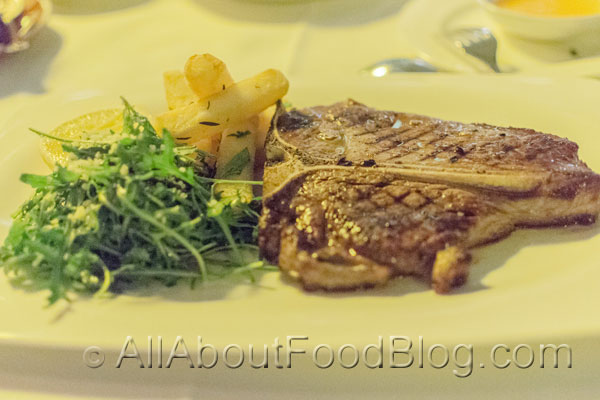 Pesce al Cartoccio – $36 – Ocean Trout Fillet with Truss Tomato, Wild Mushrooms, White Wine and Herbs, served Steamed in Baking Paper
The other main was wrapped in baking paper and was quite small. Also, I could not taste any flavours from the trout.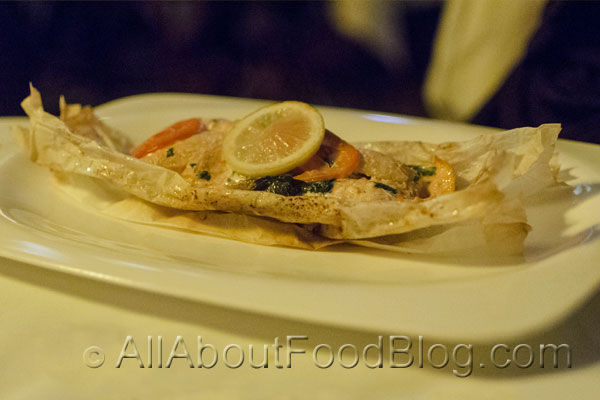 Wild Rocket, Pear and Parmigiano Reggiano – $11.50
Just like the steak's sald, the vinaigrette was quite over powering that made the rocket too sour to my liking.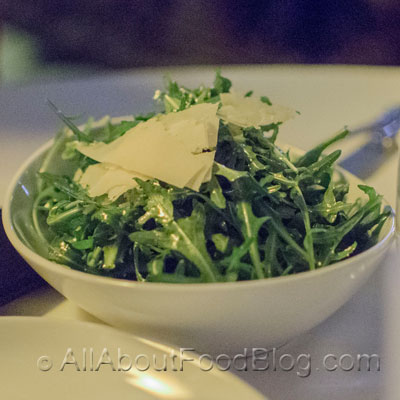 Tiramisu – $15.50 – 'Pick me up Dessert' of Mascarpone Layered with Biscotti, Espresso Coffee and served with a Coffee Sorbet
Finally, a dish worth talking about. I always enjoy a good tiramisu. The deconstructed tiramisu was pretty special. It is not your traditional tiramisu and the coffee sorbet really lifted up the mood!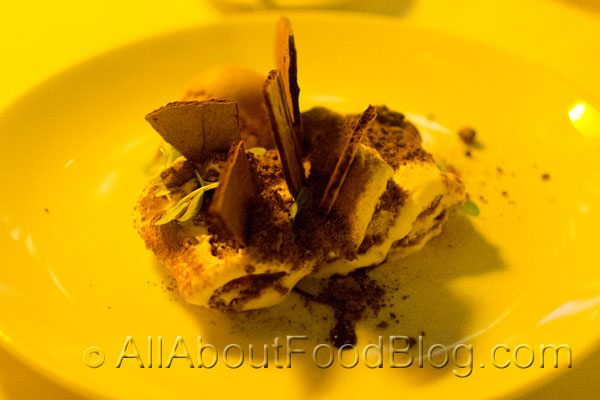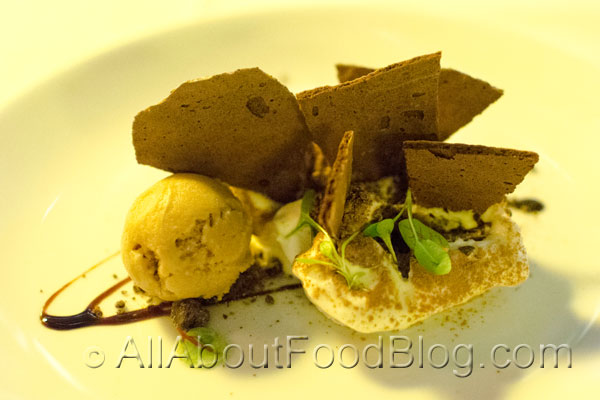 Pannacotta al Caramello – $15.50 – Caramel Pannacotta served with Pistachio Brittle, Honeycomb and Buttermilk Gelato
It is quite a unique take on pannacotta. Instead of the usual shape, this one was almost spherical. It looked quite lively but the pannacotta did not look like the centerpiece of the dish.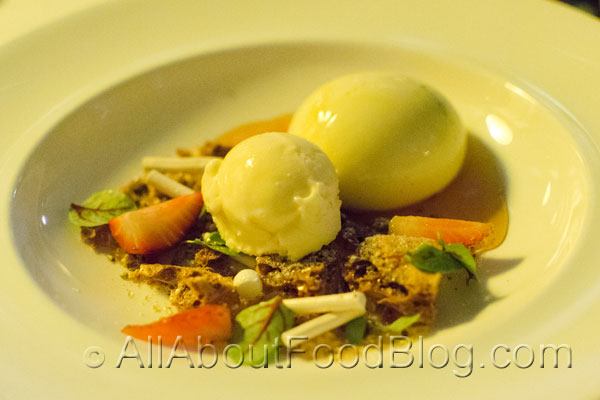 The final verdict for Intermezzo Ristorante
Dessert was the only saving grace for Intermezzo Ristorante. Their tiramisu was delightfully refreshing. In contrast, all I could remember from the main and entrée were the high price tag they put on them.
Did you know?
If you book online, apparently you can get a complimentary coffee. They also have different 'menu of the day' and the image below was from dessert of the day.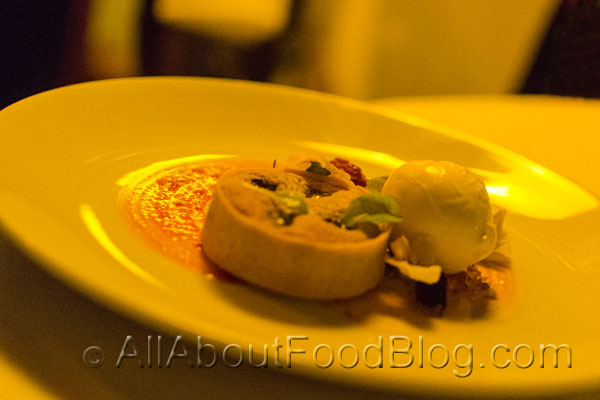 Rating for Intermezzo Ristorante:
6.5 / 10
Taste: 6.5 / 10
Price: $35 – $41 main dish
Place: 7.5 / 10
Details:
GPO Grand, 1 Martin Place, Sydney 2000
+61 2 9229 7788
http://www.gpogrand.com/intermezzo-italian-restaurant-sydney-cbd