Review:
We went to One Tea Lounge solely because of its ramen burger. I have actually visited their 'express' restaurant at Hawker Lane in Chatswood and I was curious enough to try their main restaurant in the city.
One Tea Lounge and Grill is not your typical Japanese restaurant. 'Funky' might be the word that best describe the restaurant. The menu was even funkier. Peking duck fries anyone? Or what about Lava Stone grill?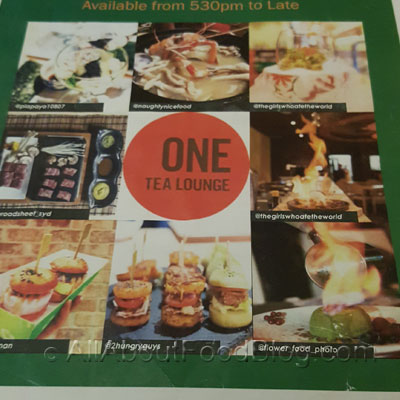 Peking duck fries – $12 – with hoisin sauce & coriander
Obviously this is the first one I ordered (after ramen burger that is). When the dish arrived, it is a big bowl of fries topped with shredded Peking duck and coriander.
The strange mix of Peking duck with hoisin sauce and chips actually worked really well!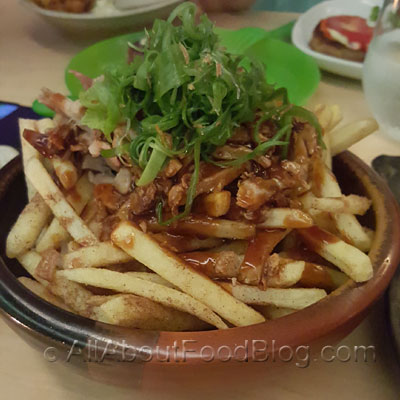 Popcorn curry chicken – $10 – with green tea lime mayo sauce
We ordered this for the little guy. However, he already made his mind up about Peking duck fries. The popcorn was actually pretty good as a snack.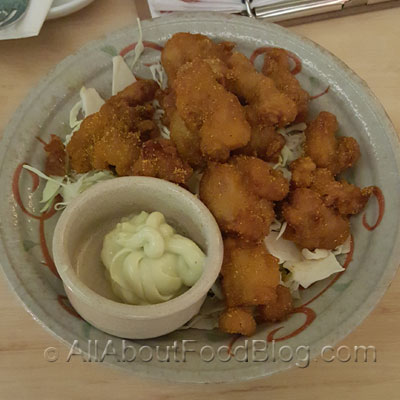 Designer sliders – $21 – Choice of 3 sliders of our signature designer burgers to get started for the night
Ramen burger is actually part of the designer sliders. You can pick between three different sliders (ramen, rice, or matcha baoger) and four fillings: original wagyu beef, braised pork rib, teriyaki chicken, and miso tofu vegetarian. Matcha baoger is a Japanese bun with a hint of matcha.
The burgers were flavoursome. As 'sliders', they were not really that small.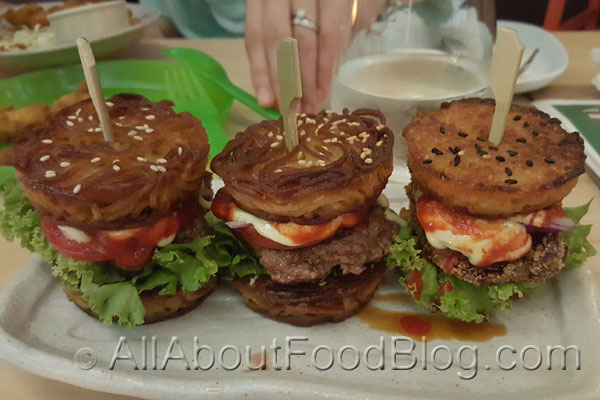 Lava Stone Grill 9+ Wagyu Beef 180gr – $48 – Sizzle the best quality wagyu beef with shimeji and enoki on a hot lava stone at the table. Served with 3 dip sauces – matcha sea salt, green tea hollandaise & yakiniku sauce
One of the mains in the menu with quite an eye-catching name and also one of the more expensive ones. It was quite justifiable as they used marble 9+ wagyu beef. The sauce also married up perfectly with the quality beef!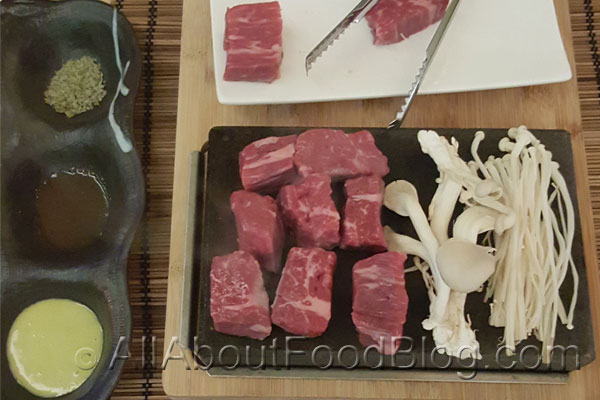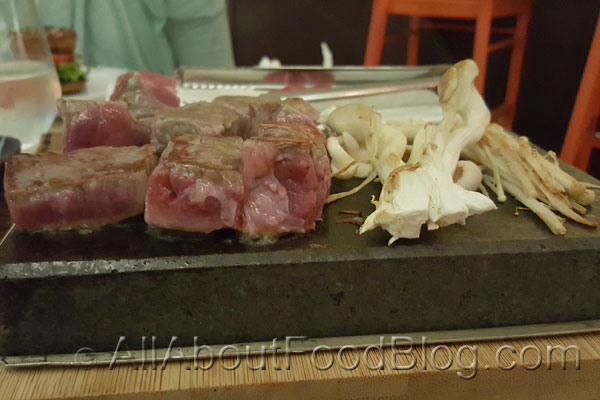 Matcha Fries – $7 – with green tea salt, seaweed or shichimi spicy
The matcha fries was quite standard when compared to the other fries at One Tea Lounge. I guess you can compare it yourself by the picture below.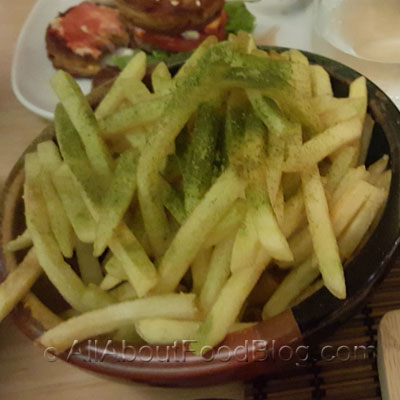 Matcha Fondue (for 2) – $23 – Fresh fruit, Green tea castella, macarones, cookies with Matcha white chocolate dip sauce
I had a hard time taking a picture of matcha fondue. Everyone seemed to be wanting to dive in straight away! If you look at the pictures below, you'd understand. It has quite a lot of little bits to dip into the pool of heated green tea!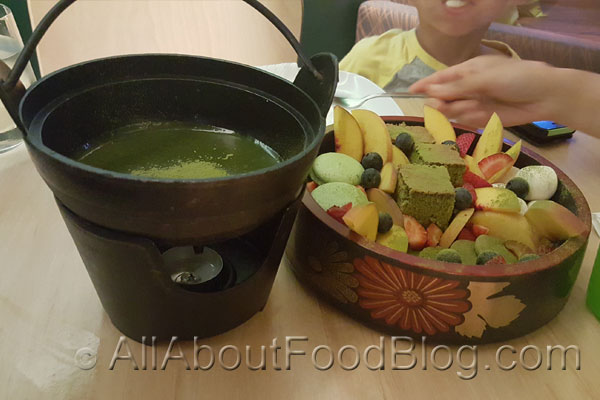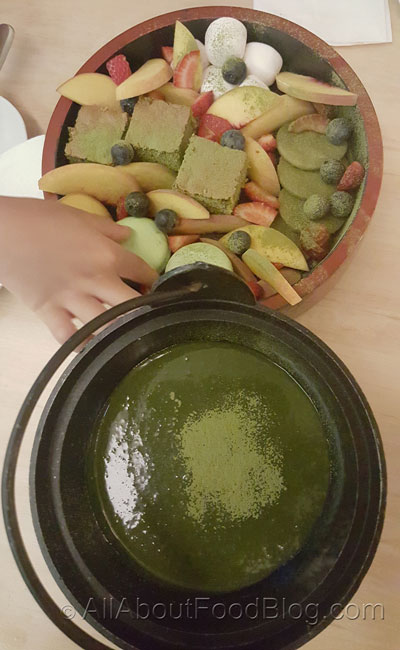 One Tea Lounge and Grill have quite an interesting list of dishes in their menu. If I could, I would try every single one of them!
Did you know?
You should really try their Asahi burger from the lunch menu. I tried it when I visited Hawker Lane in Chatswood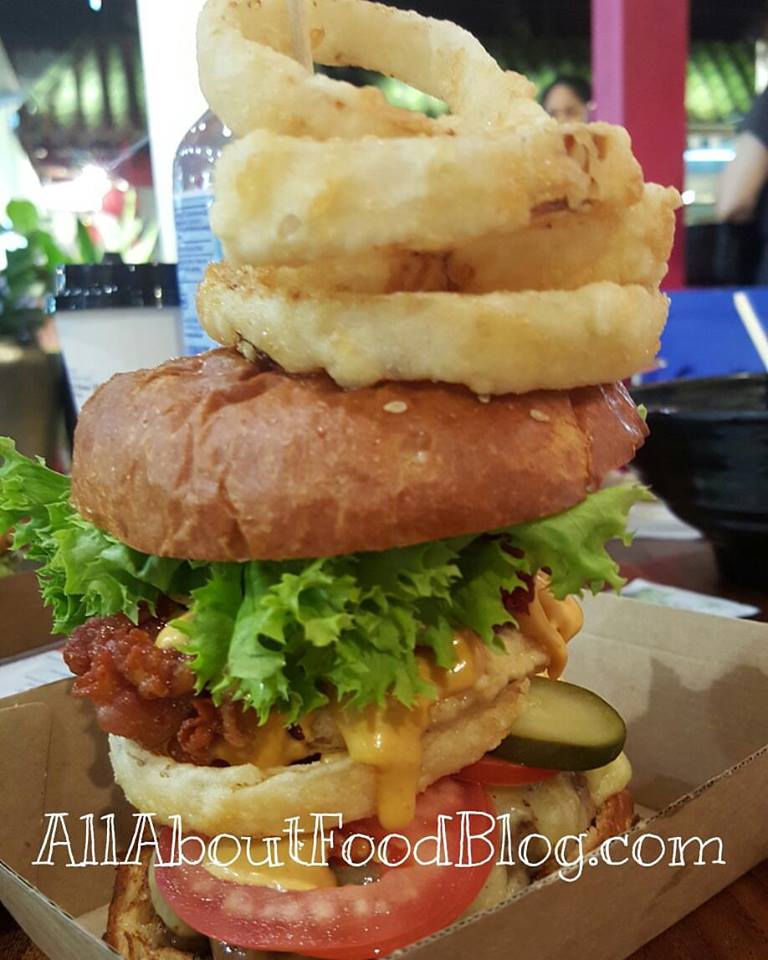 Rating for One Tea Lounge:
7.5 / 10
Taste: 7.5 / 10
Price: $10 – $58
Place: 7.5 / 10
Details:
Upper Ground Floor, 73 York Street, Sydney 2000
+61 2 9279 3311
http://www.onetealounge.com.au/