Kobe Wagyu BBQ Review:
This week's review is from one of the newest all-you-can-eat restaurants in Sydney. Kobe Wagyu BBQ is located quite near to World Square in CBD. Being at the centre of the city, unfortunately, also means a very expensive BBQ restaurant. The buffet menu is $79 per person.
They back up their pricing with amazing BBQ burner where the smoke actually got sucked back down. This actually creates a non-smokey environment with no giant overhead exhausts in sight. They also use touch screen ordering system where you can just click your orders. They did impose limitations on the number of plates you can order in one serving.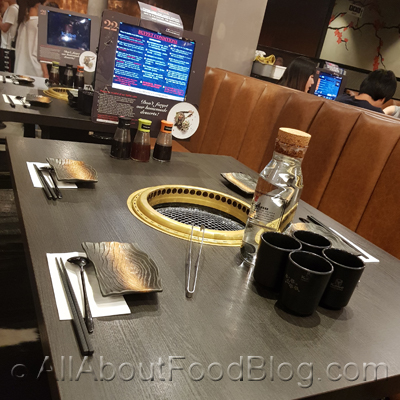 Japanese BBQ place usually has only two different soy sauces. Kobe Wagyu BBQ has three: yakiniku, ponzu and soy.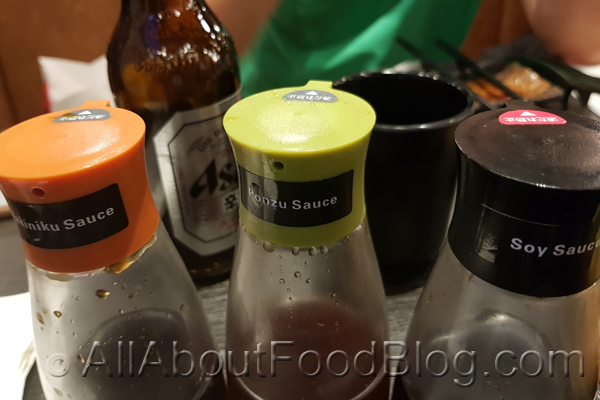 BBQ – Brisket Navel End (Karubi), Outside Skirt (Harami), Chuck Eye Roll, Flap Meat, Oyster Blade, Rib Eye Cap, Rib Finger, Short Rib, Tri-tip, Beef Tongue
Chicken Soft Bone, Chicken Thigh, Pork Loin, Pork Neck, Pork Belly, Pork Sausage
The first part of the menu (and probably the most often you will visit) is the BBQ. They have quite a few different cuts of meat, as seen above. They also have an extra option to either marinade it in sauce or salt.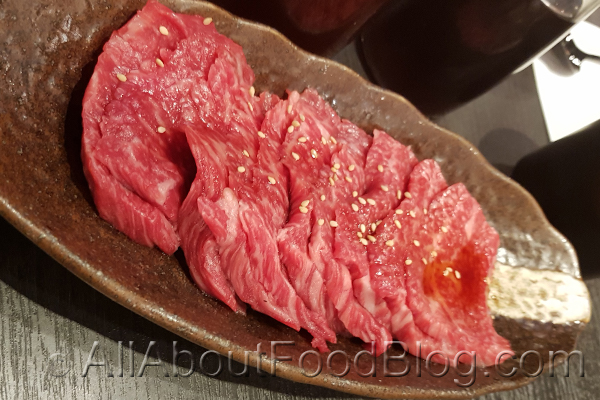 Seafood – Baby Octopus, Calamari, King Prawn, Callops, Garlic Chilli Prawn, Scallop with Roe
If grilled seafood is your thing, you might be looking to order from one of these options. Unfortunately, fish is not part of it. But you can technically use the sashimi cuts and just grilled them.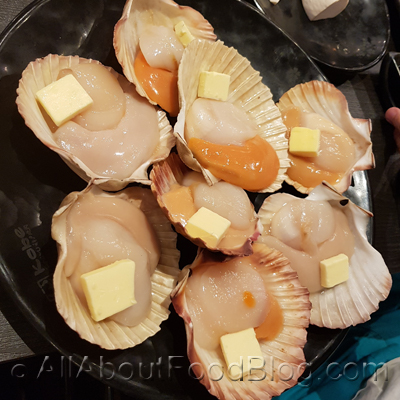 Sashimi and Sushi – Salmon, Tuna, Snapper, Kingfish, Scallop, Salmon Carpaccio, California Roll, Lobster Salad Roll, Salmon Avocado roll, asparagus hand roll, eel hand roll, wagyu beef hand roll, tobiko hand roll, salmon hand roll
As a group, this is the place where we went the most. We love all you can eat sashimi! We could order plates upon plates of Sashimi.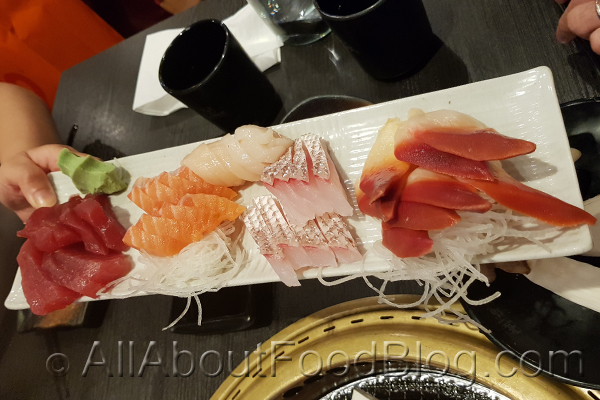 Vegetables, Salad, and Side Dish – Asparagus, cabbage, capsicum, onions, shiitake mushrooms, corn with butter, sweet potato, zucchini, pumpkin, button mushroom, king brown mushroom, crab salad, sashimi salad, potato salad, seaweed salad, wrap lettuce, Japanese radish pickles, kimchee, radish kimchi, onsen tamago, asparagus with sesame sauce, spinach with soy, tofu
On the contrary, I hardly go to the vegetables and salad area. It's not worth my time in all you can eat BBQ.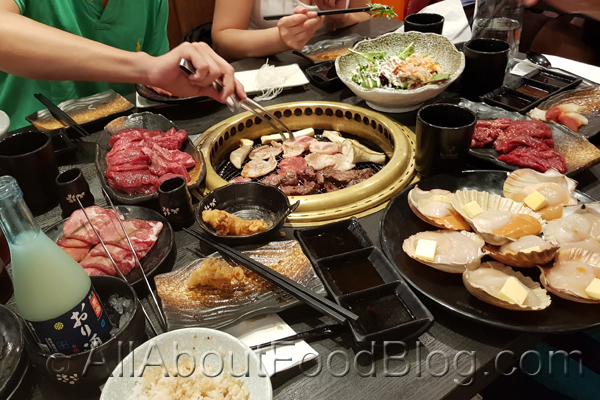 Bites – Crab claw, prawn croquette, chawanmushi, mentaiko cuttlefish, pork dumpling, vege spring roll, sesame oil & salt, garlic slice, agedashi tofu, bite-size tempura prawn, burdock chips, takoyaki, chicken karaage, yukke, curry croquette, shrimp karaage, chicken wing dumpling, deep fry lotus root, deep fry chicken soft bone, edamame
Bites are a good starting point if you want something to eat while waiting for your meat to cook. I love eating yukke (raw beef with egg yolk) and chicken soft bone to start my dinner.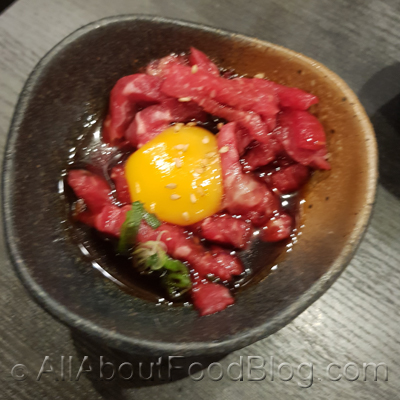 Soup, Rice and Noodles – rice, eel rice, rice ball, salmon flake rice, soba, hot udon, green tea soba, egg soup, miso soup, seaweed soup, vongole miso soup
This is the tummy stuffer. People usually leave this out when eating at an all-you-can-eat restaurant. You can get full really quickly if you eat too much of this.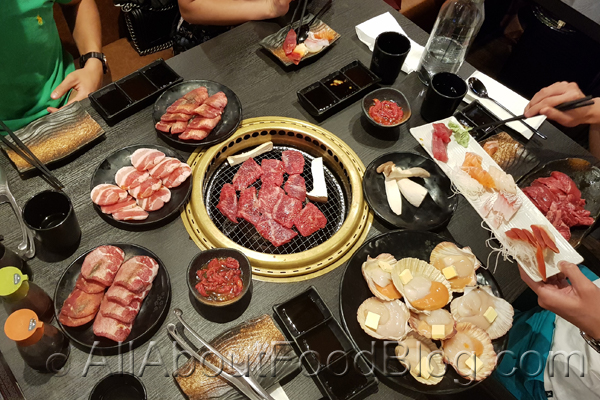 Desserts – black sesame, green tea, mango ice cream, rice cake
There are not a lot of options in the desserts area. It is basically just three kinds of ice cream and a rice cake. The rice cake is pretty interesting as you need to grill them before you can enjoy them with the condensed milk. A little tip: please change the grill before you start grilling the rice cake.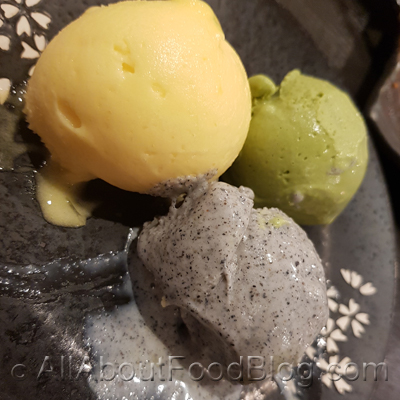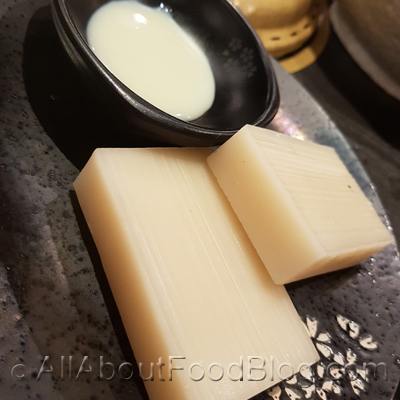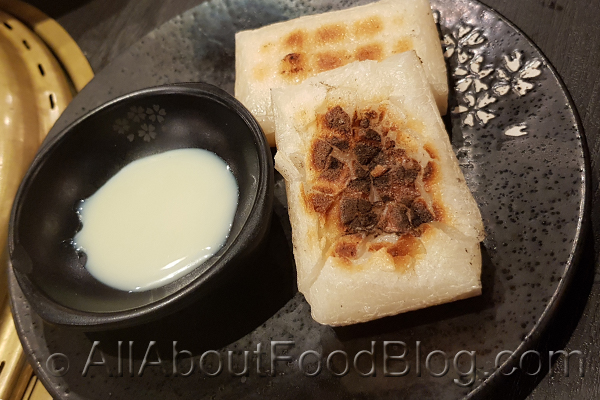 Optional Extras
You have to be careful that not everything is included as part of the buffet. Some items in the touch screen menu have a price tag attached to it. You will need to fork out extra dollars for those items.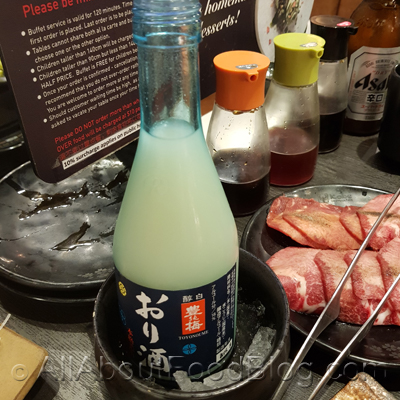 The final verdict for Kobe Wagyu BBQ
Kobe Wagyu BBQ is one of the pricier all-you-can-eat restaurants in Sydney. The big plus is the almost-smoke-free environment. They also have quite a number of meat cuts and seafood.
Do you think I should go?
If all-you-can-eat and sashimi are your things, definitely!
Rating for Kobe Wagyu BBQ:
7.5 / 10
Taste: 7.5 / 10
Price: $79 buffet menu
Place: 8.5 / 10
Details:
Level 1, 605 George Street, CBD, Sydney 2000
+61 2 9283 2268
http://www.kobewagyubbq.com.au/