Review:
In our last leg of our holiday at the end of last year, we went to an area in Bali (possibly) least visited by tourists called Candi Dasa. It was a very nice and peaceful area where divers love to visit. However, the place has a huge drawback: food. There was practically none that's worth mentioning.
Luckily one day we went a bit out of the area and was recommended to this restaurant by my cousin who live in Bali: Komune Beach Club. It was a pretty modern beach club with beach-side pool and a nice bar area. The menu sounds very Australian with Australian slang such as chook.
Super club sandwich – 85k – Grilled chicken tomato lettuce avocado fried egg and bacon
It was quite a regular club sandwich that you can find in Sydney (I guess it can be considered 'super' in Indonesia). They also give you wavy potato chips.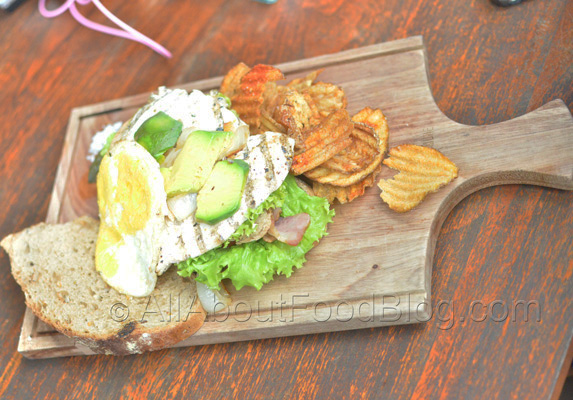 'Island of the Gods' salad – 80k – Freshly seared sliced tuna on a bed of mixed greens, sesame seeds and mushrooms, with A special Asian dressing.
I am not going to talk about the mixed greens salad because… well… it's just a mixed greens salad. I'm more intrigued with the seared sliced tuna. For a country not known for fresh fish eaten semi-raw, the tuna was actually pretty good!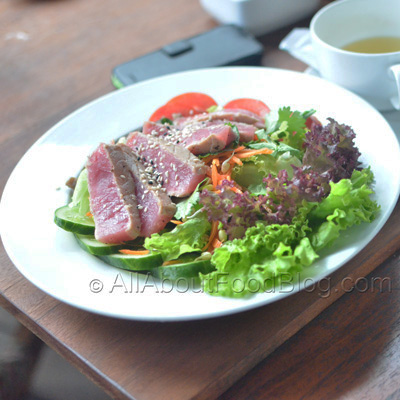 Fish and chips – 55k – Fresh local fish delicately crumbed served with fries and salad
The fish and chips that we ordered was from the kids menu section. It was quite a decent portion for a kids menu. I also love that they actually gave salad for the kids!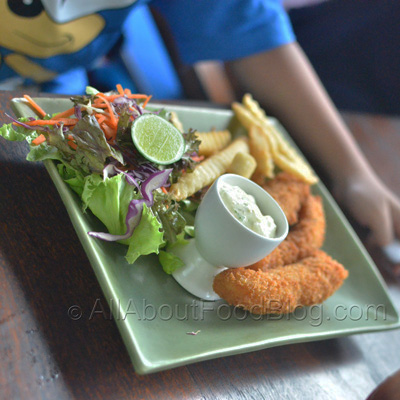 Cheese burger – 70k – Homemade 180gram juicy beef pattie with sliced cheese topper
Cheese burger was the one that I actually ordered in Komune Beach Club that day. I would normally think that 180gr is a bit small but I had to take what's available. It was quite a decent burger with (interestingly) pasta-like sauce, crinkle cut chips and a curious side of pickled gherkin and salt.
It wasn't the most amazing burger ever, but it was quite an antidote for our deprivation of good quality food.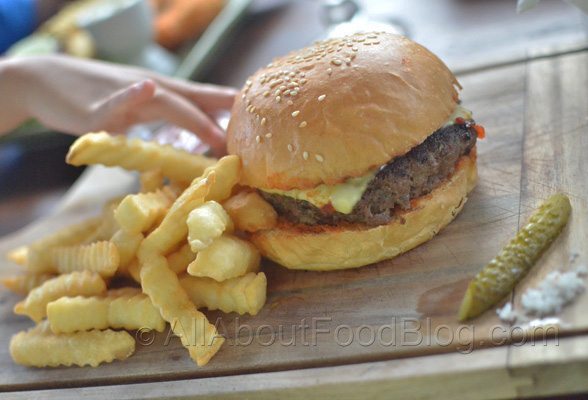 Komune Beach Club menu is heavily influenced by Australian cuisine. The portion is quite big when compared to regular Indonesian dishes.
Did you know?
I later found out that Komune also has a hotel in Gold Coast. I guess that explained the Australian theme.
Candi Dasa, and its surrounding area like Padang Bai, is actually a well-known diving area.
Rating for Komune Beach Club:
7.0 / 10
Taste: 7.0 / 10
Price: $5 – $10 per dish
Place: 7.5 / 10
Details:
Keramas Beach, off Jalan Prof Dr Ida Bagus Mantra Bypass, Bali
+62 361 3018888